Today, Belmont University celebrated the dedication of the newly renamed Barbara Massey Rogers Center, previously named the Jack C. Massey Business Center, honoring Barbara and the Massey family's ongoing support of Belmont. The building houses the Jack C. Massey College of Business, which celebrates its 50th anniversary this academic year.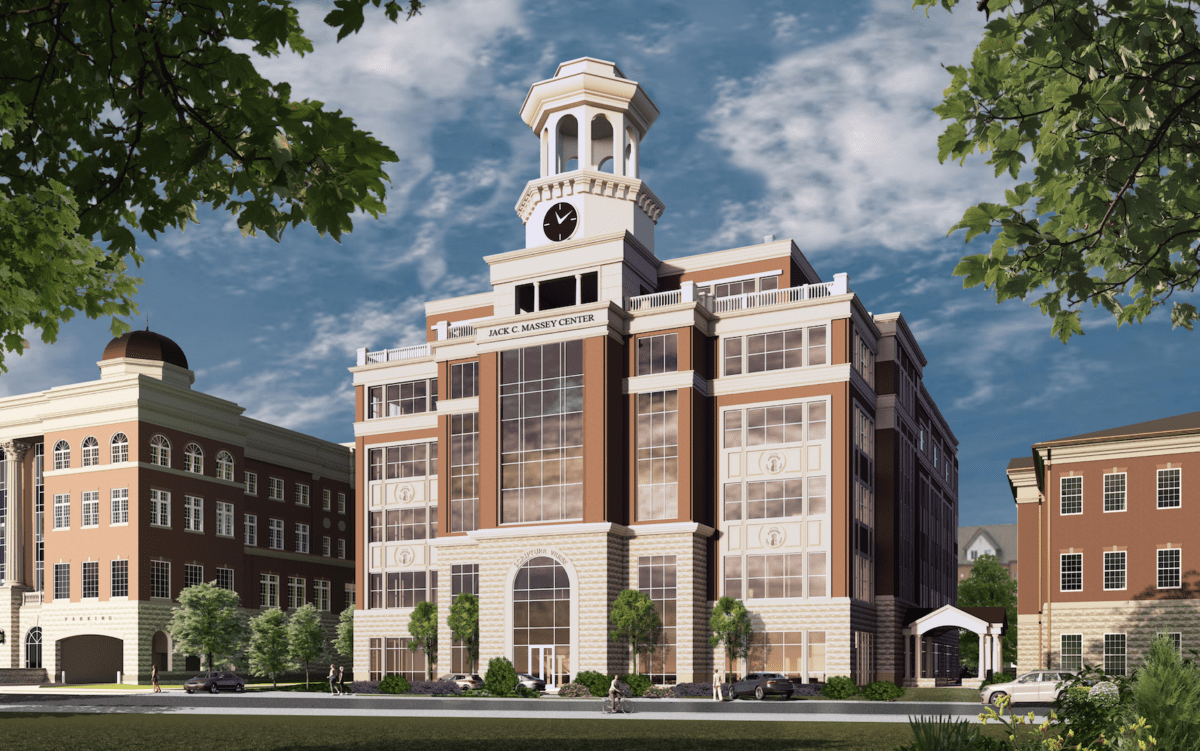 The name change comes in light of a very generous gift to the University from Barbara Massey Rogers and the Jack C. Massey Foundation, which secured the naming rights to a new, under-construction building on Belmont's campus. The new structure will be named the Jack C. Massey Center, honoring the legacy of one of the greatest entrepreneurs and businessmen in American history. Located on 15th Avenue South between the Baskin and Johnson Centers, the new Massey Center is slated to open fall 2023 and house the Belmont Data Collaborative, the University's Admissions Center, a hub for social innovation and several centers for the Massey College of Business.
"Today, we celebrate Barbara and her father Jack C. Massey's legacy, their commitment to philanthropy and education, and the lasting impact they've had on our University," said Belmont President Dr. Greg Jones. "The Massey family's generosity has been essential in Belmont's forward momentum, and we are excited for this next chapter as we dedicate the Barbara Massey Rogers Center, the primary home of the Jack C. Massey College of Business."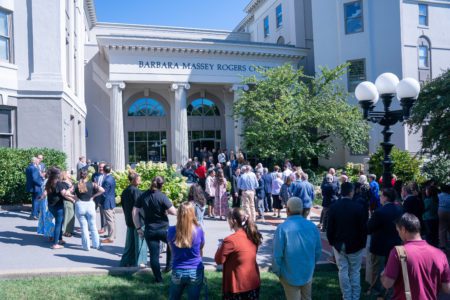 This year, the University celebrates 50 years of the Massey College of Business and the man whose legacy provided a guiding hand and inspirational light to Belmont through both significant financial contributions and an influence that further rooted the college's focus on ethics and entrepreneurship. Mr. Massey's leadership and support were pivotal to Belmont's growth, transformation and impact. Today, Massey College graduates businessmen and women who have entrepreneurial mindsets, philanthropic spirits and who care deeply for their neighbors. Massey College of Business continues to embody the quality and impact Jack C. Massey first envisioned more than 50 years ago.
"He was a wonderful man who loved giving back. I know he would be thrilled on this occasion as we celebrate this momentous anniversary," said Barbara Massey Rogers, Mr. Massey's daughter. "Belmont's business school has become a top-rated business program in the United States, and I am proud to see his legacy continue in that way."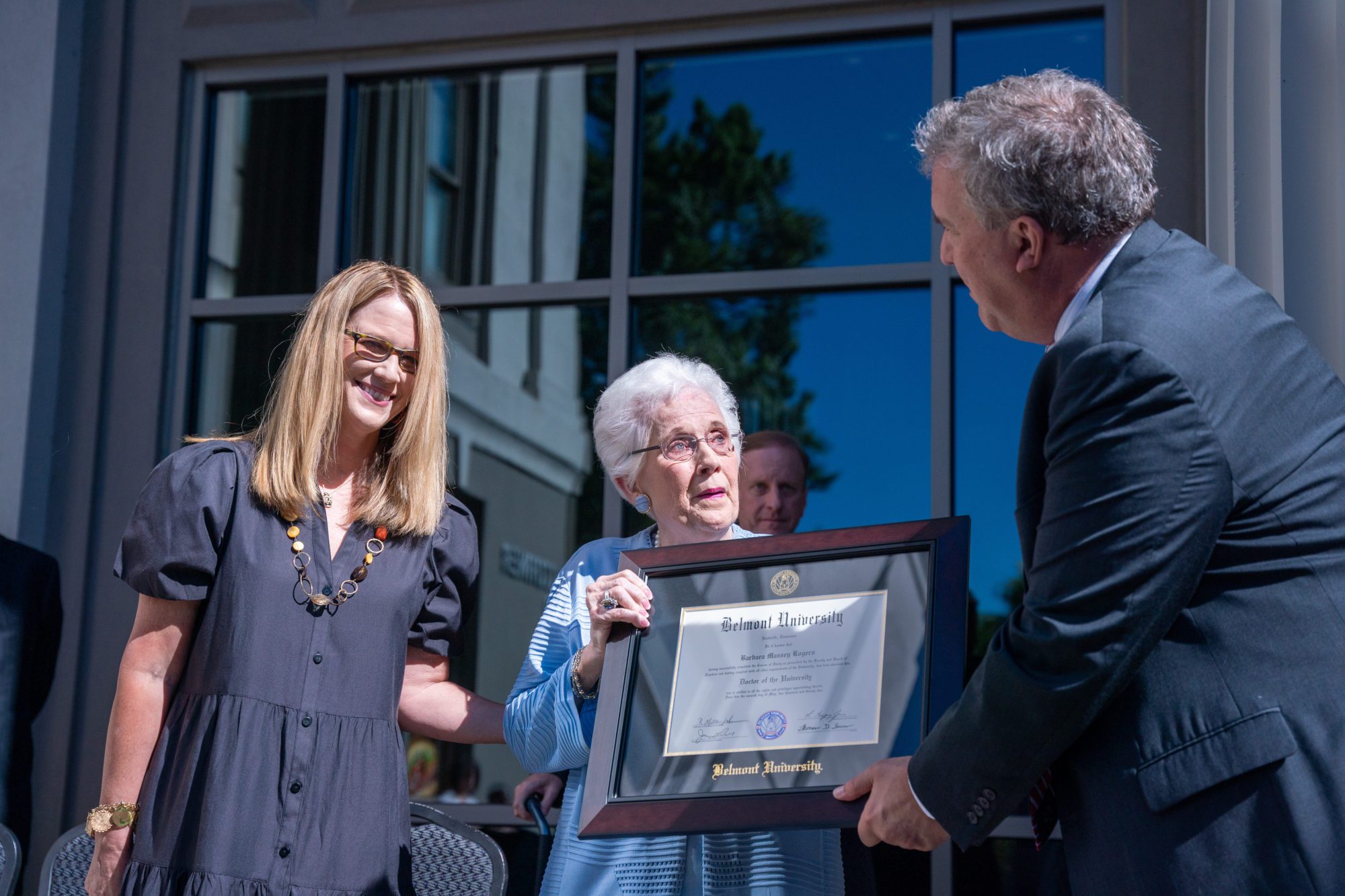 Belmont President Dr. Greg Jones presented an honorary doctorate degree to Barbara Massey Rogers at the dedication, Belmont's highest honor. "At our commencement ceremony this past May, we celebrated the recognition of an honorary doctorate of the University to Mrs. Barbara Massey Rogers in recognition of her generous support, faithful involvement and unflagging encouragement to Belmont University and its leaders," said Dr. Jones. "Barbara was not able to attend that day to accept her degree, so today, it is my distinct honor and privilege to bestow this doctorate degree to her."
In addition to the College, Massey gifts have endowed Belmont's Chair in Entrepreneurship, leading that program to be among the best in the nation, as well as the Massey Center for Financial Information, the first financial training lab in Tennessee when it opened in 2005. Massey gifts also established the Doyle Rogers Distinguished Chair of Law and the Massey Performing Arts Center. Beyond housing offices for Belmont's entrepreneurship and social entrepreneurship programs, the new Jack C. Massey Center is also expected to include dedicated spaces for the Kennedy Center for Business Ethics, the Center for Global Citizenship and the Beasley Institute for Free Enterprise.
Massey College of Business has many events planned throughout the year to celebrate 50 years of excellence. Alumni and friends are invited to an anniversary event on Thursday, September 22 at the Hutton Hotel's Analog Venue. Purchase tickets and RSVP here.
Additional photos from the dedication ceremony and reception can be found here.