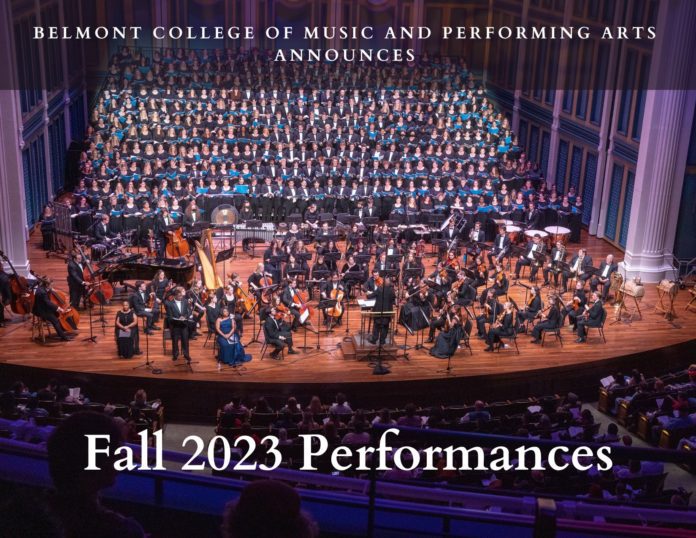 Though summer activities are in full swing, it is not too early to begin making plans for the fall. Belmont University's College of Music and Performing Arts (CMPA) just announced its Fall 2023 performance season and released tickets for its lineup of musicals, theater productions, musical performances, guest artists, recitals and dance shows. 
Included in the season are productions such as Hello, Dolly!, Working, Silent Sky, The Play that Goes Wrong and A Wrinkle in Time. Performances will also feature students and faculty in both classical and commercial ensembles.
"This season will focus on hope, unity and belonging and the power that the performing arts has to bring people together," said CMPA Dean Dr. Stephen Eaves. "We are excited to welcome the community to campus to experience the work of our talented students and faculty and join us for a celebration of music, theatre and dance."
Belmont's College of Music and Performing Arts includes both the School of Music and the Department of Theatre and Dance. Students have access to a variety of performing ensembles to showcase their talents, with 25 instrumental and 14 vocal ensembles that cover styles across the spectrum. The Department of Theatre and Dance provides student opportunities and training in all aspects of theatre creation and production, including design, directing and performance, with five main stage performances per year and multiple second stage experiences each semester, and a dance minor that offers a dance production at the end of each semester.
Belmont's award-winning, nationally ranked Musical Theatre program offers a full production each semester and the Opera theatre performs a staged reading every fall. Events also frequently feature performances by faculty-artists, alumni and special guests.  
All performances are open to the public. The full schedule and ticket information can be found on Belmont's College of Music and Performing Arts website at cmpaevents.belmont.edu.