On a Thursday morning, June 15, Belmont students loaded two tour buses en route to Manchester, Tennessee for four days at the famed Bonnaroo Music and Arts Festival. Armed with sunscreen, extra cell phone chargers and their notebooks, the class was ready for the immersive education experience awaiting them at The Farm.
For the past six years, Drs. Sarita Stewart and Ken Spring have organized the esteemed Bonnaroo University summer class, which gives students a once-in-a-lifetime, backstage look at the festival experience. Throughout the month of June, the class meets every day for two courses—the Sociology of Music and Research Methods and Festival Culture. In just a month, students earn six credit hours and years' worth of industry networking contacts.
The idea for Bonnaroo University started with Stewart, who wanted to create a festival culture class. Walking out of an all-faculty meeting in 2017, she pitched the idea to Spring, a sociologist with a background in music culture. "I knew he would be up for the challenge."
The number of years the class has run is up for debate. From a global pandemic in 2020 that canceled the festival for the first time in its then-18-year history, to a hurricane the following year that brought operations to a screeching halt hours before the festival start time, Stewart and Spring are ever-resilient, pivoting in real time. What isn't up for debate, however, is how the course continues to improve from year to year.
"I've been surprised by the acceptance it's received internationally," said Stewart, who with Spring presented a paper at a conference in the Netherlands teaching fellow educators how to replicate their course.
In its short history, other universities have implemented the concept including DePaul University with Lollapalooza and University of Tennessee, Knoxville with Moon River Festival. Both professors hope to leave a legacy and continue to provide a pathway for others to replicate Belmont's concept.
A look into coursework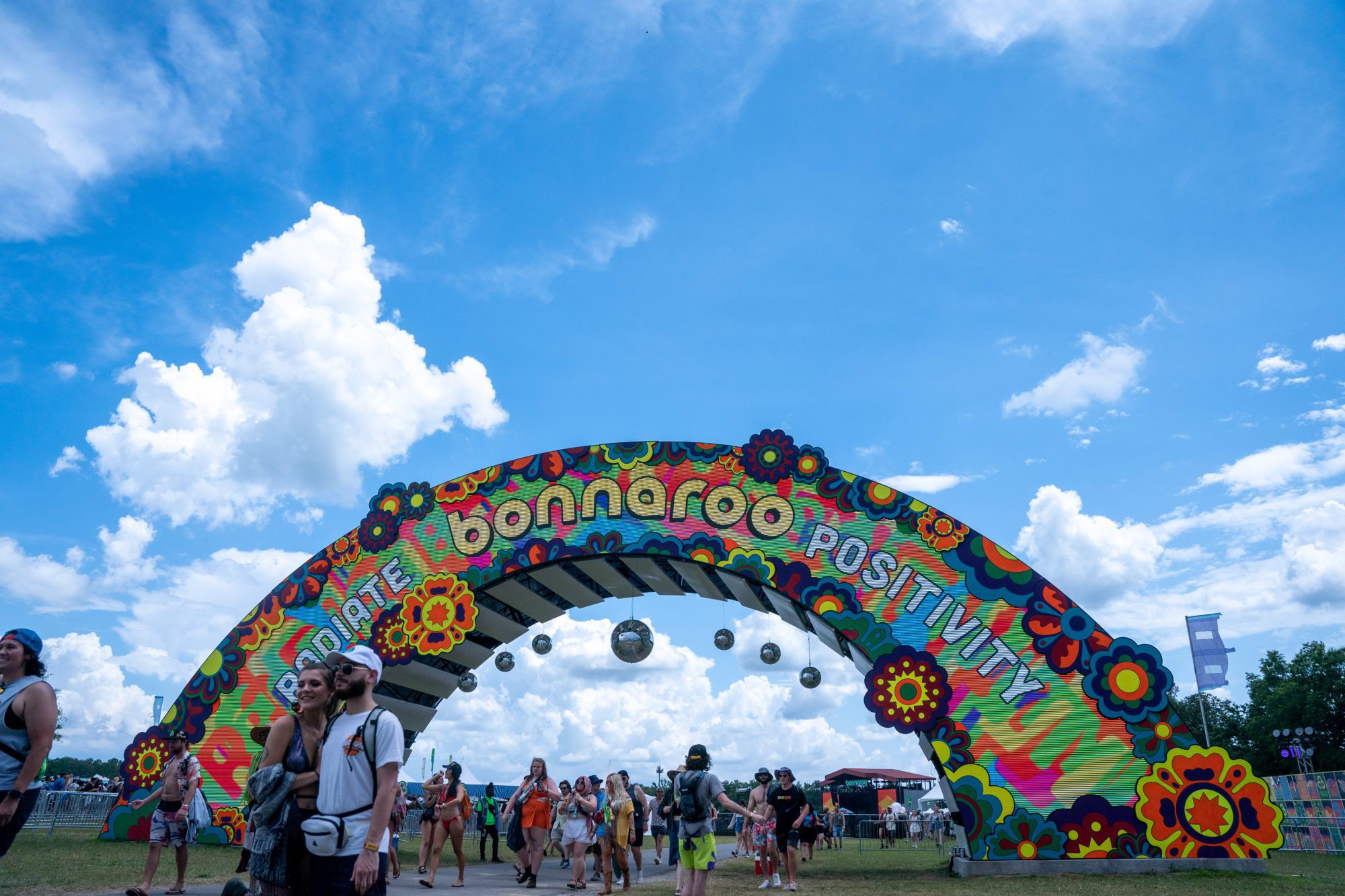 Throughout the festival, the class conducted qualitative research with 400 festival goers—Bonnaroovians, as they're referred to— about music discovery, camping, festival programming and more within their research groups.
A week prior to the festival, C3 Presents—of the Live Nation family—hosted Bonnaroo U students at the nearly 1,000-acre property as finishing touches were built out. Brad Parker of C3 Presents—Bonnaroo's lead project manager—toured the class around the grounds, giving an inside look at the Festival's infrastructure in preparation to host nearly 7,000 staff and volunteers, and more than 80,000 people.
The two classes provide students with a collaborative and interdisciplinary experience, emulating what they will one day experience as industry professionals. From Spring's music sociology course, which looks at music's role in society and the social meaning people give it, to Stewart's consumer research course, where students interview festival goers, students use Bonnaroo as a living classroom.
The class was able to test out Bonnaroo's people mover—JamTrack—making stops at soon-to-be attractions throughout the grounds where Parker shared festival logistics at length.
Centeroo: main festival area
Outeroo: camping area
Plazas: one-stop-shops throughout Outeroo for festival programming, camp supplies and access to info, medical and safety staff
The pre-festival tour gave students extra time to get used to Bonnaroo's whimsical naming conventions, especially stage names within Centeroo: What Stage, Which Stage, Who Stage, How Stage, the Other Stage, This Tent and That Tent.
"This is an extremely magical and special place that means a lot to many people. What you're about to experience is a place that is safe for people who might feel like they don't belong or don't fit in. Bonnaroo is a place for them to be unapologetically themselves," said Parker. "Soak in where you are, especially within the context of our world."
From the artist lounge to tour bus sleeping quarters and the press tent, Parker encouraged students to lean into the access they have and understand the privilege and responsibility that comes with it. He mentioned that Bonnaroo U students have greater access than some staff who have worked at the festival for a decade.
"We want you to have a great weekend and to be inspired to come work in an industry that needs a lot of help after the pandemic. We are looking for great people who want to work hard and have a lot of fun, and that's what this program is designed to do."
Through the belief in college students and Belmont's innovative education experiences, the program has garnered strong support from the industry, further adding credibility and vitality. Along with Parker, the course's robust panel line up would not happen without industry partners including dynamite radio promoter Jeff McClusky, veteran music publicist Ken Weinstein, and bedrock music founder Ryan Carey who have all been integral in booking artists and executives for Q&A panels.
The 2023 Bonnaroo U panelist lineup included:
JP Saxe (and team)
Brittany Schaffer, new Curb College Dean and former Spotify executive  
Sheryl Crow
Louis the Child (and team)
"Next Gen of the Music Industry," including Bonnaroo U alumni, among others.
Beyond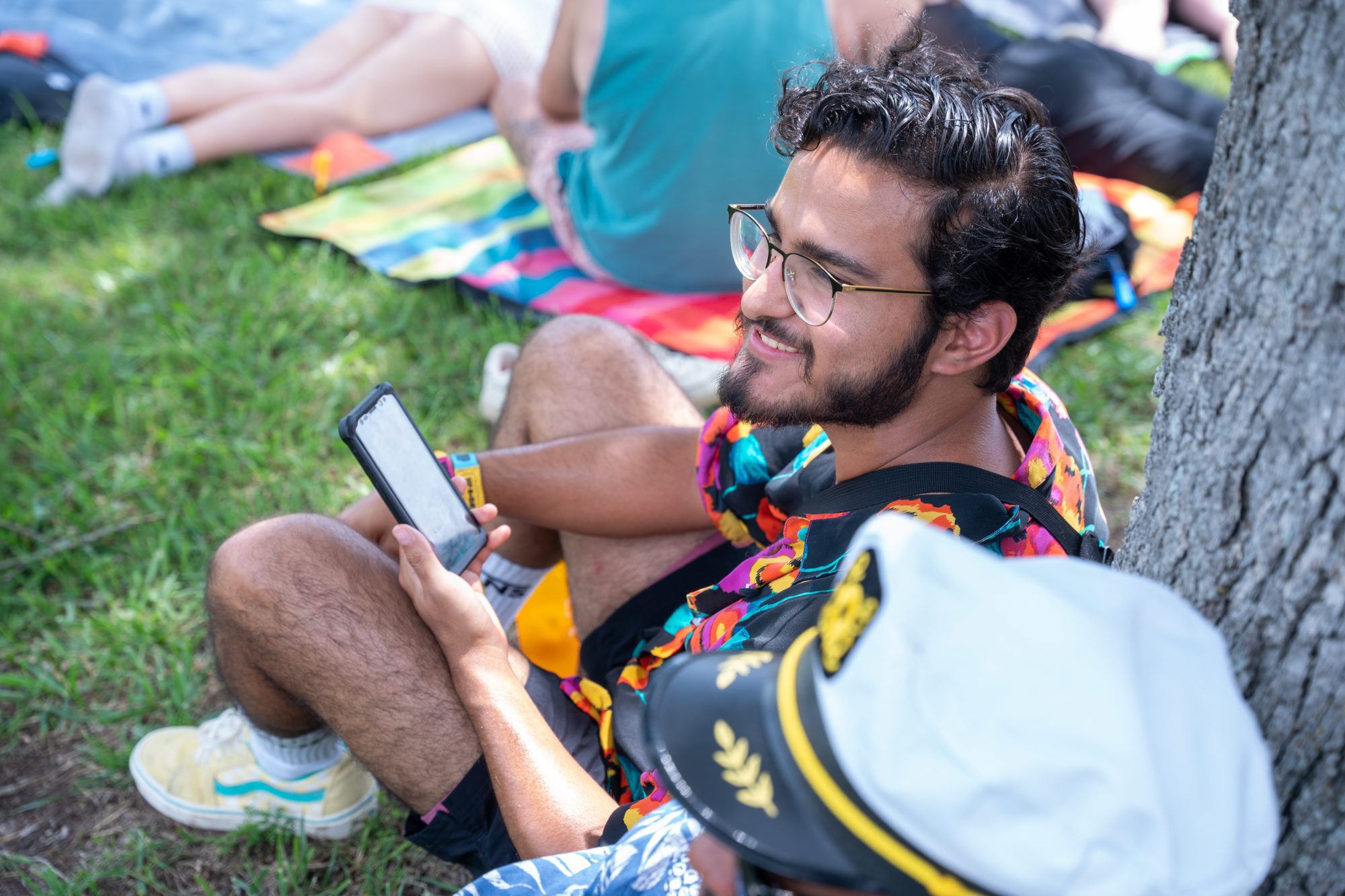 Following their four-day run on The Farm, students return to campus where they work in groups to distill their research findings in succinct presentations that they deliver to executives at Live Nation—a partner since the course's inception. Last year, groups presented to Live Nation executives at their Nashville office, a tradition that will continue.
Stewart noted a 2022 alumna's reflection where she said, "This class really gave me clarity for what I want to do going forward in my life." 
The Bonnaroo U program isn't simply a great collegiate experience, but a pipeline for many students to launch careers in the industry. Three alumni from the program currently work with Parker at C3 Presents.
"The stakes are so high," said Stewart on their presentations. "I love seeing students realize they can do this. [Bonnaroo] provides a space where they can really explore and touch things. These students are incredibly well-suited to go out into the industry after they experience this class."