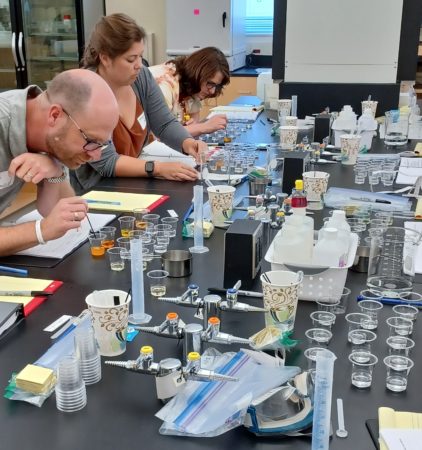 The Department of Chemistry and Physics at Belmont recently hosted the 8th installment of its workshop series titled It's Easy Being Green: Budget-Friendly Safety-Conscious Chemistry Labs for the Secondary Science Classroom of Today. Event organizer Dr. Danielle Garrett, associate professor of chemistry education, hosted a one-day hands-on professional development workshop for science teachers, with participants coming from Middle Tennessee and Kentucky.
The theme this year was Conceptual Chemistry – It's Math-Lite: Exploring Equilibrium, Half-Lives and More. Participants explored the effect of temperature on chemical equilibrium in a closed system, investigated solubility and polarity by observing the effect of adding different solutes to a series of solvents and used manipulatives to explore and gain mathematical understanding of half-lives.
This workshop series continues to be well-received, with more than 50 percent of participants reporting having attended at least one previous summer workshop. Teachers ended the day with positive feedback about the event such as:
Very high quality; presented with adaptability in mind.
Your enthusiasm & organization are inspiring. I appreciate how you adapt each lab for different levels of application. I am grateful for the opportunity to participate.
I have always loved this workshop. It has always been the highlight of my summer.