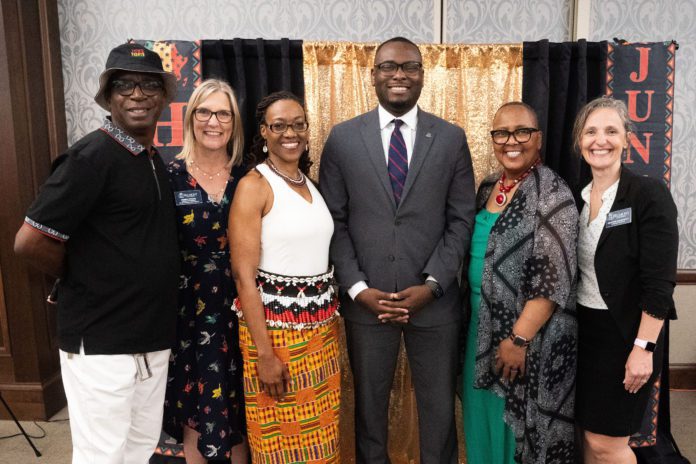 Friday, June 16, the Belmont community gathered for a celebration of Jubilee on campus for the third time since the University began to recognize Juneteenth as an official holiday in 2021.
This year's celebration, hosted by the Juneteenth Committee in partnership with the Office for Hope, Unity and Belonging (HUB), featured performances by drummers, dancing, a professional storyteller and a guided freedom quilt making activity from the Global Education Center, a nonprofit multicultural center in Nashville. The event also included a musical performance by Assistant Professor in the College of Education Dr. Darcie Finch and remarks from Belmont's new Vice President of the HUB Dr. D'Angelo Taylor.
"Juneteenth signifies hope. On this day, 157 years ago, enslaved people found hope in the possibility of reuniting with their loved ones and building a new life in freedom," Taylor said. "As we celebrate Juneteenth at Belmont and abroad, let this holiday which symbolizes freedom, serve as a reminder that our unending pursuit of freedom should be ever-present in hearts, minds and collective action."
A lunch of cultural soul food was provided, including menu items like deviled eggs, pork chops, shrimp and grits, mac n cheese, turnip greens, fried squash, peach cobbler and banana pudding. The "History of Juneteenth" video below was also shown, featuring Taylor and Human Resources Generalist Andrea McClain, who performed with the drummers and led a dance lesson for attendees. 
Jasmine Simmons, content writer in the Belmont Office of Marketing and Communications, attended the event. "I couldn't help but reflect on the Americans who dreamed of a moment like today's celebration of Juneteenth at Belmont," she said. "Having a diverse collection of Belmont's community come together to acknowledge and celebrate a day that has held so much personal significance as a Black female Texas native was amazing to experience."