New R. Milton and Denice Johnson Center to house Curb College of Entertainment and Music Business, media studies program, new 950-seat cafeteria
Following a ceremony that began at 1:25 p.m., Belmont University officially cut the ribbon today to celebrate the grand opening of a new multi-functional complex to serve its growing student body. Named in honor of longtime trustee and Bridges to Belmont Endowed Scholarship creators, the new R. Milton and Denice Johnson Center will house the Curb College of Entertainment and Music Business, the media studies program and a vibrant new 950-seat cafeteria. The 1:25 start time marked the beginning of the University's 125th Anniversary celebration during the 2015-16 academic year.
Belmont President Dr. Bob Fisher said, "From top to bottom, this building reflects innovation, excellence and a strong commitment to setting our students up for success. Our Curb College and media studies majors will be privileged to work with equipment and in settings that meet or exceed industry standards, preparing them to not simply achieve their career goals but to lead their respective industries. It's only appropriate that we should name this building in honor of a man who is at the forefront of his industry and a couple who generously support education with their time, energy and resources."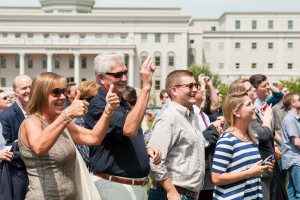 HCA Chairman and CEO Milton Johnson, who also serves as a Belmont Trustee, said, "Belmont is a world-class learning environment experiencing tremendous growth, and it is a privilege for Denice and me to be a part of the school's tradition of excellence. This new center will help Belmont provide its students with the technology and other resources needed to become the best in their fields, while also enhancing campus life for all students. As longtime supporters of the University, we look forward to seeing continued growth and success at Belmont."
With a total cost of $87 million, the 134,000 square foot Johnson Center boasts $3.6 million in technology resources and specialized equipment to serve students majoring in entertainment industry studies (EIS), music business, audio engineering technology (AET), songwriting, motion pictures and media studies. With multi-functional spaces offering classroom, lab, performance, production and research options, the new building is designed for interdisciplinary collaborations among the programs.
Moreover, the second floor of the Johnson Center is devoted to a new 950-seat cafeteria to serve the entire campus, a facility that nearly triples the seating capacity of the former dining hall.  The seating space is segmented into three distinctively themed areas to provide student diners a variety of experiences—formal, BBQ/casual and urban contemporary—each with their own décor, furniture and lighting, as well as the Kaye and Ron Knox Balcony that overlooks the beautiful Lawn.
Belmont Provost Dr. Thomas Burns noted, "The Johnson Center is a perfect reflection of Belmont's Vision 2020 principle to put our students at the center of all we do. From the addition of 1,000 underground parking spaces to a cafeteria largely influenced by student focus groups to academic areas that can compete with any professional production house, this building is designed to enrich campus life and provide a superior educational environment."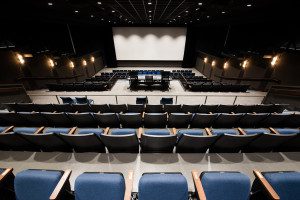 Belmont's motion pictures majors will particularly benefit from the technology in the Johnson Center. Students will learn and be able to render their projects for Digital Cinema Package (DCP) compatible large-format screens. In addition to giving students a valuable skills edge in the industry, this capability means they can create and submit works that meet industry standards for film festivals and production companies. In addition, Dolby Corp. was so impressed by the educational potential of the Johnson Center that the company has provided a Dolby Atmos Rendering Unit (Dolby RMU) that will allow faculty to teach the process of creating and compiling movies in full Dolby Digital, 7.1 and the Atmos DCP formats. This makes Belmont Motion Pictures the first and only university-based film program capable of not only showing commercial films, but also teaching the process of developing and producing theater-ready films in the Atmos format. The Johnson Center's large screening theater is also the only theater in Nashville capable of showing films in the Atmos format.
Additional building highlights include:
A TV Production Control Room that will allow for the control of multiple sources of audio and video signals

Motion Capture Space/Anechoic Chamber

Motion Capture Space to create live-action computer-generated imagery, allowing for 3D animation, digital compositing and motion graphics for any production.

A large (250 seat) and a small (50 seat) Screening/Mixing Theaters to serve as a screening room for motion pictures, a mix theater for audio mixing for motion pictures and a lecture theater
Client Edit/Color Correction suite to perform color grading and correction of video elements
Multipurpose Media Focus Lab/Entertainment Industry Research Center to study audience reaction, interaction with media technologies and consumer consumption. Area includes one-way windows for observation and media control.
2,500 square foot Sound Stage for making single- and multiple- camera motion pictures adjoined by equally large warehouse space for set storage and construction
20 individual and four small group Student Edit Bays in which students can view, process, synchronize, edit and mix video and audio program material
Foley/ADR Suite to capture sound effects and atmospherics for replacing and enhancing sounds in audio, video and film productions

TV Production Studio

TV Production Studio for producing and capturing student newscasts, commentators, product shots and small interview productions. It will house a semi-permanent news set, Chroma key backgrounds and cyclorama curtains so cameras can capture video and audio of multiple actors.

Music History Display Caseswhich will initially house a selection from Dr. T.B. Boyd's private guitar collection, "Breaking Boundaries: R.H. Boyd Publishing and the Influence of African American Music." The collection represents more than 50 years of African American music with instruments signed by such legends as Dr. Bobby Jones, CeCe Winans and Isaac Hayes.
Harvey Room with white boards to allow for free thought and creativity when creating storyboard ideas
Dining hall that features numerous options and stations, including:

Vegan/vegetarian serving line
Weekly homemade pasta bar
360 degree grill in the international station
Two salad bars
Deli station offering custom-made sandwiches as well as Grab 'N Go sandwich selections
Simple Servings allergy free station with individualized cooking to order to ensure against cross-contamination
Full bakery
Waffle bar
Simply to Go meals
Traditional entrée and vegetable serving line
Grill station
The Granary with a large selection of self-service breads and cereals
The Kaye and Ron Knox Balcony providing outdoor seating for up to 45
Green features
As part of Belmont's Conservation Covenant, the University is seeking LEED Gold certification for the new building. These efforts are supported by the geothermal heating and cooling system installed beneath the Lawn, which the Environmental Protection Agency recognizes as an environmentally-friendly heating and cooling system because it uses the earth itself as the source to transfer temperatures, reducing energy costs and carbon pollution. In addition, the five-level underground garage limits the building's footprint, and in combination with the building's four areas of extensive green roof, reduces the heat island effect. One of the most intriguing "green" components of the Johnson Center can be found in the five dehydrators located in the service area. The dehydrating system can reduce 450 lbs. of food and cardboard waste to approximately 35 lbs. of enriched soil additives in 24 hours, reducing overall waste from food operations by 45 percent.