Belmont student organization Up 'Til Dawn hosted its second annual 24-hour fundraising event Friday night to raise money for St. Jude Children's Research Hospital. In an event implemented on 60 campuses nationwide, Belmont students far exceeded their goal of $75,000 and managed to raise almost $84,000 for the hospital, which seeks "to advance cures, and means of prevention, for pediatric catastrophic diseases through research and treatment." Thanks to the vision of St. Jude founder Danny Thomas, a recent inductee in the Tennessee Health Care Hall of Fame, no child is denied treatment  at St. Jude based on race, religion or a family's ability to pay.
St. Jude Specialist of Collegiate and Youth Programs Chase Simpson reported the final amount of nearly $84K raised by college students alone. "With a goal of $75,000 for this year, it was no easy task for these student leaders when just $47,000 was raised last year. However, as Belmont students always do, they proved that it was possible and then some. $83,949.57 and counting doesn't come without effort, teamwork and passion," he said.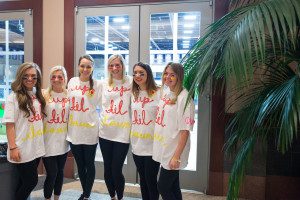 Simpson said the campus awareness of St. Jude has become so high through this event and has caused people to look forward to it year after year. The event itself is a giant celebration and thank you to the student fundraisers. They enjoyed arcade games, face painting, a photo booth, silent disco and several team challenges, all designed to keep participants engaged (and awake).  "It's remarkable to see that approximately 300 students asked their parents, relatives and friends to support them in raising money for St. Jude. It is possible that some of these donors had never heard of St. Jude before until that ask was made by one these college participants," said Simpson. "That is huge within itself. Then you add the more than $83,000 that was raised, and it ensures that no family will ever receive a bill from St. Jude Children's Research Hospital."
Belmont Up 'Til Dawn's Executive Director for the 2016 Executive Board Hannah Haggerty became involved through her position in Greek Life last year and facilitated planning, weekly meetings and helped ensure thoughtful and intentional communication to make this year's event a success. "Our ability to raise almost $85,000 is a true testament to the care, love and understanding of the Belmont community. With this only being our second year, those numbers are relatively unheard of," she said. "This event was our chance to celebrate with our fellow students and to thank them for all of their dedication and fundraising efforts."
St. Jude elected Belmont for a highlight video, and a film crew was present for the event. Director of Student Engagement and Leadership Development Amy Coles said she could not be more proud of the students. "Belmont is high profile right now for Up 'Til Dawn, as they have been blown away by the students and their fundraising efforts. The representative told the students that the all-night event they planned was one of the best she had ever seen."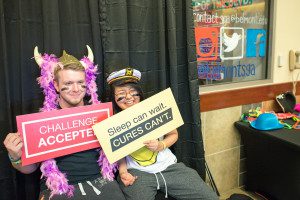 St. Jude has the world's best survival rates for the most aggressive childhood cancers, and treatments invented at St. Jude have helped push the overall childhood cancer survival rate from 20 percent to 80 percent since it opened more than 50 years ago.