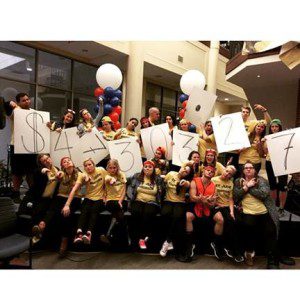 While most were sound asleep in their beds Friday night, more than 110 Belmont students were wide awake, playing games and raising more than $47,000 for St. Jude Children's Research Hospital.
The event, appropriately named "Up 'Til Dawn," started at midnight and lasted until 6 a.m. Saturday morning. St. Jude is Belmont's Greek Life philanthropy, but the event was planned by a campus-wide Up 'Til Dawn Executive Board and was open to any student who individually raised $100 and could manage to stay awake all night.
"Up 'Til Dawn" is the culmination of other campus events that have raised awareness all year.The event featured several activities including amazing race and arcade style games, a pancake breakfast, a silent disco and the chance to meet a St. Jude's patient, among others. Several students even had their heads shaved to support the cause. Finally, the total amount raised was revealed onstage: $47,803.27.
"As an executive board member, for me, the best part was revealing our total and watching the shock and awe on the faces of the students after they saw what they had accomplished. It was in that moment that I think it hit everyone just what we had achieved," said sophomore Resident Outreach Chair Rebecca Green.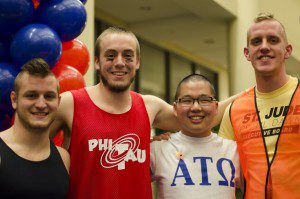 St. Jude Research Hospital, located in Memphis, Tennessee, was opened in 1962, and since then, overall childhood cancer survival rates have increased from 20 percent to more than 80 percent. No child is denied treatment based on race, religion or a family's ability to pay. To learn more about this cause, click here.
"It was our very first year doing this, so we honestly were just hoping we would raise $25,000 and get at least 100 people to show up. We completely surpassed that goal though," said Events and Logistics Director Giovanna Cervantes. "We were in the top five fundraising schools for 'Up 'Til Dawn.' Belmont, with just 7,300 students, raised more money than schools with 15,000 students or more. That just proves what an amazing community we have and the heart of this school."
With the extreme success the event saw, student leaders said they are hopeful the momentum created for St. Jude won't stop here. "This is a great learning experience for Belmont students and gives them an opportunity to support an amazing cause. We hope for Belmont to continue 'Up 'Til Dawn,' so that this may be an annual event that exceeds $47,000 every year," said senior Executive Director Maddy Grossl.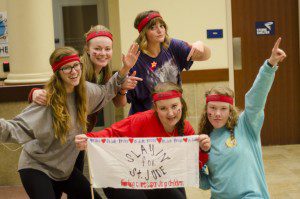 Applications for next year's executive board will be available on February 16.
To see the video of "Up 'Til Dawn," click here.