Hope did indeed abound as Belmont University hosted its inaugural Hope Summit October 24-26. The three-day event focused on making hope real in participants' lives, work and communities. The central theme of the week – unleashing creativity and innovation so that regions can thrive—was inspired by the University's strategic visioning process for 2030.
The event offered the opportunity for the Belmont community to lean in and experience Pathway 2 of its Strategic Trajectory: Data-Informed Social Innovation to Help Regions Thrive.
"It's easy to spend time learning about how best to nurture your community, but the Belmont community is interested in developing tangible hope," said Dr. Josh Yates, executive director of the Belmont Innovation Labs and one of the main architects of this year's Summit. "Social innovation means creative problem-solving and pursuing opportunities to generate social good. The Hope Summit helps us discover ways we can rethink some of these ideas for the betterment of our own region."  
Unleashing Creativity and Innovation
Monday's opening session began with a discussion between University President Dr. Greg Jones and Dr. Kim Tan, co-founder of the Transformational Business Network (TBN). Tan's approach to social impact seeks ways to design and build profitable, scalable business that addresses a wide array of social issues including conservation, human trafficking, housing and more. 
This type of work provides a more dignifying experience to those in need by offering independence, the ability to provide for their families and the freedom to choose. His faith guides his business practices while welcoming people of all or no faiths. "We're faith-based without being faith-biased," he said. "The stronger your center, the more you can embrace the edges," he said. "Being faith-based is important because it is the well from which we draw, but we should be interacting with people of other faiths and no faiths to provide the opportunity for others to see our faith in action and ask questions." 
Tan shared countless stories illustrating creativity and social innovation that supports human flourishing. When looking for entrepreneurs to support, he seeks strong character above all. "Be teachable, have humility to learn and be confident enough to move aside as your business grows to bring in new people." 
Today, TBN is in six countries and mentors and funds hundreds of businesses.
Creativity and Storytelling
Monday's afternoon session featured a conversation with Rick Rekedal, former DreamWorks executive and senior fellow for storytelling at Belmont, and Hall of Fame songwriter Tom Douglas.
A few years ago, Douglas delivered his induction speech to the Hall of Fame as a reply to a letter he received from a struggling songwriter. That letter—a story intended for a single person—went on to inspire the movie Love, Tom, a documentary on Douglas' life. The session, which featured commentary from Rekedal—peppered between clips of the documentary and some of Douglas's songs—focused on the importance of storytelling in all disciplines.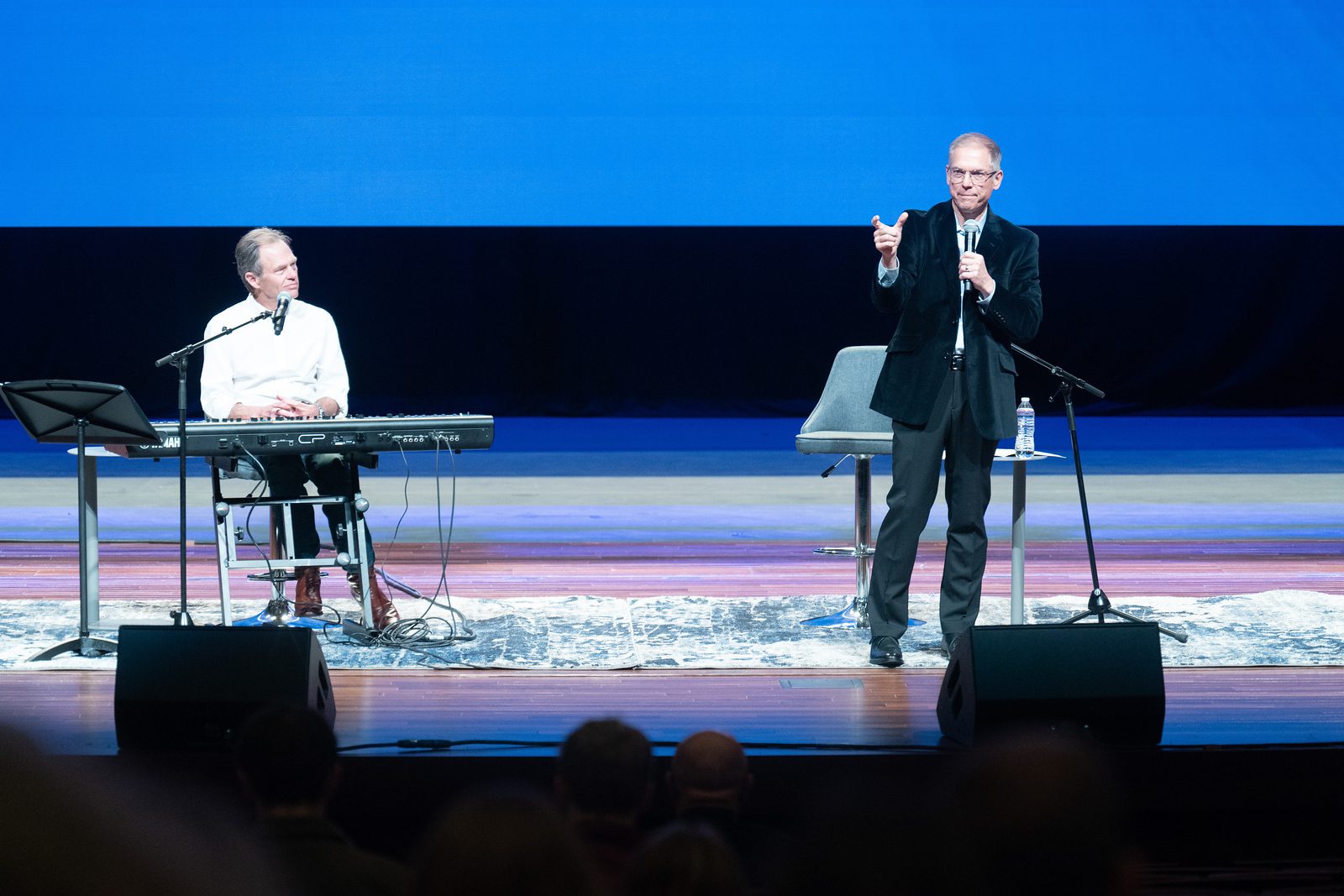 Rekedal shared that understanding the felt needs of an audience can make storytelling truly transformative. Whether it's a 30-second YouTube clip or a $100 million television show, he asks all storytellers seeking to craft their message the same three questions: What do we stand for? How do we want to stand for it? Who is it for?
"Getting to the heart of what we stand for is fundamental when we start to become storytellers," he said. "We must know what we're about. As we consider massive social problems that require massive efforts to address, we start with reaching one other person. Our 'pebble' can be the avalanche of change."
Between Rekedal's words, Douglas's heartfelt stories provided clarity of the duo's narrative vector: Every person touched by Belmont is touched by story that is changing the world, which activates them to share their stories even further.
Champions of Hope
The evening concluded with the Champions of Hope Gala, an event celebrating individuals and organizations who are making hope real in our lives, work and communities. During the gala, Former Tennessee Governor and First Lady Bill and Crissy Haslam were presented with the inaugural Rick Byrd Character Award. Named in honor of retired legendary Belmont men's basketball coach Rick Byrd, the award will be presented annually to community members who demonstrate a steadfast commitment to principled performance in their field.
The Importance of Leadership and Friendship
Friendship is a lynchpin to human flourishing, illustrated during Tuesday's session by two pairs of unlikely friends: a politician and a doctor; a songwriter and a coach.
Former Tennessee Governor Bill Haslam and Frist College of Medicine Interim Dean Dr. Anderson Spickard became fast friends though a small group at church. Both in prominent leadership roles in their own sectors, they found common ground through their life experiences. "The downside to being in leadership — no matter what your role is — you don't get the best feedback," Haslam said. "Relationships like the one I share with Anderson matter because you are surrounded by people who can help you take a step back by calling out when you're not your best self. When you have a history with people, you know things about them and can recognize things about them that others can't.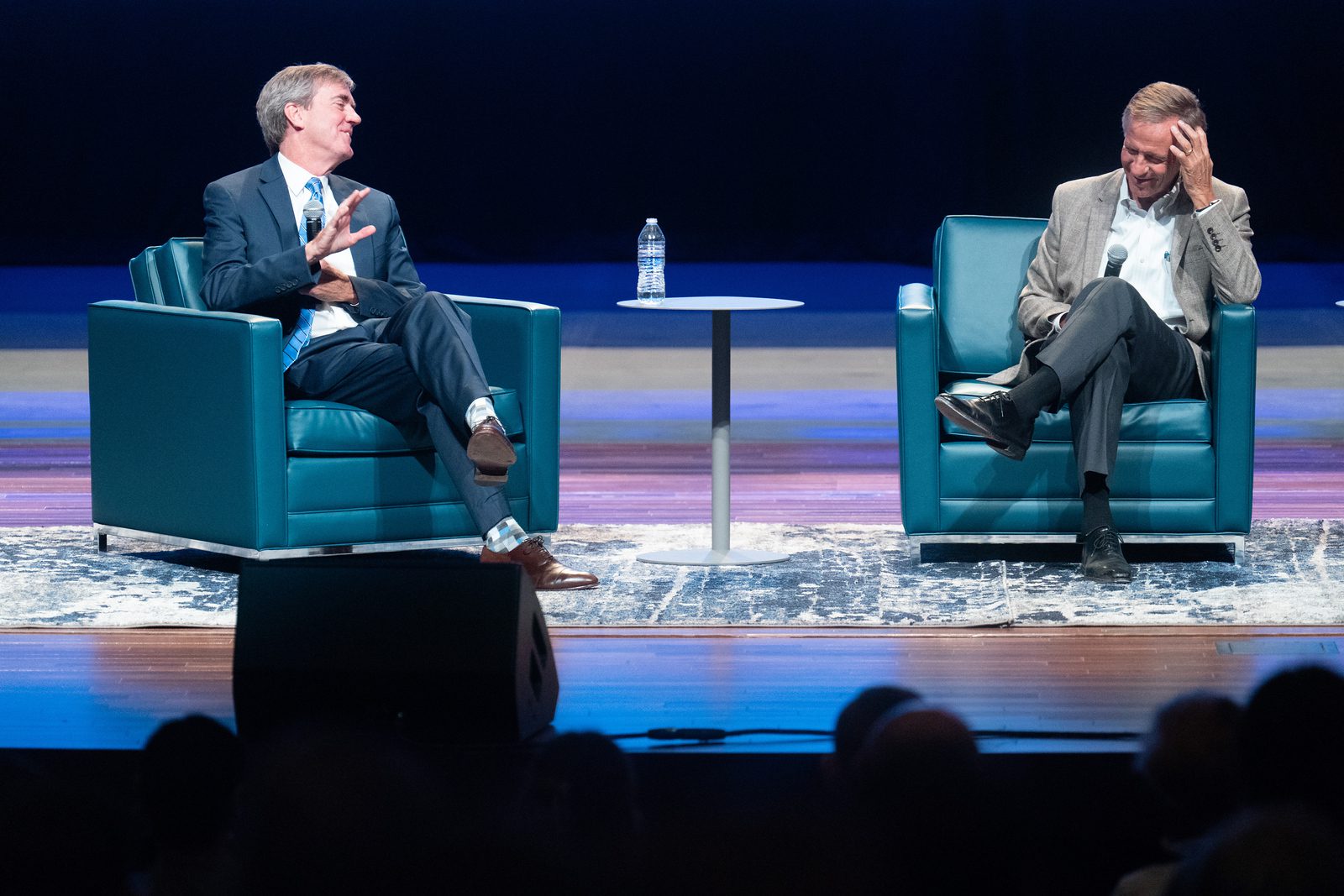 Humanity was created to be in relationship with others, and friendship is an integral part of human flourishing. A friend keeps the other's mind intellectually curious and heart soft; friends call out the beautiful and the ugly; friends love through peaks and valleys.
Their friendship has woven together the personal and vocational. From victorious successes and unimaginable loss, the two have walked shoulder-to-shoulder through life's profoundly human moments. After the Spickards lost their son Lucas to cancer last year, the Haslams provided sustaining friendship. "Our beloved friends had both character and capacity when we needed them," said Spickard. "We never felt like we were overstressing them. The internal compass and resource of dear brothers in Christ make you feel as if they've gone through it before, and if not, at least they're going through it with you."
Country music legend Vince Gill and former Belmont Men's Basketball Coach Rick Byrd became friends on a golf course in the 1980s. Rick spotted Vince across the green and walked up to introduce himself. More than 35 years later, the two can finish each other's sentences, with witty banter and uncountable memories.
Afternoon sessions followed the conversations with topics that included "Impact Investing: Measuring the 'S" in ESG" featuring Kim Tan and Edward Bryan, and "Health Disparities: A Collective Approach to Hypertension in Nashville" sponsored by the Belmont Data Collaborative.
A Day To Dream
Wednesday was a culminating Day to Dream for the entire Belmont community, beginning with a showcase of social innovation projects, followed by an address from President Greg Jones recapping the week's events. "I am grateful to all of you for the work you do day in and day out. Belmont provides a warm and welcoming environment for all who encounter our campus, and it's all because of each of you," he noted.
Session attendees exited The Fisher Center to find that Belmont campus had been transformed into a fall festival complete with a zip line, pumpkin patch, carnival rides, and activities for community members of all ages. Into the evening, trick-or-treaters lined up to collect candy from decorated tables from campus divisions, clubs, and organizations.
A Day to Dream concluded with a Writers Round a night of songs and stories featuring some of Music City's most creative songwriters–Allen Shamblin, Emily Falvey ('18), Cameron Bedell ('12) and Luke Laird, who have written for many artists including Carrie Underwood, Carly Pearce, Jimmie Allen, Tiera Kennedy, Steve Moakler, Boys Like Girls, Ingrid Michaelson, Keith Urban and more. 
God-Sized Dreams
"Our aspirations for the next decade are limited only by our imagination," said President Greg Jones. "We want to be a university that aspires to big dreams–dreams that can transform lives."
The Hope Summit aimed to inspire the Belmont community to be agents of hope and help cultivate the sense of well-being and flourishing for all people.
A recap of the event can be found below: