Rick Byrd may have retired from his role as a legendary basketball coach in 2019, but his impact on students remains and will now be enhanced further through Belmont University's recent establishment of the Rick Byrd Character Formation and Leadership Program. This new initiative will create curriculum around Byrd's leadership, coaching and character formation philosophies that can then be embedded in both academic courses and co-curricular programming across the University and beyond. In addition, the Rick Byrd Character Award will annually recognize an individual in the community who exemplifies the leadership and character of Coach Byrd.
Both initiatives come on the heels of Byrd's November 2021 induction into the National Collegiate Basketball Hall of Fame (view the ceremony here) and in advance of the April 2022 event in which he will receive the John R. Wooden Legends of Coaching Award. These honors build on a long list of accolades that include induction into the Tennessee Sports Hall of Fame, the NAIA Hall of Fame, Ohio Valley Conference Hall of Fame and the Atlantic Sun Conference Hall of Fame.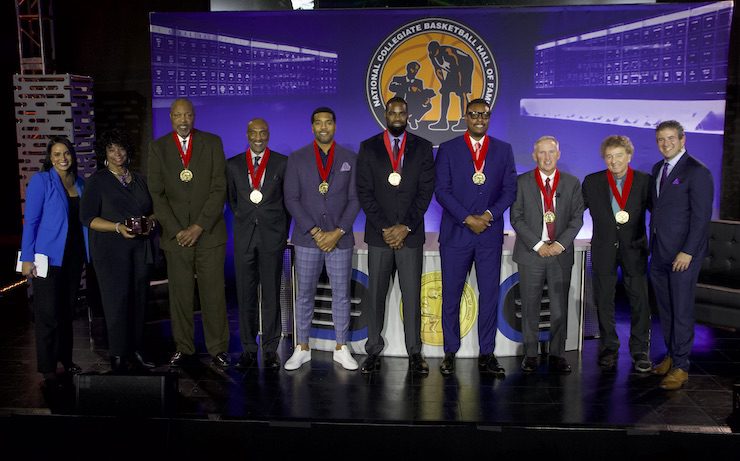 Belmont President Dr. Greg Jones noted, "Rick Byrd embodies the kind of character we hope our students will emulate. A consummate professional who achieved unparalleled success in his field, Coach Byrd's impact extends far beyond athletics. His integrity, grace and humility—along with his dedicated and disciplined leadership approach—will provide a tremendous model for our students to explore as we develop programming that will guide them in their own character formation. His example also is exemplary for leaders in our community as well as more broadly in the world."
Milton Johnson, retired Chairman/CEO of HCA Healthcare and current chair of Belmont's Board of Trustees, added, "Rick has previously noted how much he was influenced by his own father, a sports columnist, as well as the personal character and Christian commitment of another legendary coach, John Wooden. It's exciting to me to imagine the future men and women who will note Rick Byrd as their influence in leading a life of integrity, kindness and excellence. Through these new initiatives, Belmont ensures Rick's legacy and impact will endure as individuals across the university and in the community are inspired by his example."
Vice President for Transformative Innovation, Character and Purpose Dr. Amy Crook, Associate Professor and Chair of Sport Administration Dr. Ted Peetz and Assistant Professor of Management Dr. Paula Roberts will work with Coach Byrd to develop the Character Formation and Leadership curriculum. Plans for the program's implementation and for the inaugural Rick Byrd Character Award will be announced at a future date.
Byrd systematically led Belmont to national prominence in both NCAA Division I and NAIA, ranking 12th all-time among NCAA Division I head coaches with 805 career victories. Moreover, through his focus on student success, Belmont established an unparalleled standard of academic achievement among NCAA Division I programs. Since 2001, Belmont men's basketball leads the nation in Academic All-America selections with 18 and is the only program to rank among the nation's best every year since inception of the Academic Progress Rate (APR).
Furthermore, in the NCAA Division I era, every Belmont player who completed eligibility under Byrd's watch earned his degree, with only two scholarship student-athletes transferring out over his final 15 years.
Byrd was also recognized and well-respected by his peers for his commitment to fair play, serving from 2013-15 as NCAA Men's Basketball Rules' Committee Chairman, and he was the 2012 recipient of the NCAA Bob Frederick award for his lifelong commitment to sportsmanship and ethical conduct. Off the court, he committed time volunteering with Best Buddies, a nonprofit that creates opportunities for friendships, employment, leadership development and inclusive living for individuals with intellectual and developmental disabilities.