It's time. With a short and simple phrase, Belmont University President Dr. Bob Fisher announced yesterday to the Board of Trustees his intent to retire in May 2021 following more than two decades of service to the Nashville institution. A visionary and innovator in higher education, Fisher's tenure is marked by Belmont's phenomenal growth, dramatic rise in national prominence, dedication to student success and an extraordinary commitment to what he calls "the greatest privilege in life, serving someone else."
"In my inauguration speech in 2000, I remarked that Belmont was a really good university, but then went on rather boldly to quote Bachman-Turner Overdrive to say 'but you ain't seen nothin' yet,'" Fisher recalled. "What has been accomplished by our leadership team, our staff, our faculty and especially our students has exceeded anything we could have imagined. My overwhelming response to all that's been accomplished is a deep sense of gratitude. I'm thankful for the incredibly smart and talented people on this campus who approach their work with great enthusiasm, effort and dedication, as well as for the tremendously supportive Board of Trustees who have stood with me all these years. Without a doubt, my wife Judy and I have been so blessed to be a part of Belmont—we are Bruins for life."
Belmont's Board of Trustees, under the direction of Chairman Marty Dickens, will immediately begin the process of seeking the University's next president, anticipating a summer 2021 start date. Details on the search team and timeline will be announced at a future time.
Dickens said, "There is no question that Bob Fisher will leave big shoes to fill. He has consistently outperformed all expectations, and his tireless commitment to Belmont University is simply unmatched. I speak for the entire Board in thanking him for a job exceptionally well done. He leaves Belmont far better than he found it, and this University's next president will inherit an institution poised for a dynamic future. Belmont has been blessed greatly by the contributions of Bob and his wife Judy, and I congratulate them on their upcoming well-deserved retirement."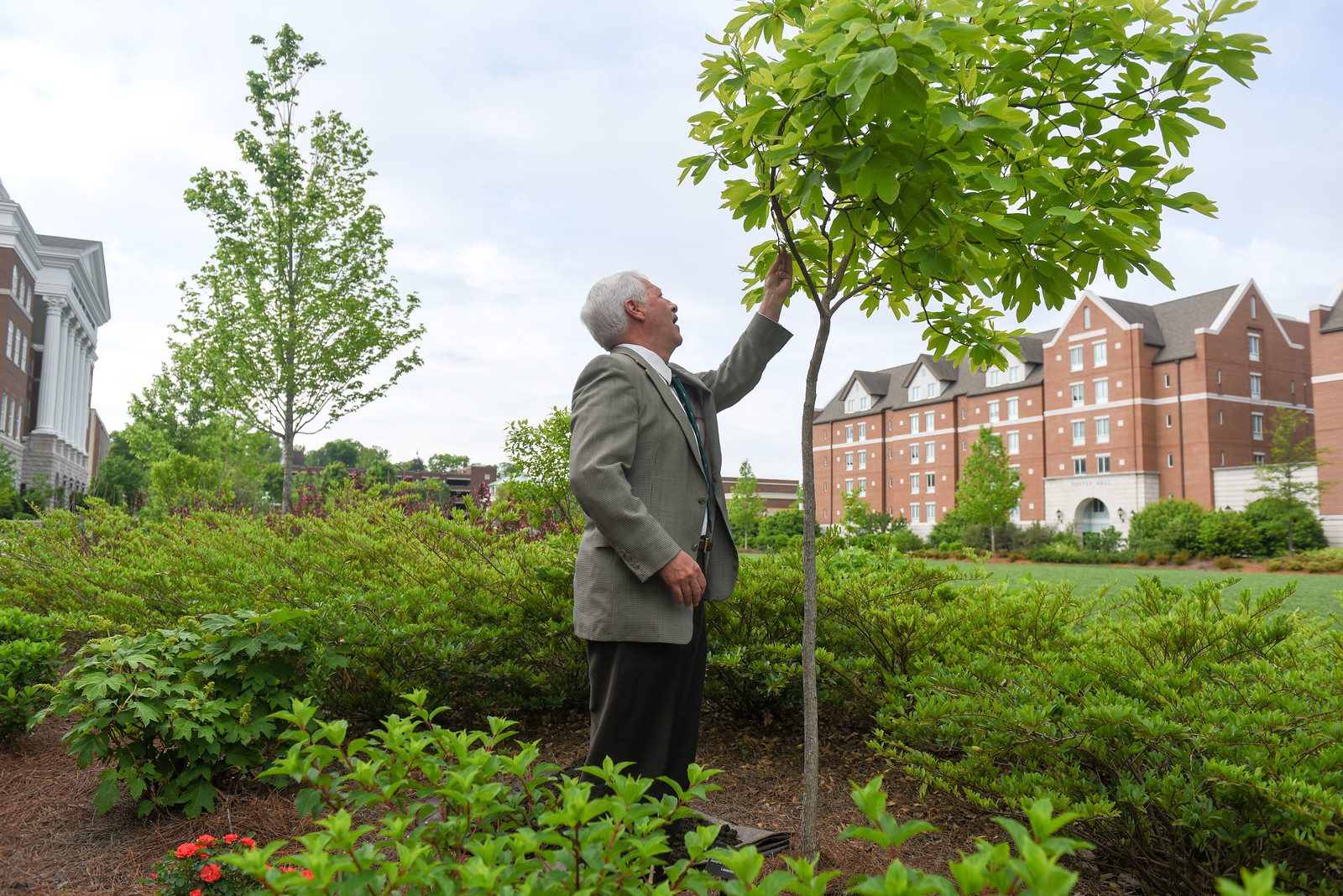 President Fisher has long noted that his life's mission is to help to create experiences that transform people, especially students, in ways that enable them to become all they were created to be. He remains focused on that same mission as he leads the University for the next seven months, ensuring the safe and successful completion of this unprecedented academic year while preparing for the incoming Fall 2021 class. He will also guide efforts to appoint the leadership team for the recently announced College of Medicine, and he will be directing progress on multiple construction projects, including the new performing arts center, two athletics facilities, a new parking garage and a new residence hall.
"Belmont University has been blessed beyond measure with great leaders in its past, but Bob Fisher has taken this institution to a level no one could have previously imagined," said Vice President and Chief of Staff Dr. Susan West, speaking on behalf of the Senior Leadership team. "He set a high bar and demanded excellence in all things and at all times, all while providing opportunities for the people on this campus to work together to lift the University to new heights. His remarkable attention to detail, deep love for our students and passion for Belmont University represent a model that will endure."
Upon the conclusion of his contract in May, Fisher plans to take a year-long sabbatical to enjoy time with his family as well as to spend time on his Arkansas farm. The Board has invited Fisher to consider a position as Chancellor of Belmont following his sabbatical. That position was last held by the late Dr. Herbert C. Gabhart, a past Belmont president who Fisher considered a friend, mentor and "the heart of Belmont."
Affectionately nicknamed "Bob the Builder" among students, faculty and staff, Fisher has shaped Belmont University into a nationally recognized, premier institution, leading the campus through extraordinary development since his tenure began in 2000 with more than $1 billion invested in new construction, renovations and property acquisitions. The expansion has been needed to serve a rapidly growing enrollment that has nearly tripled under his leadership.
Beyond the campus and population expansions, Fisher's fingerprints can be seen on nearly every accolade Belmont University has accomplished since he took office in 2000, and it is an extensive and impressive list. Highlights include:
ACADEMICS & OUTCOMES
Growing enrollment from 2,976 students in 2000 to more than 8,200 this fall, making Belmont the country's largest ecumenical Christian university
Launching new graduate schools with the Colleges of Pharmacy and Law as well as the most recently announced College of Medicine
Expanding Belmont's overall academic offerings to more than 100 areas of undergraduate study, 27 master's programs and 5 doctoral degrees including recent additions for architecture, data science and public health, among others
Raising average ACT scores for entering freshmen as well as significantly improving retention and graduation rates
Awarding more than 28,000 undergraduate and graduate degrees
Creating an atmosphere where student-athletes thrive in the classroom and their chosen sports, securing 59 conference championships in the NCAA era while winning conference academic trophies 17 of the last 19 years
Shepherding the University into the Top 5 Best Regional Colleges ranking in U.S. News & World Report before making the recent leap into the National rankings
Consistently landing Belmont high atop U.S. News annual rankings of the nation's Most Innovative colleges
CAMPUS GROWTH & DEVELOPMENT
Adding more than 3,500 residential spaces to the urban campus through the construction of 11 residence halls
Constructing stunning and flexible arts and entertainment facilities with the Curb Event Center, Troutt Theater, the renovated McAfee Concert Hall and the upcoming Performing Arts Center
Building beautiful, state-of-the-art academic facilities including the 186,000 square foot Janet Ayers Academic Center, the Milton & Denice Johnson Center, the Randall & Sadie Baskin Center, McWhorter Hall (named for brothers Clayton and Fred McWhorter) and the Gordon E. Inman Center
Expanding the campus' physical footprint by more than 20 acres
Merging with local institutions O'More College of Design (now the O'More College of Architecture & Design) and Watkins College of Art to fortify Belmont's position as a leader for art and design education in the South and a central hub for creatives
Guiding campus-wide sustainability efforts that have led Belmont to receive a Gold rating while securing multiple environmental stewardship awards
Securing the largest fundraising gifts in the institution's history as well as leading the largest fundraising campaign, the We Believe campaign, which is closing in on its aggressive $300 million goal
Increasing the University's endowment from $42.8 million to more than $278.2 million
Growing the employee infrastructure along with the enrollment, from 537 full-time employees in 2000 to 1,070 this fall
Ensuring Belmont attracts and retains strong talent by offering 21 straight years of a consistent 5 percent raise pool, moving wage comparisons among peer institutions from the University being in the 35thpercentile to now the 85th percentile
Committing to hourly workers as well with a $16.38/hour minimum starting salary this year
COMMUNITY SERVICE/ENGAGEMENT
Hosting presidential debates on campus in 2008 as well as on Oct. 22, 2020 that put the University on worldwide display—these events represent the only general election presidential debates to ever be held in Tennessee
Starting the Bridges to Belmont program in 2013, which each year provides 34 incoming freshmen who attend one of four Metro Nashville Public high schools with full, four-year scholarships
Initiating an innovative public/private partnership with Metro Nashville government that led to a $10 million renovation of nearby E.S. Rose Park, additional scholarships for local high schoolers and ample community relations and service connections
Forging a relationship with Nashville Public Television that led to 18 straight years of the "Christmas at Belmont" holiday concert being nationally broadcast on PBS
Hosting a wide variety of events that allowed for students to have unique engagement opportunities including the CMT Music Awards, CMA Country Christmas, the internationally broadcast Davis Cup tennis competition and a slate of political debates and forums
Partnering with alumnus Brad Paisley and his wife Kimberley Williams-Paisley to open nonprofit grocery outlet The Store
Launching a Missions Program in which thousands of students have used what they are learning at Belmont to serve others at home and abroad
Creating museums on campus to inspire students and tourists alike with the advent of the Gallery of Iconic Guitars and the Frederick Hart Studio Museum
Prior to his appointment at Belmont in April of 2000, Fisher was vice president for academic affairs at Arkansas State University, had previously served as dean of the school of business at Henderson State University and was a Professor at the University of Central Arkansas. He earned his BSBA from Henderson State University, an MBA from the University of Memphis, and a PhD in economics and management from the University of Arkansas.
Throughout his time in Nashville, he has also given of his time for the betterment of his community by volunteering in various roles. He currently serves as chair of the board for the Nashville Convention & Visitors Corp. as well as on the Policing Policy Commission and on the Board of Directors for the National Museum of African American Music. He has previously held positions as chair of the Greater Nashville Area Chamber of Commerce, chair of the board of the Pencil Foundation and Alignment Nashville, co-chair of the Mayor's Task Force on Public Education and as a member of the board for non-profits such as the Nashville Public Education Foundation, Cumberland Region Tomorrow, United Way, Nashville Symphony, Country Music Hall of Fame, and others.
Fisher was named "Tennessean of the Year" in 2008 following Belmont's hosting of the Town Hall Presidential Debate, and in 2010, he was named "Nashvillian of the Year." Even more recently, the Nashville Post recognized him as CEO of the Year in 2018.
In 2008, he and his wife, Judy, co-authored Life is a Gift: Inspiration from the Soon-Departed, a book that shares thoughts on living from 105 people in the Alive Hospice Program. He previously co-authored Real Dream Teams, a book on team leadership. Fisher has also served as a Fulbright Scholar in Kuala Lumpur, Malaysia.
About Belmont University
Belmont University—home of the October 22, 2020 Presidential Debate, the third and final in the election season—is made up of more than 8,200 students who come from every state and 28 countries. Nationally ranked and consistently recognized by U.S. News & World Report for its innovation and commitment to teaching, Belmont brings together the best of liberal arts and professional education in a Christian community of learning and service. The University's purpose is to help students explore their passions and develop their talents to meet the world's needs. With more than 100 areas of undergraduate study, 27 master's programs and five doctoral degrees, there is no limit to the ways Belmont University can expand an individual's horizon. For more information, visit www.belmont.edu.