From intensive international media coverage to the indelible educational experiences given to hundreds of students, the impact of the Oct. 22, 2020 Presidential Debate at Belmont University will be felt for years to come. Just one week ago the second and final meeting of 2020 presidential candidates President Donald Trump and former Vice President Joe Biden drew millions of eyes around the world to Belmont and the city of Nashville while giving citizens of all ages an up-close perspective on a historic election. 
"This year, October 23 felt like the day after Christmas as I listened to members of the Belmont community reflect on the joy, pride and excitement of hosting the presidential debate," said Belmont University President Dr. Bob Fisher. "Our students, faculty and staff dedicated hundreds of hours to ensure a safe, seamless experience for the candidates, campaigns, media and special guests who came to campus last week. We are grateful to the Commission on Presidential Debates for honoring us with the opportunity, and I know these memories will remain with our students throughout their lives. Seeing all that we accomplished just energizes us all the more to pursue the next big challenge, including a bid to host another presidential debate in 2024." 
Putting together what one media representative referenced as a one-day Olympics takes an extensive amount of planning and assistance. Belmont is especially grateful to the sponsors who made hosting possible, including Presidential Sponsors HCA Healthcare, Ryman Hospitality Properties, Inc., Nashville Convention and Visitors Corp. and Metropolitan Government of Nashville-Davidson County. 
Hosting in 2020 brought unprecedented challenges as the debate planning that began last October required significant pivots due to the COVID-19 pandemic. Locally, HCA Healthcare and the Nashville Public Health Department stepped up to join global debate health advisor Cleveland Clinic to consult with the University on needed health and safety protocols.
"We were proud to collaborate with Belmont University by implementing the health and safety protocols that contributed to the success of the final Presidential Debate," said Dr. Jonathan Perlin, chief medical officer and president, clinical operations group of HCA Healthcare. "Nearly 600 HCA Healthcare colleagues volunteered their time the day of and week leading up to the debate to help with screening, scheduling appointments, registration, lab testing and wayfinding to keep everyone safe at the historic event."
Known for seeking big stages and big opportunities for its students, Belmont also incorporated student volunteers into debate activities, giving them extraordinary learning and career-tailored experiences. A few examples include:
Senior journalism major Marissa Avnaim, who aspires to be an on-air reporter, served as a production assistant for NBC News, working with their lead producer throughout Debate Week. "This experience affirmed my passion for journalism and television production. The atmosphere working with news media the night of the debate was surreal and has made me even more excited to pursue a career as a reporter. Both of my internships with NBC at the TODAY Show and Late Night with Seth Meyers went remote due to the ongoing pandemic, so it was amazing to get in-person studio and production experience." 
Junior international business major Danny deForest worked in a variety of roles throughout the week, including within the Volunteer Hub, assisting with the CPD security team and acting as an usher within the Debate Hall. He noted how participating in debate activities "opened my eyes to how big we should dream for our futures." 
Austin Lanning, a junior creative entertainment industries and religious studies double major, embraced a number of positions including vacuuming the Debate Hall! He counted it a privilege to play a role in such a monumental event and was surprised by how witnessing the protests—and desiring to help with reconciliation— inspired him to consider whether politics might be in his own future.
Molly Deakins, a co-chair of the Debate Student Engagement Committee, worked for months to find ways to help fellow students connect with the event and promote voter registration. A junior sociology major who is minoring in political science, she noted, "Adaptability is the best resume builder. Dealing with a pandemic like COVID-19 as well as an event like this, we've had a lot of changes happen between planning and actually executing this event. Also realizing this is something I might like to do post-grad, this is the best way to kind of dip my toes into the political realm."
Fellow Debate Student Engagement Committee co-chair Keidron Turner, a sophomore politics and public law major who also volunteered with the media stand up platforms, said, "I believe the process has ultimately reassured me that politics and the legal field is the right choice for me… being a part of this historical event and making the friends I have along the way have definitely shown me that I'm safe and sound in the career path I'm pursuing now. All I have to do is simply keep pushing onward."
Freshman Mia Kylie Ditta is a broadcast journalism and political science double major. The Louisiana native worked alongside CPD serving news crews reporting on the debate. She said, "The entire experience was an amazing opportunity that taught me so much about political journalism. I was able to be on scene with all the major networks, and it was incredible. I learned that anything is possible if I put my mind to it. I am so excited for my future career in journalism!"
The personal, educational impact wasn't the only way Debate 2020 made a difference in local lives. According to data gathered by Belmont and the Nashville Convention and Visitors Corp., the debate also brought a positive economic boost to a city just beginning to recover from the pandemic. At a time when the event and hospitality industries are suffering, the presidential debate led to the booking of 2,300 hotel room nights in the city, along with putting hundreds of Nashvillians to work from more than 60  printing, event, security, food, hospitality, transportation and technology vendors and companies, most of which were local. 
The timeline for the Oct. 22 debate began in fall 2018 with initial preparations for an application that was due in March 2019. The Commission on Presidential Debates announced Belmont's selection in October 2019, and a core team of approximately 40 faculty and staff spent the past year planning for all the logistics and educational offerings that would accompany the University's role as host. The data below further demonstrates the magnitude and impact of the Oct. 22, 2020 Presidential Debate.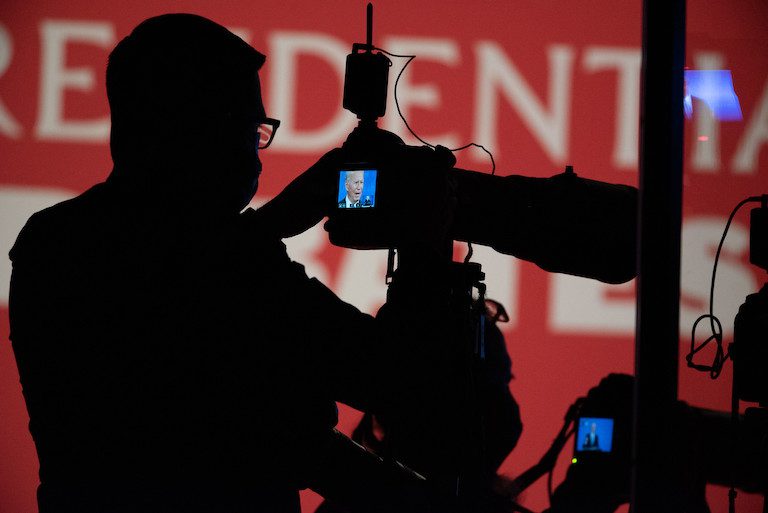 Belmont By the Numbers:
315 students and 77 staff and faculty poured more than 4,165 volunteer hours into Debate 2020
40 debate-themed virtual educational events for the campus & community, including conversations with Pulitzer Prize-winning journalist Carl Bernstein, fashion designer Diane Von Furstenberg, NPR President/CEO John Lansing, renowned painter Makoto Fujimura, alumni band Moon Taxi and Habitat for Humanity CEO Jonathan Reckford
63 million viewers across the 15 networks that carried the debate according to Nielsen
Debate attended by approximately 750 media including representatives from ABC, CBS, NBC, FOX, CNN, MSNBC, FOX News, C-SPAN, Eurovision, AP, BBC and a variety of other national and international outlets
12,800+ media hits providing more than $56.6 million in PR value for Belmont and Nashville
2.2 million impressions on Oct. 22 on Facebook and 64,000 Belmont.edu pageviews
Built a 25,834 square foot Media Filing Center to accommodate 200 reporters socially distanced, 6 20 foot x 12 foot network platforms in the arena and 48 10 foot x 8 foot media stand up positions
MFC include HVAC units that turned over air 12-13 times per hour
Campus encircled with 7,120 linear feet of 8 foot No Scale – No Passthrough fencing, 5,500 linear feet of concert fencing and 6,000 linear feet of bike rack 
Belmont Dining provider Sodexo continued to feed students while also providing catering for Debate guests, working more than 200 events over 5 days and serving more than 8,400 meals
30,000 Debate-themed coloring books distributed to local elementary students
Created 800 media gift bags
Produced 3,000 branded guitar picks among other items for the gift bags
Handed out more than 5,500 student and volunteer T-shirts
Aired a Belmont commercial after the debate broadcast on 42 stations across the country
HCA Healthcare Stats:
Nearly 600 HCA Healthcare colleagues volunteered to help with screening, scheduling appointments, registration, lab testing and wayfinding
Approximately 2,000 COVID-19 tests were conducted at HCA Healthcare across 7 days
Average turnaround time for receiving test results was 32.5 minutes
HCA Healthcare managed more than 1,500 calls for scheduling or assistance
Approximately 2,300 volunteer hours were contributed by HCA Healthcare volunteers
4 thermal temperature cameras were used to screen debate guests on the HCA Healthcare and Belmont campuses