After 21 years at the helm, Dr. Bob Fisher is wrapping up his last week as president of Belmont University. His more than two decades of service to the University are marked with phenomenal growth, dramatic rise in national prominence, dedication to student success and a legacy of serving others.
Fisher's last weeks as president were spent offering interviews with numerous local media outlets, attending his final ribbon cutting for the brand new Crockett Center for Athletic Excellence, securing significant scholarships for students in the Watkins College of Art, offering a preview of the soon-to-open Belmont University Performing Arts Center and its partnership with the Nashville Opera and announcing that the University surpassed its "We Believe Campaign" Fundraising goal, exceeding $326 million for student scholarships, faculty support, missions, athletics and more, to name a few.
Affectionately nicknamed "Bob the Builder" among students, faculty and staff, Fisher has shaped Belmont University into a nationally recognized, premier institution, leading the campus through extraordinary development since his tenure began in 2000 with more than $1 billion invested in new construction, renovations and property acquisitions. The expansion has been needed to serve a rapidly growing enrollment that has nearly tripled under his leadership.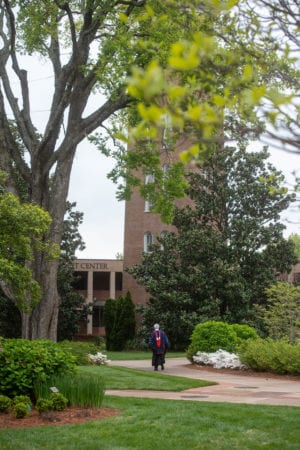 Beyond the campus and population expansions, Fisher's fingerprints can be seen on nearly every accolade Belmont University has accomplished since he took office in 2000, and it is an extensive and impressive list. View some of these highlights in the announcement of Fisher's retirement on Belmont News.
Belmont faculty and staff came together to thank both Bob and Judy Fisher for their longstanding commitment to the University in a special event on May 20. The event offered the chance for several speakers to chronicle fond memories of the Fishers and to present the couple with several gifts, including 21 roses, custom Belmont chocolate bars, a handmade wooden memory box filled with hundreds of thank you cards and a custom leather-bound photo book showcasing highlights from their 21-year tenure. Photos from the event can be viewed here.