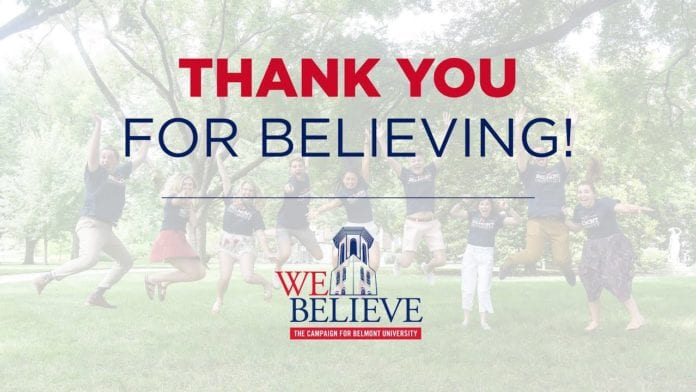 In the final week before Belmont President Dr. Bob Fisher's retirement, the University announced today that it had successfully surpassed the initial goals for the We Believe campaign, the largest comprehensive fundraising effort in Belmont history. Launched publicly five years ago at the conclusion of the institution's 125th anniversary celebration, the We Believe campaign aimed to raise and invest $300 million to support five strategic priorities: scholarships, faculty, missions, athletics and the annual fund. As of today, the campaign's total lands at $326,674,688, more than $20 million beyond the original goal.
"When we launched the We Believe Campaign in 2016, we did so with five fundraising priorities identified that are critical to us living out our mission in even greater ways," said Dr. Fisher. "We set our sights on the most ambitious fundraising goal in Belmont history and never looked back. Not surprisingly, our Belmont family—students, faculty, staff, alumni, parents, trustees and other supporters—heard the call and responded in record numbers. As a result, our endowment has grown more than 233% from $102 million to more than $340 million, ensuring our Christ-centered mission will endure and Belmont will thrive for many, many years to come."
Specific priorities of the We Believe campaign included:
$141,913,684 for Endowed Scholarships to ensure more qualified students can receive a Belmont education regardless of financial means
$16,948,793 for Faculty Support through endowed chairs/professorships to attract and retain preeminent experts in their fields
$6,048,489 for Missions Support to expand endowed funds to enhance Belmont's undeniably Christian environment and further students' ability to serve in the U.S. and abroad
$14,416,735 for Athletics funding for endowed scholarships to support high-caliber student athletes who embody Belmont values and represent the University around the world
$51,922,588 for Annual Giving to support the student experience (research, lectures, travel, etc.) and create a culture of philanthropy among Belmont constituent groups that encourages consistent, long-term giving
Vice President for Development and External Relations Dr. Perry Moulds added, "Every donation, large and small, from the more than 23,000 contributors to this campaign creates more opportunities for students to receive an exceptional and distinctive education at Belmont University. I am thrilled that we could cross this threshold prior to Dr. Fisher's retirement as it's his visionary leadership that has paved the way for all that Belmont has become. Our donors' belief has now set the stage for an even more dynamic future."
To learn more about the We Believe campaign or to invest in a Belmont University scholarship or other initiative, visit webelieve.belmont.edu.