Town Hall Debate scores highest viewership, more than 5,200 media hits
While the physical signs that Belmont University hosted the 2008 Town Hall Presidential Debate disappeared last week, the impact of the international spotlight continues to be overwhelmingly positive. According to Nielsen Media Ratings, more than 63.2 million homes nationwide tuned in to view the Town Hall debate on Tues., Oct. 7, the largest television audience of the three presidential debates held this fall. In addition, the university received more than 5,200 media hits Oct. 3-10, the days leading up to and following the debate. Television broadcast coverage alone brought in an estimated $21 million of publicity value for Belmont University, according to media tracker NewsPowerOnline.com.
Belmont University President Dr. Bob Fisher said, "I am thrilled that Debate viewers were able to see— and visitors to our campus were able to experience—the capability, dedication and spirit that Belmont students, faculty, staff and alumni possess. The public perception and reputation of Belmont has risen to a new level, and now the world knows the kinds of things to expect from Belmont University. We were honored to have this opportunity to participate so directly in such a vital element of our nation's governing process, and we know that the benefits to the university of hosting the 2008 Town Hall Presidential Debate will be both immediate and long-lasting."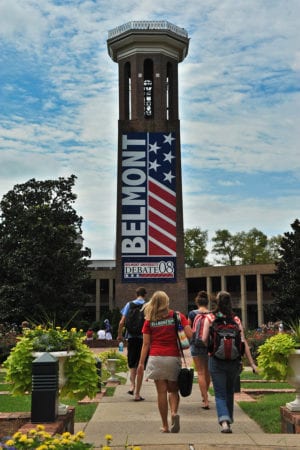 The smallest university to host a presidential or vice presidential debate this year, Belmont is currently celebrating a record enrollment of 5,023 students this fall as compared to the more than 11,000 at Ole Miss, Washington University in St. Louis or Hofstra University, the other debate sites. USA Today political writer Chuck Raasch noted, "Belmont University in Nashville proved that small places with big ambitions could be world-class stages."
Tennessee Governor Phil Bredesen, who served as an honorary chair for the debate's host committee, said, "Belmont served as a perfect venue for the 2008 Town Hall Presidential Debate, and the university's army of volunteers gave the candidates, campaign guests and visiting media a glimpse into the best of what Tennessee has to offer."
Also serving as an honorary chair for the debate's host committee, Nashville Mayor Karl Dean said, "The debate was a great success for Belmont and our city. It gave us an opportunity to send a letter to the rest of the world about how Nashville is a vibrant, diverse city. I think I can speak for all of Nashville in expressing gratitude to Belmont University for doing such an excellent job in hosting this event and bringing so much positive attention to Nashville. Credit is also due to the Metro employees who worked on the day of the debate and the months leading up to it to ensure the debate and all the surrounding events went smoothly."
Belmont Debate08 By the Numbers
The Town Hall Presidential Debate, the first to be held in Tennessee and the only one in which questions to the candidates were asked by citizen participants, scored a ratings coup both nationwide and locally. The debate was watched in 63.2 million homes, besting the first debate between Senators John McCain and Barack Obama by more than 10 million homes. The final presidential debate, held Oct. 15, was viewed in 56.5 million homes. In Nashville, the Town Hall debate scored a local rating of 57.7, equivalent to 586,405 homes, a 42.4 percent increase from the first Presidential debate.
The official Belmont Debate Web site, www.belmontdebate08.com, was visited 30,000 times on Debate Day alone and more than 100,000 times since its launch in May. In addition, Debate08 brought a significant upsurge in attention to the Belmont University site (www.belmont.edu). The site saw a 42 percent increase in the number of visitors from Oct. 1-16 as compared to the same time period last year and nearly double the number of page views.
Still, the number Belmont University was most proud of was the 420 students who were offered seats in the Debate Hall for this historic event. More than 300 students also participated as Debate08 volunteers, providing assistance in areas from hospitality and transportation to running transcripts and ushering Debate Hall ticket holders.
Student McCauley Gatliff said, "I was given the opportunity to spend the day with the NBC producers and newscasters.
The day was a whirlwind of running errands, helping with live broadcasts on the quad and escorting the newscasters to where they needed to be. It wasn't until the end of the day, as I stood in the NBC workspace talking to the president and vice president of NBC News with Tom Brokaw on my left and Andrea Mitchell on my right that it hit me that this was a priceless experience that no other university could have given me." Click here for additional students' perspectives on Debate08 and campus preparations for the event.
The local community also enjoyed a taste of Debate08 thanks to the Official Debate08 Block Party that was held on a portion of Belmont Boulevard. More than 2,000 people came to campus Oct. 7 to enjoy the live music, vendors and free food at the Block Party and to be a part of live tapings of CBS' "The Early Show," hosted by Harry Smith, and MSNBC'S "Hardball," hosted by Chris Matthews. The Debate08 Block Party offered food from Jim 'N Nick's, Copper Kettle, Blue Coast Burrito, Carol Ann's Home Cooking and Las Paletas Gourmet Popsicles, while more than 30 vendors bought booths to "Issue Alley" to inform Block Party participants and promote their causes and candidates.
Other Belmont Debate08 statistics include:
• Over 900 new phones, 1,000 voicemail boxes
• 1.5 Gigabytes of Internet
• More than 70 miles of copper wire installed
• Over 3,000 new data, voice and CATV connections
• 2,000 new accounts for wired and wireless Internet users
• Miles of fiber connecting downtown to campus from two directions
• Several hundred feet of new buried conduit
• Over 100 AT&T and CISCO staff working for six months in project planning and support
• Build-out of 800 workstations with voice and data in 25,000-square-foot Media Filing Center
• More than 100 TVs installed
• More than 1.3 miles of fiber-optic cable
• 1,200 access lines in the Media Filing Center – 600 Internet connections and 600 voice lines
• Three 500 Mbps premium fixed metro Ethernet circuits
• One COW (Cell Site on Wheels) to handle increased wireless usage
• 3,500 hospitality bags created for media
• 600 volunteers
• More than 100 programs and special events related to the debate planned
Debate08 Week of Events
Award-winning documentary filmmaker Ken Burns kicked off Debate Week at Belmont with two special appearances on campus. On Sept. 30, he gave a lecture titled, "Telling the American Stories," which was open to Belmont students, faculty, staff and the Nashville community, and he held a question-and-answer session with Belmont students the following morning.
After the Vice Presidential Debate wrapped up on Thurs., Oct. 2, the national media descended upon Nashville in preparation for the Town Hall Presidential Debate. A schedule full of activities was planned to welcome the media guests to Nashville at several of the city's most popular attractions, including the Country Music Hall of Fame & Museum, the Frist Center for the Visual Arts, Ryman Auditorium and the Nashville Public Library. Tennessee Governor Phil Bredesen, First Lady Andrea Conte and Belmont President Dr. Bob Fisher welcomed a rare, original copy of the Declaration of Independence to the library's downtown branch on Saturday, where it stayed for public viewing throughout the weekend.
On Sunday, Gaylord Entertainment presented a special production of the Grand Ole Opry at the Ryman for the Debate08 media that featured Belmont alumni Brad Paisley, Trisha Yearwood, Josh Turner and Julie Roberts. The evening's special guest and star of the show was CBS News' Bob Schieffer, moderator of the final presidential debate, who made his Grand Ole Opry debut with his band Honky Tonk Confidential and performed a duet with Paisley as the show's finale.
Bredesen and Conte, former Sen. Howard Baker and the University of Tennessee's Baker Center for Public Policy, Belmont University, the Tennessee Business Roundtable and the Freedom Forum First Amendment Center hosted a forum Mon., Oct. 6, on civil discourse in American politics as a prelude to the Town Hall Presidential Debate. Former CNN anchor Bernard Shaw moderated the one-hour forum assessing this year's presidential race, posing the key question: "Is Uncivil Discourse Sabotaging American Politics and Governance?" Participants included Mississippi Gov. Haley Barbour, a former chairman of the Republican National Committee; Politico managing editor Bill Nichols, a veteran journalist who has covered six presidential elections; former Democratic Congresswoman Pat Schroeder, now president and CEO of the Association of American Publishers; and Mark Whitaker, senior vice president and Washington bureau chief for NBC News.
Belmont's Director of University Marketing & Special Initiatives Pamela Johnson, who led the university's Debate08 efforts, said, "The feedback we've received from local and visiting media, Town Hall participants and the Commission on Presidential Debates has frankly been off the charts. One of our primary goals in the past year of preparing for the town hall debate was to showcase the best of Belmont and Nashville to the world. We are thrilled that so many sponsor and partners in the community and state joined us in our effort to make Debate08 something that the entire city of Nashville and state of Tennessee could celebrate with Belmont."
About the 2008 Town Hall Presidential Debate
The 2008 Town Hall Presidential Debate at Belmont University is made possible through the generosity of our lead sponsors, Hospital Corporation of America, Jack C. Massey Foundation, The Metropolitan Government of Nashville & Davidson County and the State of Tennessee. Additional support is provided by AT&T; Baker, Donelson, Bearman, Caldwell and Berkowitz; Bank of America; Blue Cross Blue Shield of Tennessee; Bridgestone Americas; Pat and George Bullard; Dell, Inc.; Dollar General Corporation; Earl Swensson Associates, Inc.; Enterprise Electric, LLC; Fifth Third Bank; First Tennessee Bank; The Frist Foundation; Gaylord Entertainment; Ingram Industries; Interior Design Services, Inc.; Nashville Area Chamber of Commerce; Nashville Convention & Visitors Bureau; Nissan North America; Partnership for Chronic Disease; Purity Dairies, Inc.; R.C. Mathews Contractor; Reliant Bank; Sherrard & Roe; SunTrust Bank; The Tennessean; Tractor Supply Company; Walker, Tipps & Malone; Waller, Landsden, Dortch & Davis; and Zycron, Inc. For more information, visit www.belmontdebate08.com.