The Mike Curb College of Entertainment and Music Business hosted the fourth annual "Minding the Gap: A Diversity in the Entertainment Industry" Symposium Oct. 6-7 during Belmont University's Diversity Week. In its fourth year, the Symposium leaned into its "Call to Action" theme, challenging attendees to move beyond dialogue and toward impact.
The Symposium's flagship event welcomed Erik Moses, president and general manager of Nashville Superspeedway to campus for a fireside chat with Curb College Associate Dean and Professor Cheryl Slay Carr. In August 2020, Moses became the first Black person to hold the title at any NASCAR track in the sport's history. Today, he is leading efforts to revitalize and reposition Nashville Superspeedway into a premier motorsports and live event venue.
While familiar with Nashville's good food, good music and creative economy, Moses was still unsure of what to expect when moving here in 2020. "I have found Nashville to be not only friendly, but welcoming – and there's a difference," he said. "Friendly people say hello, welcoming people invite you in." That has been a defining characteristic during the beginning of his NASCAR career in Tennessee, and one he is working to implement among the sport in Nashville.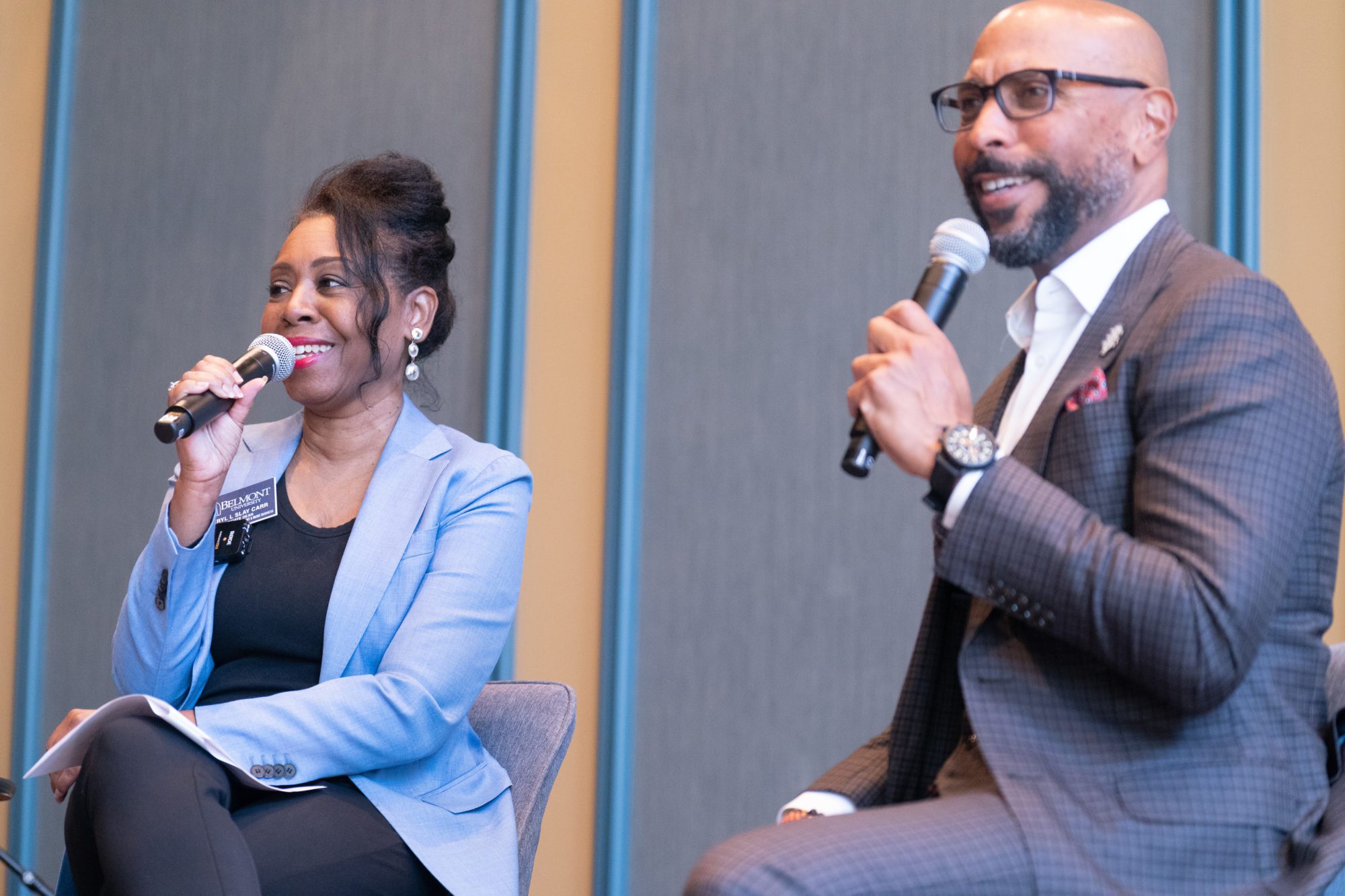 Carr and Moses settled into a conversation about his background, the sports industry, and diversity, equity and inclusion within NASCAR and beyond. "I'm thankful to Belmont for allowing this conversation as part of a larger conversation," he said. "The inclusiveness, the welcoming part – that's what matters most," said the NASCAR executive.
Moses isn't the only person in his family to blaze the trail as a "first." His great-uncle was one of the first to integrate the law school at the University of North Carolina Chapel Hill in the 1950s, paving the way for a line of lawyers in his family, where Moses would later call his undergraduate alma mater.
Sports and entertainment was not the original plan, however. He, too, followed in the footsteps of family members and became a lawyer. After practicing law for a few years, he found his way into the Washington D.C. sports scene, and has obtained deep fulfillment in how the industry can unify communities. "The ability to build bridges between people is like no other thing that I've ever done," said Moses, reflecting on the diversity of fans the entertainment industry brings together. "That is why I work in sports. Being able to build opportunities for those connections to happen is really important."
When asked about the legacy of being the first Black NASCAR track president, Moses responded, "Humbly, I think it means more to them than it does to me… It's not as important that I'm the first, but rather to ensure I'm not the last."
During the Symposium's Impact luncheon Q&A with students after the interview, Moses offered sound counsel for aspiring entertainment executives. He advised students to build a network and foster strong connections, a differentiating factor of success in the entertainment business. "Show people you want to be in relationship with them," he said.
As a father to a high schooler and college student, he shared wisdom he often tells his children: use your voice; be patient; dream big; respect those older than you; and "don't let anyone silence pieces of who you are."
In its fourth year, Symposium chair Cheryl Slay Carr reflected, "It was a pleasure to interview Erik, to explore his career journey, to glean his insights on moving from DEI dialogues to action, and to offer our students the opportunity to hear his unique experiences and perspectives. Students have shared with me how much the interview and his presence on campus meant to them. That is what I envisioned and hoped for in creating "Minding the Gap" 4 years ago, and what makes the effort involved in hosting the Symposium each year so worthwhile. The cherry on top is welcoming someone of Erik's caliber as a future Belmont partner in entertainment, sports and tourism/hospitality."

---
Other sessions during the Symposium included a music showcase and research presented by Curb College faculty and staff including
Changing the Music from Within: A Case Study of Three Women in Bluegrass and Americana Music, presented by Thomm Jutz, instructor of songwriting

From Slave Songs to Grammys: The Story of the Fisk Jubilee Singers, presented by Dr. MarQo Patton, assistant professor

Answering Ava DuVernay's Call to Action: Using Film and TV as Tools of Empathy, Empowerment, and Community Engagement, presented by Dr. Amy Bertram, Lecturer of Motion Pictures

Diversity, Equity & Inclusion in Creative Organizations, presented by Dr. David Schreiber, associate professor and chair of the Creative & Entertainment Industries program; and Nadine Waran-Perrero, coordinator of student enrichment

Diversity in Country Music, presented by Dr. Don Cusic, professor

This is What it Sounds Like: A Music Showcase, hosted by Jodi Marr, instructor of songwriting; Performances by Amanda Aponte, Avery Ellis, Eleni Iglesias, Grace Wiles, Lydia Von Hof, Miles Squiers, and Trey Strange
View photos from the Symposium here.