The new, large theater in the Johnson Center played host to its biggest event yet Wednesday night as cast and crew members from ABC's "Nashville" came to campus to conduct a Q&A session with Curb College of Entertainment and Music Business students before enjoying the show's Season Four Premiere.
Hanna Seymour, coordinator of student enrichment for the Curb College, said, the event came together after Instructor of Music Business Dan Keen threw out the idea of Belmont hosting the premiere viewing party to the show's music supervisor, Frankie Pine. "Once the ABC team saw our new 250-seat theater and learned more about our motion pictures program," Seymour continued, "they were excited to host a viewing party that included our students and faculty. ABC Nashville's Bridgett McGuire suggested we host a panel prior to the showing as the cast and crew were eager to get face time with, and hear from, our students. The event was a great night for the Curb College, bringing industry professionals into our new space, intermingling with our students, and hopefully the beginning of many more collaborations with ABC Nashville and our local TV/film community."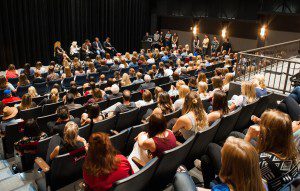 Prior to the 9 p.m. season premiere viewing party, Belmont students participated in a Q&A session with Pine and the show's creator/director/writer Callie Khouri, actor and Belmont parent Charles Esten ("Deacon"), screenwriter Taylor Hamra and music producer Buddy Miller.
Esten gave insight into how the show's shooting schedule works, operating on an eight-day schedule to produce two episodes every three weeks. Khouri responded to a student's question about the frustration fans feel as characters appear to experience positive developments, only to slide back into negative traits: "That's part of what drama is… getting your hopes up and then having your expectations dashed."
Pine, meanwhile, shared her experiences finding songs for all kinds of projects, from films like Magic Mike to TV productions like "Secrets and Lies" and "Army Wives." However, with music playing such a central role in "Nashville," finding the right song takes on even more significance. "'Nashville' is such a different animal and such a different level. I have to envision what those songs are going to do for our characters, which is emotional. The big joke on set is I'm the one crying all the time."