Sophomore music business major recently signed publishing deal with Warner/Chappell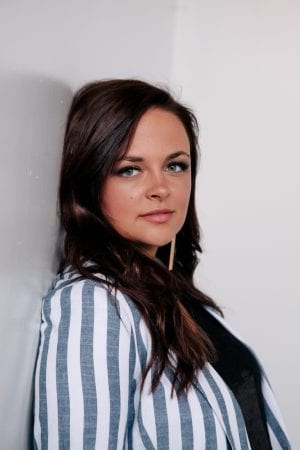 Nashville native and a sophomore in the Mike Curb College of Entertainment and Music Business, Caroline Watkins, was recently selected as the second recipient of the 'Women Creators' scholarship, established in 2015 by reigning Academy of Country Music Female Vocalist of the Year Miranda Lambert. The scholarship was created to honor a female Belmont student who is majoring in music business, songwriting or entertainment industry studies and is actively working towards pursuing her dream of working in the music industry. The scholarship will provide Watkins with more than $40,000 in scholarship funds for the 2017-18 academic year.
Watkins grew up playing guitar and writing songs. In fact, after playing throughout the city in recent years, including shows at Nashville's iconic Bluebird Café, she was signed last year to a worldwide publishing agreement with Warner/Chappell Nashville.
Watkins said, "Receiving this scholarship is by far the greatest honor I have ever received. From the bottom of my heart, I want to thank Belmont and Miranda for believing in me. Anyone familiar with Belmont knows the amount of talent at our school, so to have somehow been chosen among all of the other deserving young women is incredibly humbling and encouraging. Miranda Lambert has always been one of my music heroes. She is part of the reason I started writing songs. I honestly know every word to every song she has ever recorded, so I still just can't believe it! There are so many women doing great things in Nashville right now, but there is not a better example for those of us working towards a career than Miranda. I know this honor comes with a lot of responsibility, and I will do my best to make Miranda, Belmont and all of the other women creators who have come before and after me proud."
Lambert established the Women Creators scholarship in an effort to encourage outstanding women to follow their passions and pursue careers in the music industry. Candidates for the scholarship are asked to complete an online application and submit an original song. A selection committee from the Curb College then gathers to review the applications, more than 80 for 2017-18, and the top six finalists are sent for Lambert's review.
"I am so happy to continue supporting this scholarship fund for Women Creators at Belmont University's Mike Curb College of Entertainment and Music Business," said Lambert. "To be able to assist women in a meaningful way means the world to me."
Lambert raised the funds to continue the scholarship for a second year with her Jan. 24, 2017 club show at Joe's Bar in Chicago, a rehearsal for her Highway Vagabond Tour, which supported her 2016 album, The Weight of These Wings. Songwriter Natalie Hemby, a Belmont graduate, joined her for the concert.
Doug Howard, dean of the Curb College, said, "I am extremely pleased to send my congratulations to Caroline Watkins for being selected as the recipient of the Miranda Lambert Women Creator's scholarship, and to give my deepest respect and gratitude to Miranda for backing her beliefs with actions by providing another young female creator this life-changing opportunity."
The inaugural "Women Creators" scholarship for the 2016-17 academic year went to songwriting major Anna Vaus, who has since signed her first publishing deal with Black River Publishing.
About Miranda Lambert
Vanner Records/RCA Records Nashville singer/songwriter Miranda Lambert is the reigning ACM Female Vocalist of the Year, having been bestowed this honor for eight consecutive years. Her accolades include 2 Grammy Awards, 13 (CMA) Country Music Associations Awards, and 28 (ACM) Academy of Country Music Awards as well as many other honors, including the prestigious Harmony Award from the Nashville Symphony. The Texas native released her double album titled The Weight of These Wings in November 2016, which debuted at No. 1 on the Billboard Country Albums chart and won the ACM Album of the year award in 2017. Early 2018 she embarked on her Livin' like Hippies headlining arena tour, for more details  www.Mirandalambert.com
About the Mike Curb College of Entertainment and Music Business
In 1971, Belmont first established a Music Business program designed to prepare young women and men for operational, administrative, creative and technical careers in the music industry. The program grew in both size and reputation, leading to the advent of the full Mike Curb College of Entertainment and Music Business in 2003. Currently home to more than 2,500 undergraduates with majors in six areas—music business, audio engineering technology, entertainment industry studies, songwriting, motion pictures and media studies—the college boasts an impressive faculty of academic scholars and authors, entrepreneurs, songwriters, producers, filmmakers, journalists and sound and recording engineers. It is a world leader in music business and entertainment industry education and the only freestanding college of its kind.