Mike Curb College of Entertainment and Music Business student Anna Vaus was recently selected as the first-ever recipient of the 'Women Creators' scholarship, established in 2015 by reigning Academy of Country Music and Country Music Association Female Vocalist of the Year Miranda Lambert. The scholarship was created to honor a female Belmont student who is majoring in music business, songwriting or entertainment industry studies and is actively working towards pursuing her dream of working in the music industry. The scholarship will provide Vaus with more than $40,000 in scholarship funds beginning in the 2016-2017 academic year.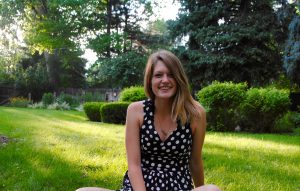 Originally from San Diego, California, Vaus was inspired toward music early on from her father, Grammy-winning artist, Steve Vaus. She has opened for country artists Hunter Hayes, Lonestar, Billy Ray Cyrus, LeAnn Womack and Phil Vassar among others and made her Bluebird Cafe debut in February 2016. Vaus is currently a junior at Belmont, majoring in songwriting with a minor in music business.
"I am so thankful and honored to have been chosen as the first recipient of the Miranda Lambert Women Creators Fund," Vaus said. "Not just because of what a crazy opportunity it is for myself, but because the tide is changing for all of the young women in this industry. I have so much hope for women in country music because of the path that Miranda and so many awesome people are currently fighting to pave for us!"
Lambert established the Women Creators scholarship in an effort to encourage outstanding women to follow their passions and pursue careers in the music industry. In July of 2015, Lambert raised funds for the scholarship by headlining a songwriter round at 3rd and Lindsley in Nashville. Lambert was joined by her tour mates at the time Raelynn, Clare Dunn and Courtney Cole and female songwriters Natalie Hemby and Jessi Alexander. Hemby, Dunn and Cole are all Belmont graduates.
Candidates for the scholarship were asked to complete an online application and submit an original song. The Curb College then had a small selection committee review the 80 applications received for the scholarship, and the top six finalists were sent for Lambert's review.
Doug Howard, dean of the Curb College, noted, "We are so grateful to Miranda Lambert for her fantastic commitment to the women songwriters and artists that comprise a major part of the creative community at the Curb College.  And, I want to congratulate Anna Vaus and the many women creators at Belmont University who participated in this year's award process. Thank you Miranda!"