Dr. Fannie Hewlett inspires students, faculty, staff, alumni in her return to campus
"When I'm stuck and I've done all I can do, I always turn to the Master," Dr. Fannie Hewlett, Belmont College's first African American graduate, said at a convocation held in her honor during the University's 2015 Diversity Week. To celebrate Belmont's diversity efforts and further the campus' 125th Anniversary, the University's Welcome Home Team invited Dr. Hewlett to campus to share her story with faculty, staff, students and alumni.
Growing up in Bay Minette, Alabama, Hewlett lived on a red dirt road where mail was delivered a mile away from her house to Rural Route Box 3. While in high school, Alabama Governor George Wallace started the William Lowndes Yancey State Junior College in her hometown and Hewlett, with a group of her friends, enrolled. It was there that Hewlett said she developed a love for psychology, largely due to the commitment and dedication of her inspirational teachers.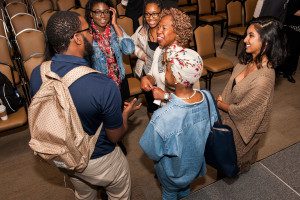 After graduating from junior college, Hewlett said her next step was unclear. So she turned to the Master and waited. Belmont College, some 420 miles away, sent a brochure that landed in her Rural Route Box 3 mailbox, making her decision more clear. "God told me it was time," Hewlett said. "This is where I was supposed to be at that time. He knew that, and the rest is history. This is my story."
Though she had no money and no car, Hewlett worked with the College to secure funds for her education and found a family friend who was traveling through Alabama to provide her transportation. There was only one thing left – "I just had to figure out where Nashville was."
After arriving on campus, Hewlett said there were two things that immediately stuck out – beautiful gazebos and a welcoming spirit. "I never felt that I was unwelcome," Hewlett said. "I never felt that they were just bringing me here because they needed that face to say to the world 'Hey, look at us!' I always felt that Belmont was welcoming me into the family." After graduating from the College in 1970, Hewlett went on to obtain her Master's Degree from Fisk University, her Doctorate from the University of Tennessee at Knoxville and pursued a rich career in higher education that ultimately led to her most recent position as interim president at Chattanooga State Community College.
Despite a career full of success and accolades, Hewlett still looks to Belmont as one of the most formative and valuable opportunities of her life. "Being [here] has been one of the heights of my experiences. I couldn't have asked for a better place to be," Hewlett said. "The people I have met here are the people who have helped me to become what I have become today. For that, I am eternally grateful."
Taking an opportunity to give advice to audience members, Hewlett emphasized the importance of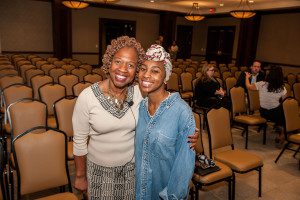 passion, resilience and a deeply rooted faith in God. "Surround yourself with your faith. Surround yourself with God. As God is leading you, get yourself out of the way. Carry him with you always so when you fall down, you know he is going to pick you up," she said.
Following her presentation, Hewlett was presented with a signed copy of Belmont's recently published history book, From Here to Anywhere: Belmont University from 1890 – 2015, and the declaration of the establishment of the Dr. Fannie Hewlett Leadership Award. Scheduled to be presented to both an undergraduate and graduate student in the spring, the award is intended to celebrate diversity by recognizing courage, leadership and contribution to the creation of inclusion at Belmont.
Hewlett concluded her time on campus by encouraging members of the Belmont community to remain involved in the Belmont story. "I could not have asked for anything better at this stage in my life and career," Hewlett said. "The history of Belmont is so rich, and it is continuing to evolve. You all are becoming part of that history. So, kudos to you. It is wonderful that you are going to become part of such a rich history that keeps growing."
Belmont's 2015 Diversity Week continues with Celebrate Diversity, an event featuring spoken word, live music and dance on Thurs., Oct. 29 at 6 p.m. in the Beaman Student Life Center. The week's final convocation will be presented by local artist James Threalkill who will celebrate Belmont's 125 anniversary by taking tiles created by members of the Belmont community and forming a collaborative mosaic art installation piece.
To view a video of Dr. Hewlett's presentation, click here.