Record-breaking enrollment includes more than 1,400 new freshmen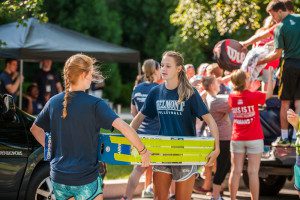 With a new semester of classes beginning at 8 a.m. sharp today, Belmont University welcomed a record-breaking 7,425 students to campus this morning, an enrollment number that's more than doubled since 2000 (2,976 students). This marks the 15th consecutive year that Belmont's enrollment broke the previous year's record, a phenomenal feat for a private University committed to traditional, residential education rather than online learning. Applications for undergraduate admissions for Fall 2015 saw an increase of 8.3 percent and resulted in the University's largest freshman class to date with 1,429 students.
Belmont President Dr. Bob Fisher said, "As Belmont celebrates its 125th Anniversary this year, it's amazing to me to ponder the way this University has grown and changed over the course of its history. I believe our founders would be incredibly—and pleasantly—surprised to see how their initial dreams to enable female education in the 19th century have developed into a top-ranking, co-ed institution focused on empowering more than 7,400 students to engage and transform the world. I'm honored to again welcome so many new students into that legacy this fall."
Associate Provost and Dean of Enrollment David Mee added, "Another year of record enrollment at Belmont proves again how this campus offers one of the most astonishing stories in higher education. When a University offers outstanding academic and co-curricular programs, the finest and most advanced facilities and an unwavering commitment to its mission, students from every state and many countries will enroll in record numbers. This has indeed been the Belmont story."
This year's incoming freshman class hails from 47 states and represents 10 foreign countries, with 78 percent of the class originating from outside of Tennessee. As a group, Belmont's Class of 2019 scored an average of 26 on the ACT and held an average high school GPA of 3.5. Twenty-nine percent were in the top 10 percent of their graduating class, with 56 percent in the top quarter of those who submitted a class ranking. Belmont's student body currently consists of 6,053 undergraduate students and 1,372 pursuing graduate/professional paths.
With the opening this fall of the R. Milton and Denice Johnson Center, Belmont is investing in state-of-the-art academic space and resources to serve its increased enrollment while also more than doubling the seating capacity of its main campus cafeteria.
Final Fall 2015 enrollment figures won't be available until mid-September following the university's official drop/add/withdraw period.