The 25th Annual National Conference of the Lilly Fellows Program in Humanities and the Arts explored incorporating creativity in Christian higher education at Belmont University October 9 – 11. Centered on the theme "Created for Creativity: Music, Culture and Faith," the conference invited attendees to discover how Belmont's signature programs in music, songwriting, religion and the arts and music business embody the University's commitment to embedding strong Christian character in every aspect of its work.
The Valparaiso University-based Lilly Fellows Program is the largest ecumenical organization working to advance the future of church-related higher education.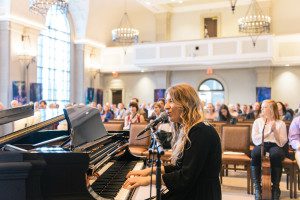 Belmont Vice President for Spiritual Development Dr. Todd Lake said, "The 25th Lilly Network of Christian Universities National Conference allowed us to showcase some of our signature programs in music, faith and the arts for attendees from 85 sister institutions:  evangelical, mainline Protestant, historically Baptist, and Catholic.  They were uniformly impressed with Belmont's beautiful campus grounds and grand architecture.  But they were most appreciative of how we make service to others the hallmark of our approach to being a Christ-centered institution."
The conference included plenary sessions, a vesper's service, Stations of the Cross art exhibit and discussion groups. Attendees spent breakout sessions discussing ways the Christian intellectual and artistic traditions inform signature programs at their own institutions. Belmont encouraged conversations where conferees learned from one another about ways to engage with discipline-specific Christian content in courses and programming.
Featured speakers included:
Steve Guthrie joined the Belmont College of Theology and Christian Ministry in August of 2005, after teaching for five years at the University of St. Andrews in St. Andrews, Scotland. During his time in Scotland, he was on the faculty of the Institute for Theology, Imagination and the Arts, and then came to Belmont to help launch a new program in Religion and the Arts. He earned an undergraduate degree in Music Theory from the University of Michigan, and worked for several years as a musician before entering the world of academic theology. In his spare time, you will find him regularly gigging with the band "SixtyFour."
As president and chief executive officer of Word Entertainment, Warner Music Group's Christian music division, Rod Riley oversees Word's entire operation, including A&R, sales and marketing, music publishing, distribution, church resources, live events, films and artist services. Word Entertainment, a Warner/Curb company, is a unique, comprehensive entertainment company that is deeply connected to Belmont University through internships and employment of majors from our largest college, the Curb College of Entertainment and Music Business.
A decade and a half ago, Belmont alumna Ginny Owens made her name as a deeply spiritual singer-songwriter with alternative pop smarts. It was a combination that captivated Lilith Fair Tour, Sundance Film Festival, club and church audiences alike and landed her songs on Christian radio and primetime television dramas like "Felicity." A three-time Dove Award winner, Ginny Owens gained national attention when she was named Gospel Music Association's New Artist of the Year in 2000. Born and raised in Jackson, Mississippi, Owens discovered melodies on the piano before she could complete a sentence. As her vision began to leave her eyes—a degenerative eye condition left Ginny completely blind by age three—songs began to emerge from her fingertips, providing a window into the world for Owens. When not on the road, Owens serves as an adjunct professor of songwriting for the Songwriting program at Belmont. Her first book, Transcending Mysteries: Who Is God, and What Does He Want from Us? was published this year.
William C. Powell, professor of music and director of choral activities, holds degrees from Alabama State University (B.M.E.), Westminster Choir College (M.M.E.), and Florida State University (Ph.D.). Prior to his arrival at Auburn University in 2001 as assistant director of choral activities, he was director of choral activities at Philander Smith College in Little Rock, Arkansas, 1993 to 2001. At Auburn, Powell conducts the Chamber, Concert, Gospel and Men's Choirs, and teaches choral-related undergraduate, graduate and distance courses. Powell is in demand as a choral conductor. He has served as a conductor and workshop clinician for the Melbourne International Singers Festival in Melbourne, Australia, and led the Auburn University Choirs in the New York premiere of The Cry of Jeremiah by Rosephanye Powell (who served as composer in residence and narrator) with William Powell as guest conductor. Powell has also guest conducted at national landmarks such as Carnegie Hall, Walt Disney World, the Crystal Cathedral Kennedy Center, Washington National Cathedral and others.
For more information about the Lilly Fellows Program 25th Annual National Conference, click here.
About the Lilly Fellows Program
Founded in 1991, the Lilly Fellows Program in Humanities and the Arts seeks to strengthen the quality and shape the character of church-related institutions of learning for the 21st century.  The Program sustains three distinct yet integrated initiatives. The first is a collaborative National Network of Church-Related colleges and universities that sponsors a variety of activities and publications designed to explore the Christian character of the academic vocation and to strengthen the religious nature of church related institutions. The second is the Lilly Graduate Fellows Program, which supports, during their first three years of graduate school, young men and women of exceptional academic talent who are exploring vocations in church-related higher education. The third is a residential, two-year Postdoctoral Teaching Fellows Program at Valparaiso University for young scholars who wish to renew their sense of vocation within a Christian community of learning in order to prepare themselves for positions of teaching and leadership within church-related institutions. Together these programs bring focus, clarity, and energy to a critical aspect of a much larger project: the imaginative reformulation and implementation of an agenda for church-related higher learning in the twenty-first century.