Year-long quasquicentennial celebration built on theme 'Belief in Something Greater'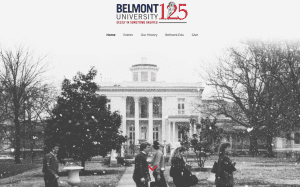 With a focus on the central theme "Belief in Something Greater," Belmont University will celebrate its 125th anniversary during the next academic year. Founded in 1890 by Ida Hood and Susan Heron, two bold and unconventional school teachers, the all-female Belmont College has transitioned and grown through the years into a co-ed, Division I, nationally acclaimed institution boasting more than 7,200 students. The anniversary affords Belmont the opportunity to commemorate its distinctive and dramatic history through a variety of special events, speakers and weeks designed to focus on particular elements of the Belmont legacy.
In an email to the campus this week to announce the upcoming anniversary celebration, Belmont President Dr. Bob Fisher wrote, "When I came to this University in 2000, I instinctively knew there was something special about this place, and over the past 15 years I've discovered more and more about Belmont's unique and exceptional culture. I've been inspired by the people of Belmont—both past and present—and their steady belief in the promise tomorrow holds, belief in the transformative power of education, belief in a God who gives our lives hope and purpose… Quite simply, the Belmont culture reflects a 'Belief in Something Greater.'"
The year-long celebration kicks off in August with the release of From Here to Anywhere: Belmont University 1890-2015 by author Joy Jordan Lake followed by the grand opening of Belmont's new Dining and Academic Complex on 15th Avenue. The ribbon cutting for that new facility is expected to also include visits from local dignitaries, the debut of a Belmont history video and the burying of a time capsule. The commemorative activities continue with a week devoted to "Stories of Belief—Stories of Belmont" in which lectures and special events will center on the anniversary theme. A free festival is planned for August 29 featuring alumni bands on the campus Lawn, and October promises Belmont's contribution of a unique service event dedicated to our city as part of the institution's efforts to give back to its hometown.
Major annual events—including "Christmas at Belmont," Homecoming and the President's Concert— will also feature a special emphasis on the 125th Anniversary theme with additional details to be announced in the coming months. An initial website has been launched to keep the community informed of all anniversary events and news while also providing a portal for students, alumni and friends to share their own stories of Belmont—further developments and updates on the site will occur this summer.