In honor of Belmont's 125th anniversary celebration this year, author and Belmont Adjunct Joy Jordan-Lake has released From Here to Anywhere: Belmont University 1890-2015, a history book chronicling Belmont's story from the initial founding of Belmont College for Young Women in 1890. The book is available for order now on the Belmont 125 website.
An internal team, made up of a number of University employees, was charged with detailing Belmont's rich history through the creation of a book. Looking for an author to build upon research that had already been collected, Jordan-Lake said she was approached to continue "looking for the threads of the overarching story."
To begin, Jordan-Lake met with the committee, Belmont President Dr. Bob Fisher and many Belmont community members including professors, alumni, deans, donors, supporters and coaches. "Each person came with his or her own stories – sometimes hilarious, sometimes heartbreaking," she said. "All were perspectives on what made Belmont special."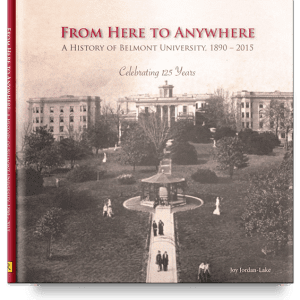 Though the stories were diverse and representative of Belmont through the ages, Jordan-Lake said she quickly came to notice one common idea – interviewees were quick to give credit to others. As stories unfolded and successes were described, other folks were highlighted as those who deserved the attention. "It became something I came to think of as a Belmont distinctive – generosity of spirit," Jordan-Lake said.
When reminiscing about the best parts of the experience, Jordan-Lake turns to her memories as a Belmont community member. Describing the process as a privilege, Jordan-Lake said her time learning more about the Belmont story has built an all-new appreciation for the institution. "Now, what used to be just names etched up high on buildings have become faces and remarkable stories of hard work and creativity and perseverance in the face of almost certain failure."
Stories of moral courage, empty coffers and efforts to rebuild make up Belmont's larger story. For Jordan-Lake, this is a story of courage, belief and vision – a story that should be told. "It made me appreciate that the sleek, gorgeous Belmont University we see today is the product of thousands—hundreds of thousands—of individual acts of tremendous sacrifice, courage, perseverance and vision."
With a book signing scheduled for October 1 in Belmont's Foutch Alumni House, Jordan-Lake said she looks forward to the event serving as a celebration of the University's history and the people who have made it.
"The Belmont history is quite a story—not because of the way it's written or arranged on the page, but because of the people who've lived it," Jordan-Lake said. "I'm just grateful to have been a part of the team of people who helped preserve the story."