2008 Town Hall Presidential Debate on Belmont's campus scored highest viewership, brought media spotlight to Nashville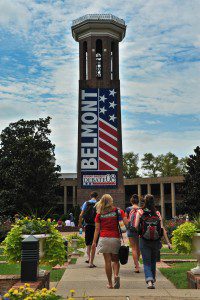 Belmont University confirmed today that it will apply to host a 2016 presidential or vice presidential debate and will officially submit its proposal to the Commission on Presidential Debates prior to the March 31 deadline. Belmont previously hosted the 2008 Town Hall Presidential Debate, moderated by NBC News' Tom Brokaw, between then candidates Sen. John McCain and Sen. Barack Obama. The 2008 Town Hall Presidential Debate, the first to be held in Tennessee and the only one in which questions to the candidates were asked by citizen participants, scored a ratings coup both nationwide and locally.
Belmont University President Dr. Bob Fisher said, "It was an incredible honor for our campus to participate so directly in such a vital element of our nation's governing process six years ago. We believe our students, this University, the city of Nashville and the state of Tennessee all received tremendous civic, educational and economic benefits from the entire experience. Belmont has clearly established itself as a place where students and citizens can engage in important conversations that are imperative to our community and our nation. We are excited to compete again for this opportunity, and I have every reason to believe that Belmont can once again succeed as a presidential debate site."
According to Nielsen Media Ratings, more than 63.2 million homes nationwide tuned in to view the 2008 Town Hall Presidential Debate on Tues., Oct. 7, the largest television audience of the three presidential debates held that fall. In addition, the event attracted thousands of media and other visitors to Nashville and resulted in both an economic boost and more than 5,200 media hits in the days leading up to and following the debate. A writer for USA Today even noted, "Belmont University in Nashville proved that small places with big ambitions could be world-class stages."
Phil Bredesen, then governor of Tennessee, said at the time, "Belmont served as a perfect venue for the 2008 Town Hall Presidential Debate, and the university's army of volunteers gave the candidates, campaign guests and visiting media a glimpse into the best of what Tennessee has to offer."
More than 100 educational programs and special events—including appearances by award-winning documentary filmmaker Ken Burns and noted historian David McCullough—related to the debate were planned, most of which were free of charge for the campus and community to attend in the weeks and months surrounding Debate08. In addition, Gaylord Entertainment presented a special production of the Grand Ole Opry at the Ryman for the Debate08 media that featured Belmont alumni Brad Paisley, Trisha Yearwood, Josh Turner and Julie Roberts.
Following the debate Nashville Mayor Karl Dean noted, "The debate was a great success for Belmont and our city. It gave us an opportunity to send a letter to the rest of the world about how Nashville is a vibrant, diverse city."
Approximately 420 Belmont students were offered seats to attend the debate, and more than 300 students also participated as Debate08 volunteers, providing assistance in areas from hospitality and transportation to running transcripts and ushering Debate Hall ticket holders. The local community also enjoyed the Official Debate08 Block Party that was held on a portion of Belmont Boulevard. The block party included live music, food, TV tapings of CBS' "The Early Show" and MSNBC'S "Hardball" as well as "Issue Alley," a series of booths set up to help educate citizens on vital topics and political candidates.