Belmont alumnus and Warner Music Nashville artist Devin Dawson ('15) is making waves in the music industry with his first album, "Dark Horse," releasing Jan. 19 and his single "All On Me" breaking the top 15 on Billboard Country charts. Dawson returned to campus Friday to discuss his career with current students.
Dawson, who hesitated to join the music industry right away, said that Belmont was "the most amazing experience… I learned so much about myself through the people that I met" there.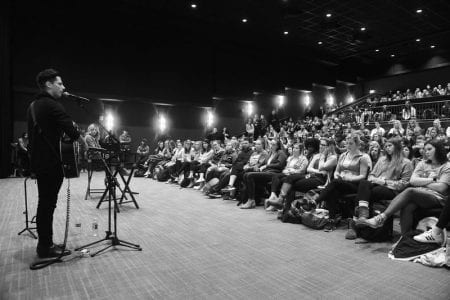 Cris Lacy, the senior vice president A&R at Warner Music Nashville, prompted Dawson to discuss his networking skills, complimenting him on his unique ability to connect with people. Dawson said that the most important thing to remember when networking is to "look people in the eyes and listen." "Ask questions" and remember that "the little things go a long way."
As for his success thus far? He attributes it to his "obsession" with songwriting. According to Dawson, songwriters and artists were like his baseball cards. He compared his knowledge of songwriters and music producers to children who have stats and figures of their favorite baseball players memorized. He said he attended as many convocation events and writers' rounds as he could to expose himself to songwriters and their music.
In fact, songwriting was Dawson's area of study at Belmont. In honor of Dawson's accomplishments and the success of Belmont's songwriting major, a $50,000 endowed scholarship was created in his name by Warner Music Nashville. Lacy told students that what attracted Warner Music Nashville to Dawson was that his "craft of songwriting was stellar… far and beyond what most songs sound like." She said that Dawson has "an old school craft that is really, really hard to master, but sounds effortless."
Dawson said that Belmont was the perfect place to launch his career. "Nashville is where I wanted to be rooted," and Belmont is "at the delta of Music Row." He told students to make the most of their time at Belmont because, while here, "you have the excuse to dive 100 percent into what you want to do." But most of all, about the students Dawson said "We all grow together… We build each other up and we learn together, and that's the beauty of Belmont."
Thanks to his time here, Dawson said, "I'm literally living my childhood dreams… I'm not tired, I'm ready to keep going."