Ten years after launching one of the nation's first undergraduate songwriting majors, Belmont University's Curb College of Entertainment and Music Business celebrated the pioneering program's phenomenal success last night with a gathering on Music Row at the acclaimed Ocean Way Nashville studios, which the University owns. One of five programs in the Curb College, songwriting is a highly competitive major that requires a portfolio of original songs as part of the application process. Completed applications are reviewed by faculty and music industry partners. Currently, 260 students on Belmont's campus are majoring in songwriting.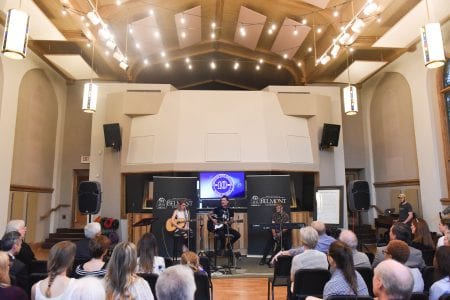 Curb College Dean Doug Howard, the former senior VP of A&R for Lyric Street/Disney, said, "Every segment of the music industry can trace its success back to songwriters and their amazing songs without which we would have nothing. We are proud to celebrate our unique program and faculty that support, encourage, and educate aspiring student songwriters through direct interaction with the world's finest professional songwriters and music publishers."
James Isaac Elliott, chair of Belmont's songwriting department, added, "What makes this program successful are three key elements: the caliber of award-winning songwriters who teach our students, the challenging and innovative curriculum we offer and the industry partners who come alongside us in developing the next generation of great writers. Nashville has always been a songwriters' town, and I believe Belmont is helping to both foster and bolster that reputation."
Last night's Music Row celebration featured comments from Nashville Songwriter Hall of Fame members Pat Alger and Tom Douglas as well as performances from rising talents Devin Dawson, Anna Vaus and Jake Rogers. In addition, Curb College Dean Doug Howard presented Belmont President Dr. Bob Fisher with a custom Martin 000-15M acoustic solid mahogany guitar to commemorate the songwriting program's first 10 years. The one-of-a-kind Bob Fisher signature model includes the Belmont University logo in the headstock.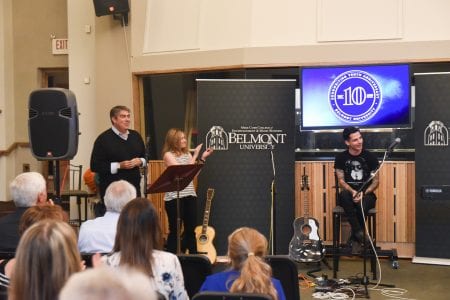 Additionally, the celebration featured a special presentation to Dawson, a recent Belmont songwriting graduate and Warner Music Nashville artist. In honor of his success, Warner Music Nashville Chief Operating Officer Matt Signore and Senior Vice President A&R Cris Lacy presented an endowed $25,000 scholarship in Dawson's name, and the university matched the contribution, creating a $50,000 endowed scholarship. Dawson said, "The Belmont songwriting program has always been at the center of my heart. I don't know if I would be in Nashville if I hadn't heard about and been accepted into the degree program, and I certainly wouldn't be the same artist had it not been for the informative years I spent honing my identity alongside my peers and the remarkable faculty. I was completely caught off guard when my Warner Music Nashville family teamed up with Dr. Fisher to announce a new scholarship in my name. My father was only able to go to college as a result of his academics and the scholarships he was awarded, so to now have a scholarship endowed in my name is a full circle moment for me. My family and I are beside ourselves. Thank you to Warner Music & Belmont University for creating an opportunity for young songwriters to pursue their musical dreams outside the stress of financial burdens. This is an honor that will live on for a long time."
Warner Music Nashville Chief Operating Officer Matt Signore said, "We are blessed to have Devin Dawson as an artist in our Warner Music Nashville family. The Belmont songwriting program was not only critical in getting him to this point in his musical career, but also in defining his life purpose and mission. In that spirit, we are thrilled to contribute to the success of future students who have the same kind of talent, drive and passion that Devin has shown."
In just the first decade, the program has made a significant impact with the support of many in the industry. Belmont Songwriting highlights to date, along with a sampling of alumni accomplishments, include the following:
Faculty members are all award-winning professional songwriters/executives, including Nashville Songwriter Hall of Fame members Pat Alger and Tom Douglas, Dove Award winner James Isaac Elliott, Grammy winner Drew Ramsey, hit songwriter James Thiele (Tealy), Grammy nominee and film soundtrack contributor Cindy Morgan, ASCAP Pop Award winner Justin Weaver, 2017 IBMA Songwriter of the Year nominee Thomm Jutz, Latin Grammy winner Jodi Marr and former SVP Warner Chappell Music Judy Stakee
Business has changed and publishers don't have the resources to develop writers—this songwriting major is helping to fill that gap
Program's curriculum is thorough, challenging and requires a minor
Due to its location in Nashville, many assume Belmont Songwriting is merely helpful for aspiring country writers. Instead, the program's graduates are finding success in a wide variety of fields and genres. Alumni include:
Program also houses Bear House Writer Management, a student-run organization designed to serve up and coming Belmont student singer/songwriters. Their team of managers accepts applications and then chooses artist/writers that they feel they can assist with building a career. They guide and empower their clients by setting up industry meetings, co-writes, demo recordings and songwriter rounds.
NMPA S.O.N.G.S. Foundation recently created a $50,000 endowment to support Belmont songwriting majors with scholarships
In addition to opportunities to study at Belmont East (New York) and Belmont West (Los Angeles), songwriting students can also improve their craft through established study abroad experiences in Ireland, Scotland, London, Uganda and Zimbabwe
Program has partnered with a number of external orgs for student enrichment opportunities including ASCAP, SESAC, BMI, Communion Music Publishing, Make Music Nashville, Nashville Songwriters Hall of Fame, Sony Records Nashville, Warner Brothers Records Los Angeles, Universal Music Publishing, Sony/ATV Music Publishing, Big Machine Records, Curb Music, Disney Music Publishing, Warner Chappell Music Publishing, TV Show "Nashville," Capitol Christian Music Group, Word Music Publishing, Centricity Music, Belfast Nashville Songwriters Festival, Operation Song, and more.