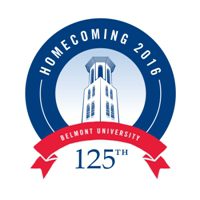 Belmont University invites alumni, friends and family to join faculty, staff and students for Homecoming 2016 Feb. 18-20. This year's celebration will honor the University's 125th Anniversary and feature a campus-wide canned food drive supporting Second Harvest Food Bank, a homecoming concert, numerous reunions and a basketball doubleheader with the Bruins' men's and women's teams.
Julie Thomas, associate director of Alumni Relations, said, "Nothing speaks more to the essence of Belmont than the many generations of alumni who have grown in faith together. With Homecoming 2016 on the horizon, the stage is set for us to celebrate our legacy and remember the best of our Belmont days – those that sustained us by faith, reason, good judgement, prayer and the blessings of God (to paraphrase a few words from Dr. Herbert Gabhart).  We look forward to our alumni returning home, where they will be welcomed, valued and celebrated!" 
HOMECOMING 2016 HIGHLIGHTS
All Month
Students, faculty, staff & alumni will strive to reach 1,250 donated canned food items to benefit Second Harvest Food Bank
Thursday, February 18
Alumni are encourage to dig through college photo memorabilia and fill social media with Throwback Thursday photos from their days at Belmont. Make sure to use the hash tags #Belmont125 and #TBT!
Friday, February 19
6:30 a.m. 10th Annual Polar Bear Run 5K (contact 615-460-6313 for more information)
10 a.m. Homecoming Chapel with women's basketball founder, alumna and longtime Belmont employee Betty Wiseman (Wedgewood Academic Center Chapel)
4 p.m. Belmont Baseball vs. Illinois State (Rose Park)
5 p.m Homecoming Pep Rally & Bonfire (Gravel lot at the corner of 15th & Bernard)
6:30 p.m. Homecoming Concert (Massey Performing Arts Center)
"Homecoming in the Round" – Hosted by Gordon Kennedy featuring performances by Belmont alumni and special guests. The event is free, but tickets are required and available here.
8:30 p.m. Upright Citizen's Brigade comedy company (Massey Performing Arts Center)
10 p.m. Young Alumni Homecoming Social (Mafiaoza's 2400 12th Avenue South)

Saturday, February 20 (Wear Red Day)
11 a.m. Pre-Game "Tailgate at the Tower" hosted by Belmont Greeks (Bell Tower)
11 a.m. Tower Society Reunion honoring the classes of 1956 1961 and 1966 (Vince Gill Room)
noon-1:25 p.m. Colleges Open Houses (locations across campus)
noon Belmont Baseball vs. Illinois State (Rose Park)
1:25-2:45 p.m. All Alumni 125 Homecoming Social (Beaman Student Life Center)
2:30 p.m. Belmont 125 Prayer and Worship (Foutch Alumni House)
2:45 p.m. Alumni Memorial Carillon Concert (Bell Tower)
3 p.m. Women's Basketball vs. Tennessee Tech (Curb Event Center)
5 p.m. Men's Basketball vs. Tennessee Tech (Curb Event Center)
Homecoming Court announced at halftime.
For a complete list of all Belmont Homecoming 2016 events and an opportunity to register, visit the alumni website.