May 2018 graduate to teach in Germany for ten months
Recent Belmont University graduate and Brentwood, Tennessee resident Khadija Ali Amghaiab was recently awarded a Fulbright grant to Germany to partake in the English Teaching Assistantship (ETA) program there. The Fulbright U.S. Student Program is an international exchange program sponsored by the U.S. Department of State and the J. William Fulbright Foreign Scholarship Board that provides competitive grants to graduating seniors and graduate students to serve as cultural ambassadors of the United States abroad.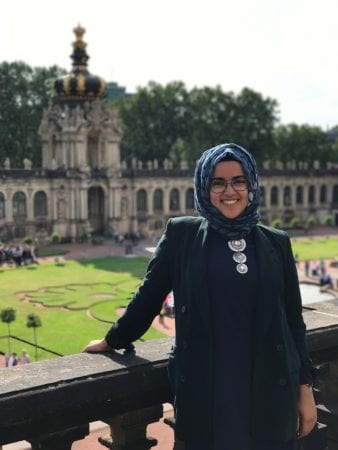 Ali Amghaiab graduated in May with a double major in philosophy and German as well as a minor in political science. She was recently awarded Belmont's Fourth Year Award for Leadership, one of the University's highest honors. Ali Amghaiab previously did a Maymester study abroad trip through Belmont after her freshman year, and then spent a month last summer in Berlin studying at the Goethe-Institut. She'll be living in Germany from this September through next June teaching English as part of Fulbright's diversity placement (a subsection of the ETA program) at a middle or high school that is predominately made up of an immigrant/minority student population.
"The idea of the diversity program is to actively engage these particular German students in discussions about American culture, political culture, diversity, etc.," Ali Amghaiab said. "I and 19 other of the 140 English Teaching Assistants in Germany were given this placement, and I'm particularly excited about it because of the opportunity to engage my own identity as a hyphenated American (Arab/Muslim-American) and try and find common ground with my students, perhaps helping them work through their own identities as 'hyphenated' Germans."
Ali Amghaiab was also recently accepted to Harvard's Divinity School to pursue a Master's of Theological Studies upon her return from Germany in the fall of 2019. While uncertain exactly what lies ahead on her career path, she's contemplating a PhD program as well as dedicating her future to education as her own college experience impacted her intellectually and spiritually.
"I came to Belmont thinking I had a solid idea of what I wanted to do with my life, and those notions changed pretty early on by virtue of the classes I took and the professors from whom I sought guidance. Intellectually and academically, I'm indebted to a number of the professors that have taught me across disciplines, and who took seriously the importance of asking fundamental questions and making those the basis of their pedagogy. Since my freshman year, I have been active in a number of student organizations around campus, and, as a Muslim, have made an active effort to engage in inter-faith and cultural dialogue with my peers. The sort of conversation I've had with Belmont over the past four years has helped me better understand my role as a religious minority, and how I should use that role as an educator who seeks to find common ground and make the disparate seem less so. In Islam, one of the most noble vocations one can be called to is education, and as a person who is constantly asking questions just as I'm trying to answer them, I couldn't think of a better one to be called to, and I hope Fulbright will give me a peek into the world of teaching as I imagine it."