Students, faculty and staff gathered together on Wednesday to celebrate Belmont's top students and faculty at this year's Scholarship and Awards Day convocation. The finalists were honored for their commitment to the University's mission and dedication to scholarship, service and leadership. Dr. Caresse John, associate professor of English and the 2016-2017 Chaney Distinguished Professor, gave the ceremony's Honors Address, citing Roxanne Gay's quote from her 2014 collection of essays, "Change requires intent and effort. It really is that simple." She emphasized social change stems from changing the narrative, and professors have the direct ability in their classrooms to be agents of that narrative change. John noted that it was the intent and effort of the students and faculty members that earned them these awards and concluded her address with the simple but powerful, "may it continue to be so."
Each year, the presentation of the John Williams Heat of Belmont Award is greatly anticipated. The award honors one third year or fourth year student who embodies Belmont's values, including innovation, persistence, advocacy for change, community development and service. This year's recipient, Hope Kramer, is a biochemistry and molecular biology major who will be attending medical school at the University of Iowa in the fall. Kramer has participated in study abroad trips to Glasgow as well as real-life learning opportunities with St. Jude Children's Research Hospital and Siloam Family Health Center. Outside of her classwork, internships, academic research and student organization involvement, Kramer has also been a member of the Reformed University Fellowship.  She chose Silmoam Family Health Center as the community partner recipient of the accompanying scholarship.
Other students honored in Wednesday's ceremony included:
The Williams-Murray First Year Writing Awards: Carly Bins and Laura Lopez
The Alfred Leland Crabb Award: Sheyanne Meadows (first place) and Macey Howell (Second Place)
The Alfred Leland Crabb Award for Collaborative Work: Olivia Adams and Meredith McNair
The Stacy Awalt Writing Award: Robert Kessler
The Annette Sisson First Year Seminar Award: Amanda Overbye
The Lumos Travel Award: Heather Ferrari, Olivia Hosey, Erin Sansilo and Haley Smith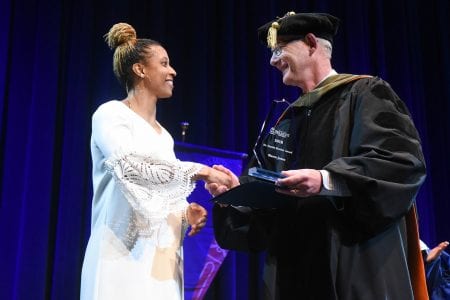 The First Year Award, Leadership: Joshua Archer
The Second Year Award, Leadership: Jacob Hukill
The Third Year Award, Leadership: Jordan Dunn
The Fourth Year Award, Leadership: Khadija Ali Amghaiab
Dr. Fannie Hewlett Undergraduate Award: Sierra Jones
Dr. Fannie Hewlett Graduate Award: Yulonda Warren
In addition to student award winners, a number of awards were given to faculty members. The Christian Scholarship Award honors faculty scholarship that engages the Christian intellectual tradition and advances the scholarly conversation between Christian faith and learning. This year's recipients were Dr. Elena Wong Espiritu, School of Occupational Therapy and Dr. Beverley Alleyne, College of Business.
The Leadership in Christian Service Award honors faculty who provide leadership to a new initiative or an established Christian organization that serves those in need. This year's recipients were Dr. Qingjun (Joan) Li, College of Liberal Arts and Social Sciences and Dr. Martha Minardi, Interdisciplinary & Global Studies.
The Faculty Award for Scholarship recognizes a faculty member for outstanding intellectual and creative contributions of discovery, integration, application or teaching. This year's recipient was Dr. Ronnie Littlejohn, College of Liberal Arts & Social Sciences.
Dr. Vaugn May, College of Liberal Arts and Social Sciences, was named the 2017-18 Chaney Distinguished Professor. The Chaney Distinguished Professor Award, determined on the basis of superior teaching, is presented each year to a faculty member who best represents the vision of the university to be a "premier teaching institution."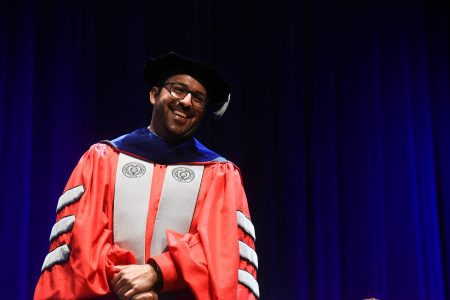 Dr. Edgar Diaz-Cruz, College of Pharmacy, was awarded the 2017-18 Presidential Faculty Achievement Award. The Presidential Faculty Achievement Award is presented each year to a faculty member who has made outstanding contributions to student life outside the classroom. The award honors and recognizes excellence in faculty-student relationships, special abilities in meeting student needs – academic, personal and professional – and symbolizes Belmont University's commitment to being a student-centered institution. A former student described Diaz-Cruz's influence on his studies and career as such: "There are endless positive things one can say about Dr. D-C, not the least of which is, 'He was present.'"