More than 600 students, faculty, staff and alumni contribute to round-the-clock, week-long volunteer project
With Maddox Grand Atrium packed with students, faculty and staff decked out in gray "Serve Somebody" T-shirts, the unprecedented "125 Hours of Service" project came to an end with Bruiser cheering throughout the final minute-long countdown before noon. What began Sunday morning at 7 a.m. with 20+ students serving breakfast at Room in the Inn concluded today on campus as volunteers wrote notes to place in their Operation Christmas Child boxes and gathered to watch the final minutes tick off the 125 hours of service. Throughout the week, Bruins of all ages have served at numerous sites across the city, including ThriftSmart, Martha O'Bryan Center, Nashville Rescue Mission, Second Harvest, Tennessee Voices for Children, Cheekwood and many others (images from throughout the week can be seen on the Tagboard and Belmont's SmugMug gallery).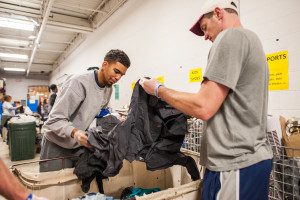 The event, which was organized as part of the University's 125th Anniversary Celebration, saw more than 600 individuals volunteering for 744 slots at 26 different local nonprofits as well as other charitable efforts. Shifts ranged in length from an hour to 14 hours hosting Room in the Inn overnight, and together the Belmont community contributed more than 1,706 volunteer hours in the five-day span.
Belmont President Dr. Bob Fisher said, "I always tell our incoming students that their greatest privilege in life is to have the resources and abilities to serve someone else. I couldn't be any more proud of our community in the way they have lived out the Belmont mission 'to engage and transform the world' this week as we've served Nashville for 125 consecutive hours."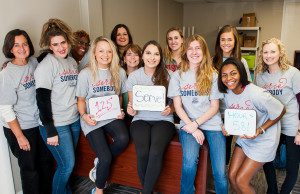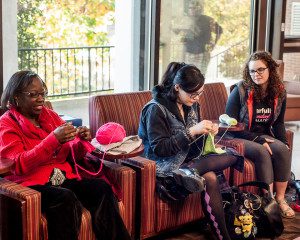 Senior music therapy major Sally Ann Jones, a native of Blue Ridge, Georgia, volunteered along with her SAI sorority at the local veteran's hospital. "I thought the idea of serving for 125 hours straight was so creative when I first heard about it in August! I love that Belmont constantly gives back to the community. This was a fabulous outlet to show Nashville that Belmont is thankful to call this city home and is evidenced by us taking action. SAI often does 'musicales' in chapter meetings, sometimes extending these to members of the Belmont community or by holding them in local nursing homes. Upon hearing about #Serve125 and realizing that it fell over Veteran's Day, we thought this would be a perfect opportunity to include our veterans in our next musicale! We brought many different patriotic songs to play and sing in individual patient rooms and hallways. By the end of our couple of hours, however, many veterans were requesting for us to play Hank Williams and Loretta Lynn. So we did! Even though it wasn't what we originally planned, it was how the veterans wanted to be served that day, and that's what it all came down to in the first place."
Belmont's Office of Service Learning, led by Director Tim Stewart, played a pivotal role in helping organize the entire #Serve125 event. In addition to meeting regularly with the planning team, Stewart and his student staff–Ali Humbrecht, Jesse Peck and Alisha Gatchel–also entered the details of each project in the GetConnected online system, ensuring the entire event flowed smoothly.
Humbrecht, a freshman and native of Willow Grove, Pennsylvania, juggles her work with Service Learning with her studies in the Honors program, focusing on political communication and German. Still, she managed to participate in four projects this week working with the Nashville Rescue Mission, SGA's Christmas card project, the Edgehill Community Garden and Operation Christmas Child. "I think that community service is incredibly important. Giving back to one's community can give you a whole new perspective on your life or community as well as an opportunity to meet people you wouldn't have met before, experience things you couldn't outside of service and  memories to last a lifetime… I think of Belmont's 125 Hours of Service as the ideal way to celebrate this anniversary. While throwing a party would have been fun, it would not have shown the community what Belmont is really about – empowering men and women to engage and transform the world with intelligence, compassion, courage and faith. These hours show our community how grateful we are for all that they have done for us over 125 years, and they are the best way to give back to our neighbors."