While most freshmen in college are trying to navigate challenging academics, expand social circles and embrace new-found independence, Knoxville-native Hannah Rodriguez is juggling all of that while also running her own company. The freshman entrepreneurship major is the creator of Hannah Ashton Content, a source for online mentoring and social media growth consultation.
The enterprise, which officially launched in January 2017, was born eight years ago when Rodriguez first began a YouTube channel using her first and middle names, Hannah Ashton. "I started doing American Girl Doll stop motions or hair tutorials or ways to take care of your dolls, videos like that. I loved the feeling of coming home from school and being able to watch YouTubers and just feeling like I was with them, like another friend. I wanted to provide that for other girls."
She kept filming, editing and posting videos into her teen years and throughout high school, transitioning her content as she matured, adding makeup and beauty tips and now focusing more broadly on healthy lifestyles and female empowerment. Her YouTube channel currently consists of more than 150,000 subscribers with each video she posts receiving thousands–and sometimes hundreds of thousands–of views.
"It was really just the persistence of uploading. I wasn't expecting to make money from it. It was really just a hobby, but as other girls started engaging, I realized that this could be a real thing. I've really just never gotten bored. Maybe a little burned out or tired, but I've always loved the process of creating a video every week, and I've been fairly consistent with it over the years."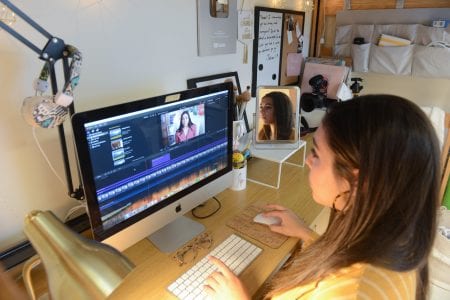 The Hannah Ashton brand now encompasses a number of outlets including other social media channels. More recently, Rodriguez found herself advising a magazine executive in her hometown about how to start and grow her company's social media presence. The experience was a catalyst for new ideas and her latest business venture. "I started freelance consulting, and that started my entrepreneurship journey of creating a website, a podcast and a YouTube course. Now I'm focusing more on physical products and less digital. In August, I hosted my first in person event, which was really cool because everything I had done up until this point had been digital. Women from my area and the area surrounding Knoxville came to three seminars on how to build a brand, grow your social media and turn your passion into a career. Now I'm working on a new project that will entail a more physical product."
The event, which was held just two weeks before she moved to Belmont's campus, brought together approximately 45 attendees ranging in age from 12 to 70, all of whom were interested in learning the secrets to the success achieved by Hannah and two other female speakers. Rodriguez notes that she was happy to share what she's learned to date.
"There are so many YouTube channels out there now, and it's a big competitive place. But each channel is so unique that I knew if I taught these girls the same techniques to title and to tag and to film, their channels would be totally different than mine. They are going to have a separate audience than mine just because they are unique to themselves. They'll have their niche, and I'll have mine. I'm excited to do more in person events in the future."
When it came time to choose a college, Rodriguez considered moving to Los Angeles to be closer to other YouTuber and social media influencers, but ultimately decided to stay closer to home. "I knew it was going to be Belmont from the first time I stepped on campus just honestly because the aesthetic of it. It was very clean and beautiful, and being a visual, creative person, that was very attractive to me. I like things to be top notch, and Belmont definitely has their game together with all of that. I also definitely loved the ministry and how it's a Christian school, and I love Nashville."
Though she contemplated studying film, media and video production, her interests in business and entrepreneurship won out, particularly related to the monetization and sponsorship sides of what she's already doing. "Even if I decide to stop doing YouTube in 10 years or whenever, an entrepreneurship degree will allow me to pivot into other areas. I feel like I have the entrepreneurship spirit and work ethic to pursue this degree."
As she continues to engage with her own audience, noting how YouTube is a "two-way street," she's also enjoying her college experience and being exposed to diverse perspectives. "I really love the difference in students' opinions and ideas here. Since it is a liberal arts college, we're getting people with a lot of different backgrounds so in my discussion-based classes, sometimes I wish we could talk more about a certain topic in class because I want to hear everyone's opinions. In high school most people are from your area, but here at Belmont, there are people from all across the U.S. and other countries as well."
In addition to her courses, Rodriguez is also contemplating involvement in BOLD leadership initiatives and Delight Ministries. But she'll keep a strong focus on her growing business and YouTube presence. "My motto for my channel is 'Dream Believe Achieve' because all my videos tie into those three words in some ways. I want my followers to dream big and then believe in themselves, and believe that with God's strength and God's help, they can achieve their goals and dreams. I want to focus on that positive mindset, on what people can dream and achieve."