On March 20-24, Belmont's annual World Culture Week engaged students, faculty and staff in celebrating and exploring diverse cultural backgrounds through open dialogue and a variety of fun activities. World Culture Week, sponsored by Belmont's newest chartered student organization HOPE Council, is an idea that grew out of the University's annual World Culture Fest which began as a collaborative effort among a few dedicated students who wanted more programming on that celebrated their diverse backgrounds. The HOPE Council has aided the effort by helping to expand the event into a week-long celebration instead of a single festival.
This year's events were aimed at making cultural exploration fun and comfortable for all. The week started with an evening of spoken word poetry by Emily Joy, a professional poet who focuses on issues of social justice. Tuesday evening was International Movie Night in the Johnson Center Theater where students gathered to see the Korean blockbuster film, "Train to Busan." On Wednesday, six faculty members led discussions with students on current issues in world politics in Syria, China, Israel and North Korea. Additionally, international food trucks were on campus, allowing students to enjoy international cuisine by the lawn.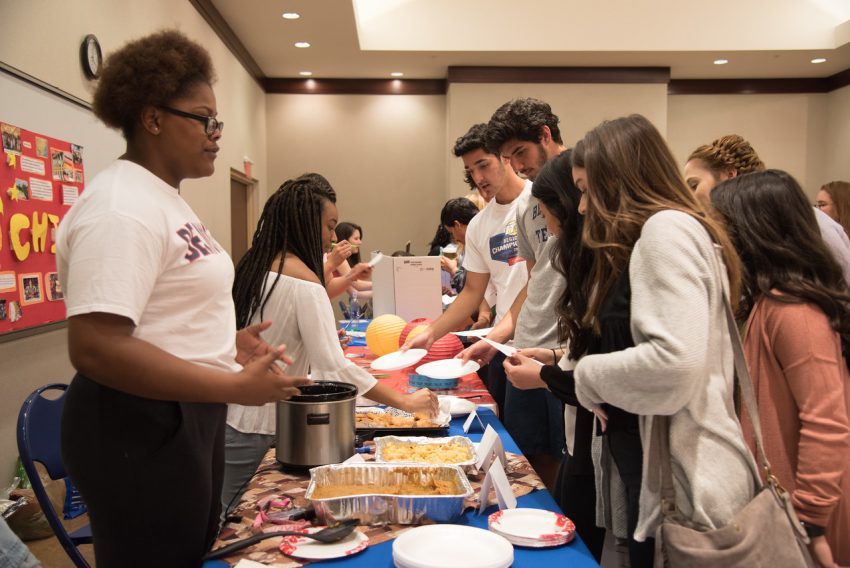 On Wednesday evening, HOPE Council teamed up with campus residential facility Patton Hall and Belmont's Board Game Society to present "Around the World + International Game Night" where students learned about different countries and study abroad while experiencing leisure games that originated overseas. The week concluded with the original World Culture Fest event on Friday evening in the Beaman Lobby. Students from all backgrounds came together to showcase Belmont's diversity through music, dance, martial arts, spoken word and booths that served international food and led interactive activities such as henna tattoo art.
Senior music business and management student Rylee Sutherlin led the planning process for this year's World Culture Week, which she says began last fall. Sutherlin believes it's important to celebrate diversity not only throughout the world, but also on Belmont's own campus. "I think one major takeaway from this week is to realize that we have people right here in our very own community who have different backgrounds," Sutherlin said. "Celebrating culture and diversity offers the opportunity for everyone to learn and for others a chance to embrace their heritage. This is especially important on a college campus, which is naturally a place that fosters growth. As a student, I believe that there should be space for students to not only develop academically but to empower one another. The beauty of being human is that none of us are the same. This is why I think having an annual event like World Culture Festival is important, and this is why I'm happy that Belmont has recognized the need for a student council that promotes diversity and inclusion on campus."