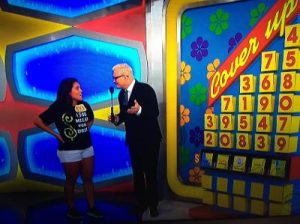 For Belmont women's soccer forward Belicia Mendiola, a love for competition doesn't just end on the field. On September 6, Mendiola's competitive spirit transferred straight onto televisions across the U.S. as she hopped onstage to join Drew Carey for a rousing round of "The Price is Right." The live show was taped over the past summer.
Mendiola was able to guess the closest price on a dirt bike, which allowed her the chance to play a game called "Cover Up" with a new car as the prize. Unfortunately, Mendiola came just two numbers short of winning it.
Mendiola has been a vital part of the Bruins soccer team this year, with her most recent accomplishment being on September 30 when she scored the game-winning goal in overtime against rival SIUE.  Mendiola made sure to give her fellow Bruins an on-air shout-out after greeting Carey onstage during the show.