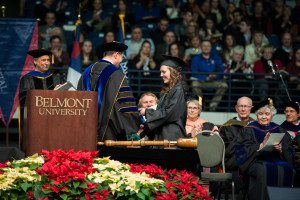 Belmont University held its winter 2014 commencement ceremony for graduate and undergraduate students at 7:30 p.m. on Dec. 12 in the Curb Event Center.
The University celebrated the graduation of approximately 400 students and conferred 308 undergraduate, 90 master's and 1 doctoral degree during the ceremony.
Dr. Robert C. Fisher, president of the University, presided over the event. Dr. Jonathan Thorndike, professor and director of Belmont's Honors Program, presented the commencement address. In April, Dr. Thorndike was given Belmont's 2013-2014 Presidential Faculty Achievement Award, an award presented each year to the faculty member who has made outstanding contributions to student life outside the classroom.