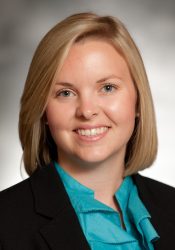 Dr. Montgomery Williams, Assistant Professor of Pharmacy Practice, is providing leadership to an effort at Williamson Medical Center (WMC) in Franklin, Tennessee to curb unnecessary antibiotic use, an initiative recently recognized in a report published by The Pew Charitable Trusts.  Dr. Williams was quoted earlier this week by The Tennessean in a story about the success of the antibiotic program.
Dr. Williams serves at Williamson Medical Center (WMC) as part of her teaching responsibilities at Belmont University College of Pharmacy, educating PharmD students in their advanced practice experiences at the medical center during their final year of study.   As an internal medicine and antibiotic stewardship pharmacist at WMC, she provides extensive training in general medicine to students as they complete month-long rotations at the medical center. Like all pharmacy practice faculty in the College of Pharmacy, Williams divides her time between the classroom and her community site where she mentors student pharmacists. Those students participate in the antibiotic program during their rotation with Williams.
At WMC, where Williams has practiced for the past six years, she is the co-chair of the Antimicrobial Stewardship Program along with Dr. Shaefer Spires, an antibiotic stewardship physician and hospital epidemiologist. In this role, Williams coordinates ongoing efforts to evaluate how the hospital prescribes antibiotics and work with physicians in developing appropriate treatment plans for patients. "Presenting recommendations to physicians can be challenging — you really have to work together as a team," Williams said in the Tennessean. "We always want what's best for the patient."
Also quoted in the Tennessean was Dr. David Hyun, senior officer of Pew Charitable Trusts' antibiotic resistance project, which published the report. "Williamson Medical Center is a great example of how a program can be tailored to the needs of a community hospital," said Hyun, who developed and co-chaired a stewardship program at Children's National Medical Center in Washington, D.C. "Efforts to use antibiotics appropriately are not only about reducing resistance but ensuring patients get the right care."
The full report can be found here.