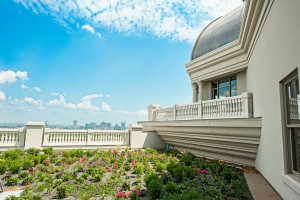 The newly constructed Wedgewood Academic Center won a 2015 Outstanding Project Award in the prestigious magazine, Learning By Design. The building was blindly judged by a nationally appointed panel of architects and educational facility specialists. Earl Swensson Associates of Nashville, Tennessee was the primary architectural firm for the the building.
Award submittals are judged on six criteria: Innovation, Community Need, Interior Design, Sustainability, Functional Design and 21st Century Learning. Projects that exemplify contemporary standards and contain design attributes one might emulate in a new space design are recognized as Outstanding. Comments from the judges on the Center included, "Nicely integrates into built context of the existing campus…Achieves its mission as an elegant and stately building, inside and out…Clever integration of green (seeking the highest level LEED certification, Platinum) elements in a traditional design…Seems to work well as a campus hub."
Learning by Design is published biannually and recognizes the nation's preeminent architectural firms by featuring outstanding pre-K to 12 and college or university projects. The magazine circulates to more than 50,000 leaders in all levels of education across the country.
Click here to see the feature on page 78 of the online edition of Learning By Design.