Last week during the kickoff to Belmont's 2023 Homecoming celebrations, alumni from Watkins College of Art's Master of Fine Arts program gathered to share some of their work as a part of the 2023 Inaugural Tennessee Triennial, a statewide, collaborative spotlight series organized by Tri-Star Arts.
The program, which started in 2017 at the independent Watkins and was brought over with the merger in 2020, uses a low residency model to allow those with full-time jobs who want to pursue an advanced degree in art to work remotely. Students work one-on-one with Belmont's faculty and join for periodic on-campus residencies of up to 23 days in June and four days in January, while also having the option of reaching out to study under any artist of their choice in their own city.
Their exhibition—Re-Cover, Re-Form—is a response to the event's overarching theme of RE-PAIR selected by the Consulting Curator, Dr. Maria Magdalena Campos-Pons. It will remain available for viewing through Feb. 27, 2023 in the Leu Art Gallery located in the Bunch Library.
Watkins MFA alumni used a variety of media—such as photography, sculpture and miscellaneous digital technologies—to push forth the idea of art as a proponent for positive change and enhancing the human experience. Artists include Chuck Ärlund ('20), Heriberto "Eddie" Palacio III ('20), Lisa Bachman Jones ('21), Maddie Ryan ('21), Danny Broadway ('22), Le Dillingham ('22), Allie Horick ('22), and Jackie Lucas ('22). At the event, the artists discussed where they glean their inspiration, finding joy in the discovery and happy accidents, experiencing imposter syndrome and learning to trust their intuition.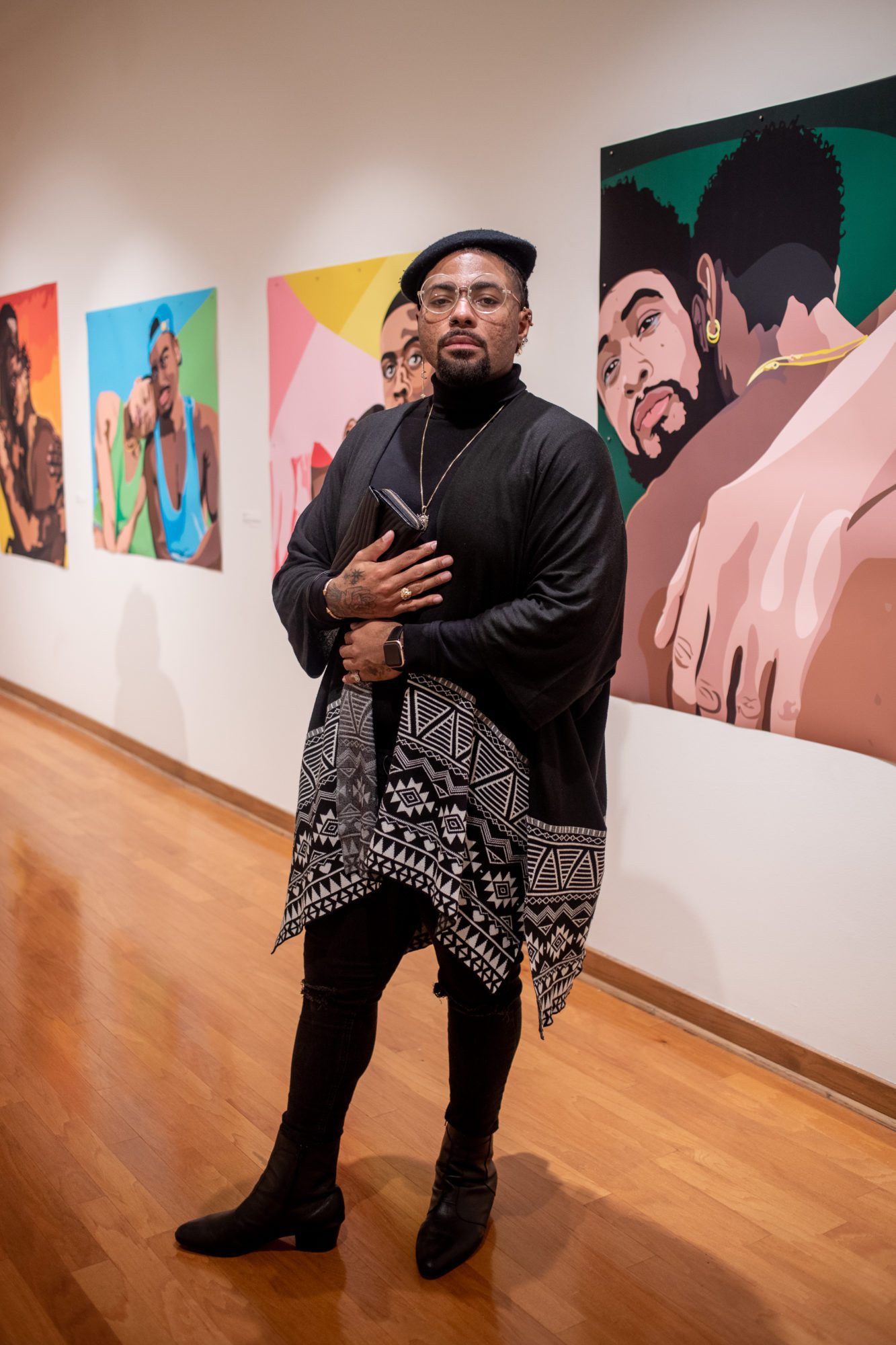 Heriberto "Eddie" Palacio III, the highlighted presenter and one of the program's first students, spoke on the origins of his work and the aspirations launching him forward in both the art and academic world. "The awesome thing about the program is that I came in thinking I was going to learn how to become an artist," he said. "Suddenly I came in and was treated as an artist already."
Currently a Ph.D. student at Texas Tech, his studies and pieces revolve around demystifying platonic intimacy, especially as it relates to black men and his own experiences as an Afro-Hispanic in the LGBTQIA+ community.  "When we see men—but specifically, black men—being intimate in any way physically, emotionally, why do we automatically assume it's about romantic and sexual desire? I am challenging that assumption. I'm not saying people should feel bad for thinking that, I just want us to think about where that thought is coming from."
This work has propelled him to expand his palette and reach for new tools to tackle the complex subject. As he progressed toward the end of his time in the program, he had the sudden lightbulb moment of connecting the barber shop, therapy and his art. Since then, he has received his barber's license and has his sights set on a master's of science in clinical mental health practice next.
"In a barber shop setting, conversations about black masculinity are occurring. There's an intimacy there." Palacio's research seeks to coalesce the topics of gender studies, clinical mental health, masculinity, platonic intimacy, anthropology and barbershop culture. "I theorize that there's a point where all those intersect that can really create some metamorphic change."
Interested in learning more about the MFA program at Watkins College of Art? Apply today!