Belmont held its annual Staff Christmas Breakfast on Wednesday, December 7 and named Bonnie Wagonfield, administrative assistant in the School of Social Sciences, as this year's Gabhart Award recipient. Named in honor of the late Dr. Herbert C. Gabhart who served Belmont selflessly for 50 years, the Gabhart Award is the highest honor presented to a staff person and honors a member of the Belmont community who demonstrates significant achievements, commitment and service to the University.
In her position, Wagonfield supports the daily needs of the faculty and adjuncts within the School of Social Science's six departments, meets with prospective and current students, assists guests with questions and concerns, supervises student workers and assists the department with event planning and promotion. Having been at Belmont for 19 years, Wagonfield said it's the opportunities to engage with members of her team, both students and faculty, that has been the most meaningful.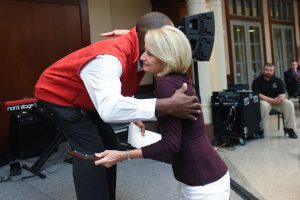 "The opportunity to interact and support students with their needs while building relationships has been the greatest part of my job," Wagonfield said. "I also enjoy assisting faculty, even in the smallest of ways, so I can lighten the heavy loads they carry. It's the interactions and friendships I've developed with students, faculty and staff that have kept me at Belmont for so many years."
For Wagonfield, receiving the award is uniquely special as she attended Belmont College under Dr. Gabhart's leadership. "I am humbled and honored to receive the award that remembers Dr. Gabhart," she said. "He was a man of high integrity, honesty and Godly wisdom which was revealed many times in his delivery at our chapel services. He was a gifted speaker and his messages were always meaningful."
Watching him lead through many challenging years, Wagonfield said Belmont has so much to thank Dr. Gabhart for. "I wish I could thank him for his example, understanding and endurance through so many difficult seasons," Wagonfield said. "It's because of his dedication and devotion to Belmont that it has become the community we celebrate today. His life will always be remembered because he touched so many people."
The other finalists for the Gabhart Award this year were Lori LeBleu (Massey College of Business) and Tanya Owen (Custodial Services). Past winners include Don Purdy, Betty Wiseman, Sarah Cates and Gary Hunter.