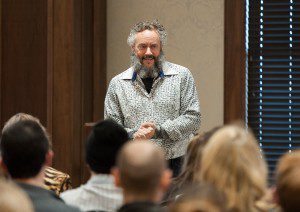 W. Brett Wilson shared his story of success with students, faculty and staff on Wednesday afternoon, but his presentation included an unlikely twist. Wilson focused less on his achievements, including his billionaire status, ownership of the Nashville Predators or the profitable business he started from his genuine spirit of entrepreneurship, and more on his mistakes and realizations of what is important.
Wilson walked the audience through his book, Redefining Success: Still Making Mistakes, which was available for purchase and signing. Wilson explained his journey from engineering school, to a career in the Canadian oil industry, to earning his MBA, to starting an investment banking business which landed him a spot as a judge on the TV show "Dragons' Den." But through all this, Wilson described the stories that changed him and his rationale for why health, family, friends and education should be priorities over a career.
"Everything except my work life was failing," said Wilson, as he told of a time when his daughter told an important phone caller that he was not home, when he was. When he angrily confronted her, she explained, "Well you never are."
For Wilson, that moment changed everything. At the conclusion of his presentation, Wilson told the audience that his current relationship with his children would rank at a 9 out of 10, because he "can always be better."
Amongst the trials of failing relationships and even being diagnosed with cancer, Wilson continues to believe in and be inspired by the idea of entrepreneurship. He said, "Each of you has a choice where you'll go with your career. You're each an entrepreneur. Entrepreneurship is just a frame of thinking."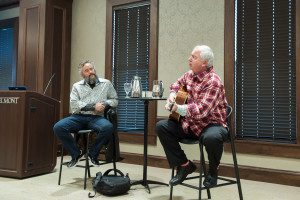 With this, he offered the three classes he deems most important for students to take, regardless of their field of study or career path: marketing, entrepreneurship and philanthropy. He explained that if one understands these things, he or she will be successful no matter what they do, because he or she will know how to compete and form meaningful relationships on all levels.
At the end of the event, L. Russell Brown came out as a special guest and sang his famous song "Tie a Yellow Ribbon Round the Ole Oak Tree," dedicated to Wilson.
To learn more about Wilson and his philosophy of success and mistakes, click here.