What was supposed to be a pit stop at Bongo Java Café turned into a prospective student admissions tour when 2005 alumna Becca Wildsmith first came to Belmont as a junior in high school. She and her mom were on their way to tour the state university. 
"I started walking across campus and we never made it to Bongo or to UT because we immediately went to the admissions office," she said. "I fell in love with the campus. I fell in love with the culture. I fell in love with everyone that I met. It was so welcoming, and I thought this would be a great place to spend four years of my life."
The visual beauty and welcoming environment of the campus won the Franklin native's heart as a student. Today, the Nashville-based artist and designer proudly acknowledges that "Belmont runs deep." Not only does Becca have a brother and sister who are Belmont alumni, she also met her husband, Tim, while studying graphic design.
Tim works in the Office of University Ministries on campus and recommended his wife for a creative project after the space underwent renovations over the summer. His team decided that a mural could showcase the welcoming and hospitable environment of the office in a visually appealing fashion.
"Seeing Becca's other murals and knowing that she is a Belmont alum, we thought she would be the perfect artist for this project," University Minister Rev. Heather Gerbsch Daugherty said. "Throughout this school year, our students have regularly hung out in our space and feel at home, we believe that the environment created by the presence of the mural has made this happen."
The mural showcases key elements of University Ministries. The Bell Tower, a recognizable campus landmark, is surrounded by colorful abstract shapes that are meant to represent Belmont's unique and diverse community. The University Ministries slogan, "Love God, Love People" is painted in the center of the piece. "It also serves to let everyone who walks into this space know what we are about and that they are welcome here," Daughtery said.
After the University Ministries mural debuted, she was asked to create another. This time in the Hatchery, a co-working space for student entrepreneurs established by the Thomas F. Cone Sr. Center for Entrepreneurship. The Hatchery mural is a whimsical depiction of the ideation process.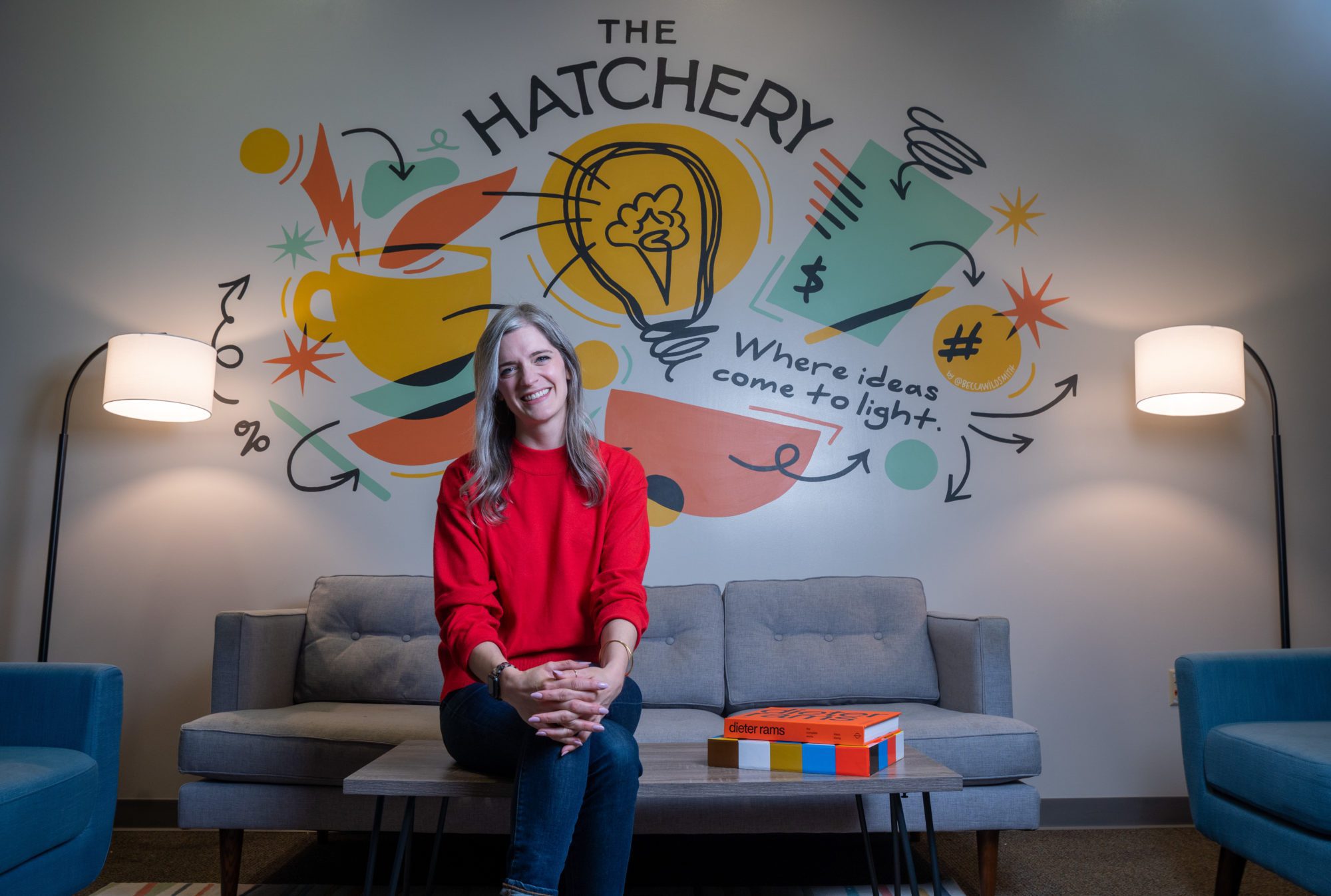 "Becca Wildsmith's artistic vision has brought life to so many spaces in Nashville and we wanted to feature her creativity in our space," Executive Director for the Center for Entrepreneurship Elizabeth Gortmaker said. "The mural represents the creativity and inspiration exercised by anyone who uses the space. It has brightened the room considerably and provides a more noticeable presence in the Student Center."
From being captivated by Belmont's beauty to having a role in attracting future students with the art she makes, Wildsmith's Belmont story has come full circle. "It's fun to create art that evokes a response from people," she commented. "I love how all these murals have popped up all around campus. It's been fun to watch."
Wildsmith has a diverse body of work. She has designed album covers for award-winning country and Christian musicians. Her mural art is located throughout Nashville including Hillsboro Village at the restaurants Pancake Pantry, Za Wood-Fired Pizza and Biscuit Love where she serves as creative director.
"I try to have a little bit of fun in everything that I do," Wildsmith said. "I hope that they're a source of inspiration and fun and that when people see them, they smile as they walk away."
---
LET HOPE ABOUND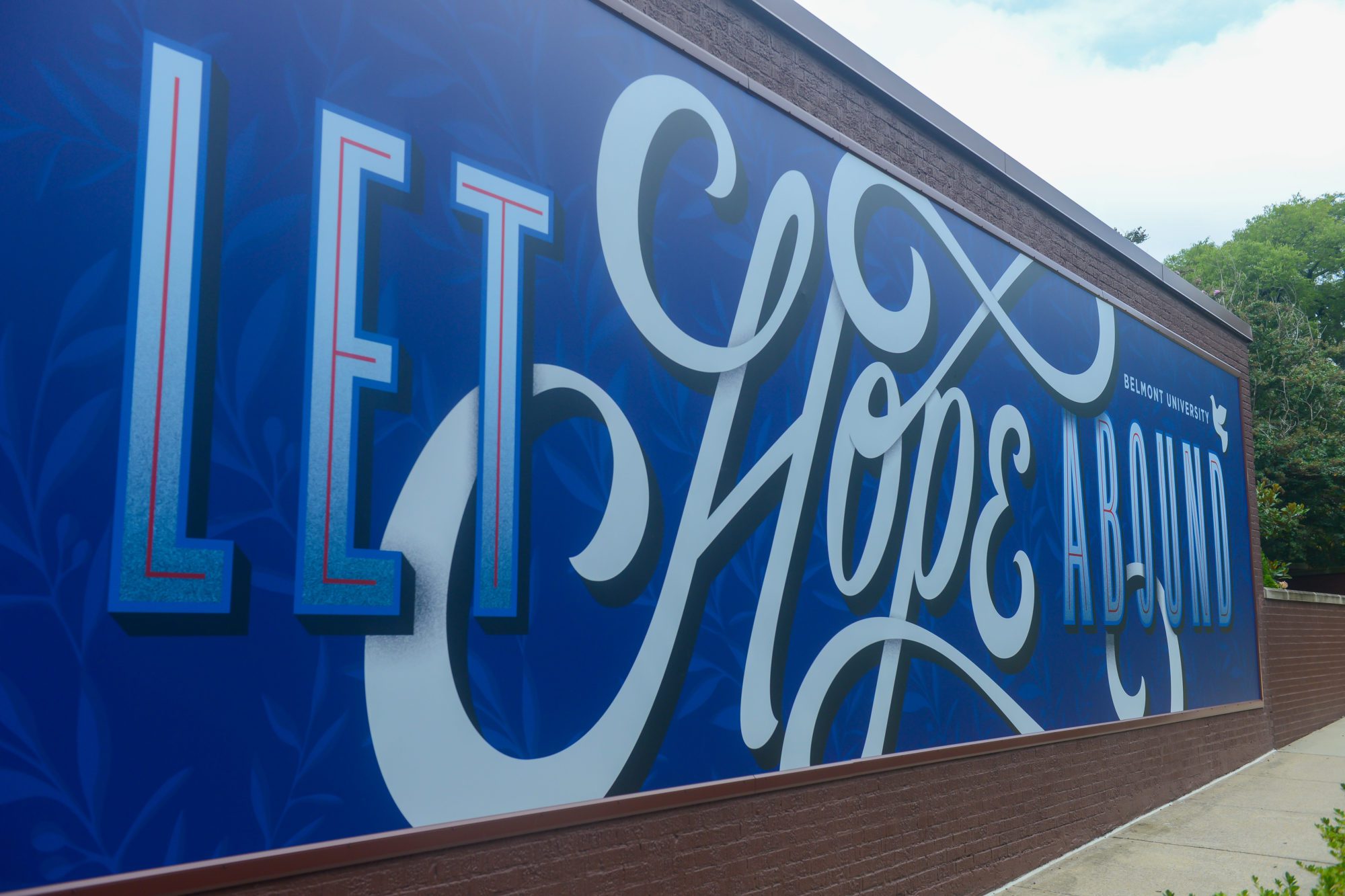 Created by graphic designer Shehan Rodrigo, the "Let Hope Abound" mural lives on the campus side of The Belmont Store. Let Hope Abound was the theme of President Greg Jones' inaugural year and has continued to be a thread of his presidency. "With our Christian faith as our animating purpose, Belmont University is well-positioned to bring hope to our communities and our world," said Jones. In Rodrigo's design, the "hope" font was hand-drawn, then illustrated to be larger than the actual mural as a visual reference to abounding and overflowing hope.
---
RADICAL CHAMPIONS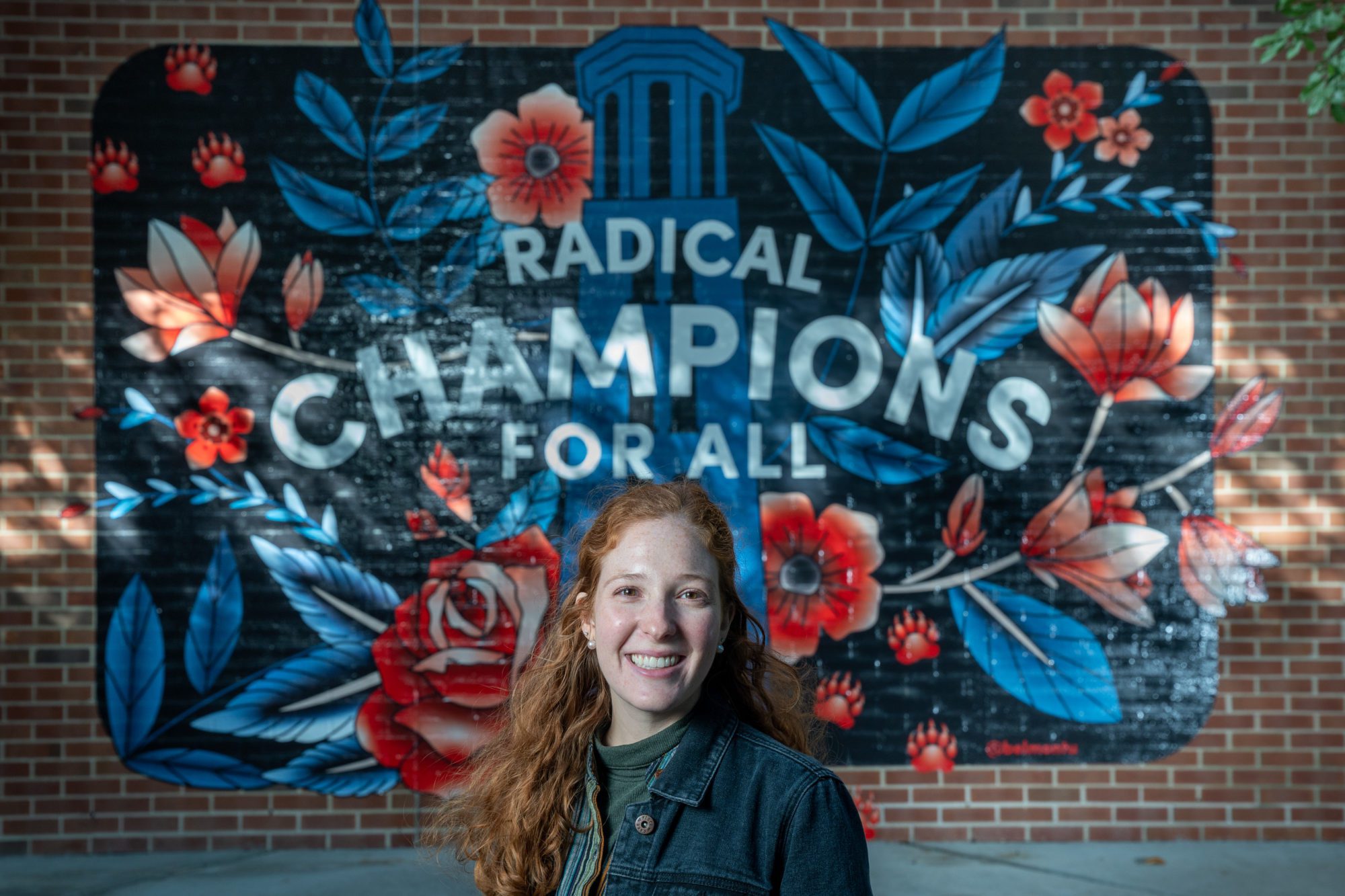 The Radical Champions mural lives on the side of Gabhart Student Center facing the Beaman Student Life Center and features an illustrated Bell Tower, floral motif and the phrase "Radical Champions for All," the theme for the 2022-2023 academic year, and part of the University's strategic trajectory towards 2030.
"I love that image of being radical champions, because it takes the notion of being an agent of hope and extending it even one step further," said President Greg Jones. "We want to be radical champions for the flourishing of all people."
Graphic designer Mary Puls '20 said, "The word 'flourish' was inspirational in the design process. I included florals and foliage to create imagery of a place where students can grow and flourish. This doesn't happen when contained to a box, which is why the design elements extend past the frame. When students grow and flourish, they are then able to extend a hand to impact their communities and become radical champions for all."
---
OFFICE OF EDUCATIONAL INNOVATION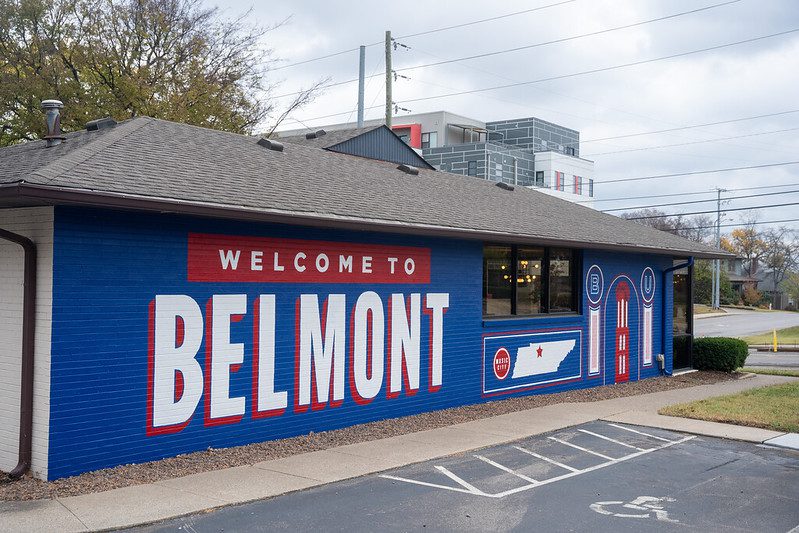 Located at 1909 12th Avenue South, Belmont's new Office of Educational Innovation houses two teams focused on building innovative educational opportunities for students of all ages. The newly launched Belmont Online division promises digital courses credentials, certifications and continuing education opportunities, while the Center for Executive Education provides in-person and virtual custom programs, executive coaching service and a variety of professional development options.
A mural on the side of the building faces the community and can be seen by passersby in the 12th South neighborhood, offering a warm "Welcome to Belmont" message. "We wanted people to feel welcomed as they drove or walked by," said graphic designer Erica Belletete. "This mural celebrates both our University and Music City."
---
BELMONT ATHLETICS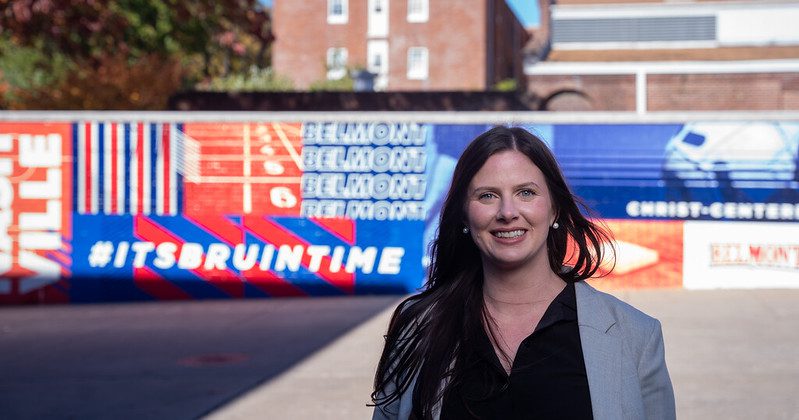 The new athletics mural is on the brick wall outside the Curb Event Center loading dock. The collage-style artwork was designed by Erica Belletete and captures many aspects of Belmont athletics. The left side of the mural features a quote from Women's Basketball Head Coach Bart Brooks, "There's nothing small about Belmont." Other vignettes include the Belmont Athletics hashtag #ItsBruinTime, pieces of the Belmont mission statement and the words "everyday excellence," a nod to Belmont teams' commitment to excellence on and off the field.
"I love our sports teams and wanted to create something that sparked joy for students and athletes walking by," said graphic designer Erica Belletete. "This mural celebrates our awesome athletics program. Belmont student athletes aren't just good athletes. They're people who help their communities, they're strong students with strong values."