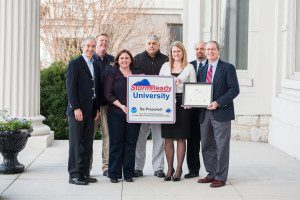 With a University-wide commitment to community safety and preparedness, Belmont's Office of Risk Management and Compliance spent the last year working alongside the National Weather Service (NWS), Tennessee Emergency Management Agency and the Mayor's Office of Emergency Management to designate Belmont as a NWS StormReady University.
A designation reserved for universities that have demonstrated a dedication to safety and the continuous evaluation of plans and policies surrounding severe weather, Belmont's efforts were led by the University's Risk Management and Compliance Administrator, April Khoury.
To achieve this designation, the University had to qualify in a number of areas including creating a communications and coordination center for emergency procedures, ensuring the center is able to receive real-time updates through multiple channels, clear systems to communicate with the University community, promoting awareness through programming and developing a formal hazardous weather plan. The University completed all criteria this semester and received the official StormReady University designation.
Khoury said the receipt of the StormReady designation shows Belmont's commitment to the well-being of its community. "Being designated StormReady ensures that the university is continuously evaluating plans and policies to provide a safe environment for Belmont students, faculty, staff and visitors. This was made a priority for Belmont to have a structured program to follow and to develop a relationship with local emergency management agencies and the National Weather Service."