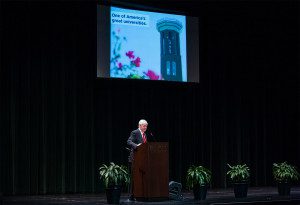 Belmont University President Dr. Bob Fisher unveiled the University's Vision 2020 to a room full of students, faculty, staff and alumni Monday morning. The Vision, comprised of seven strategic priorities that will guide Belmont through the next five years, integrates the University's values of integrity, inquiry, collaboration, service and humility to build what Vision 2020 calls, "Nashville's University."
With Vision 2015 coming to a conclusion, the University is looking toward the future with a strong emphasis on student-centeredness, Christian character and a people-first culture, among other things.
"Vision is a picture of a future that is so much more desirable that the present, that it creates a sense of urgency. It compels people to act – to ambitious action," Fisher said. Video interviews from Belmont community members were included to highlight each Vision 2020 strategy, illustrating the ambitious action that Vision 2020 calls for.
"As we continue to define ourselves and our dreams for this University, it is my hope that Belmont will place a greater focus on including students in the development and execution of our long-term goals and capitalize on the creativity, passion and commitment of its students to make Belmont a place we're all proud to call home," Student Government Association President Jeanette Morelan said.
Although the Vision has been crafted and created, a successful implementation of any vision will require the support and collaborative work of all community members, Fisher said. "Consider the power of aligning our efforts and pulling in the same direction…Consider the power behind that."
Fisher ended his presentation with a story describing his experience climbing Mt. Rainier, a Seattle mountain with the greatest rise in elevation of all ranges within the continental U.S. During his climb, Fisher developed altitude sickness and was forced to descend at the mountain's "High Break," the final break before the Summit. Although he wasn't able to accomplish what he set out to do, Fisher said the experience taught him many lessons. "If you aspire to do something really hard and really tough, it does get harder and harder as you approach the goal," he said.
"We're at the High Break point, but if we're going to the top, it's going to take the best efforts of everybody. I hear there's nothing like the view from the top. I haven't been there, but I want to go…Let's get there together and become one of America's great universities. Let's go to the top," Fisher said.
For a description of Vision 2020's seven strategies and a video of Fisher's presentation, please click here.