Former Tractor Supply CEO, chairman creates endowment to fund scholarships for students to participate in faith-based mission, service trips
Belmont Trustee James (Jim) Wright and his wife Susan recently announced the creation of the Jim and Susan Wright Missions Endowment with a gift of $1 million to the University. The major gift comes within three months of the launch of Belmont's $300 million We Believe comprehensive fundraising campaign, and the endowed fund will directly benefit one of the campaign's top giving priorities, missions. Jim Wright is the now-retired, former chairman and CEO of Nashville-based Tractor Supply, and he and Susan currently live in Lake Quivira, Kansas.
"Belmont's foundation as a Christian university creates a unique opportunity in higher education to offer life-changing missions as part of our students' experience," said University President Dr. Bob Fisher. "We provide a place for students to find their God-given purpose through service to each other, their community and the world beyond. I'm grateful for Jim and Susan's generous support of these efforts because I witness what these opportunities mean to our community, and I know how often lives are positively transformed through Belmont missions."
The Wrights said, "We are involved in Belmont and remain committed to this University because it's staying true to its core as a Christian institution while continuously and passionately working to provide the best opportunities and education possible for its students. Those qualities align with our own beliefs, both personally and professionally, of the life God calls us to live. It's a privilege to have the means to support Belmont at this level, and we are excited to see how this gift allows more students to develop and spread their faith in the coming years."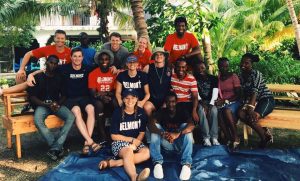 The $1 million gift will establish an endowed fund that financially supports students with demonstrated need in their efforts to participate in missions work through Belmont University. As announced with the campaign unveiling, Belmont is partnering with its supporters to leverage their investments in the institution's future. The University will match endowment contributions to University priorities between $25,000 and $1.5 million 'dollar for dollar,' doubling the impact of each donor's commitment. In this instance, the Wright's $1 million gift to support missions will be matched by the University in a mirrored fund for the same purpose, marking an overall increase of $2 million for endowed support of Belmont missions-related scholarships.
Frequently, as is the case with many health care-related missions, the trips are tied to academic pursuits, allowing students to see how their chosen field of study can impact places and cultures they never before imagined. In 2015-16, 250 Belmont students engaged in mission-oriented experiences with trips ranging from tutoring at an after-school program in downtown Chicago to leading songwriting workshops in Zimbabwe to providing a free health clinic in Jamaica.
Most importantly, these trips foster students' spiritual growth alongside the academic, physical, social and cultural challenges they face in different situations at home and abroad. Missions opportunities are central to Belmont's foundation as a Christian institution and its intent, as spelled out in its Vision 2020 plan, to further "exemplify the Christian faith by responding to the imperative expressed in James 1:22, which states 'Do not merely listen to the word… Do what it says.'"
Belmont's Vice President for Development and External Relations Dr. Perry Moulds added, "We are deeply grateful for the Wrights' willingness to support Belmont students as they venture into the world providing service to others and spreading the love of Christ. We frequently hear stories of students who return to Belmont from such trips with a reaffirmed belief that serving others is central to their faith and development. The Wrights' dedication to the betterment of our students' lives, and to the Christian mission of this institution, is inspirational."