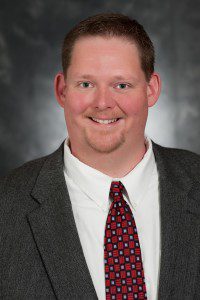 Assistant Professor of Public Relations Dr. Kevin S. Trowbridge recently completed the examination for Accreditation in Public Relations, earning him the professional designation. The announcement was made by the Universal Accreditation Board (UAB), a consortium of nine professional communication organizations that directs this competency certification program.
"Earning the APR reflects a mastery of the knowledge, skills and abilities needed to succeed in our increasingly complex profession," said John E. Forde, Ph.D., APR, Fellow PRSA, 2015 UAB. "Practitioners who achieve the designation are demonstrating their commitment not only to our profession, but also to a strong code of ethics and to the betterment of their organizations and clients."
The Accreditation program aims to improve the practice of public relations by assessing competence in 60 areas of knowledge, skills and abilities associated with the profession. The examination is designed for public relations professionals with five to seven years of job experience and/or a degree in a communication field. Candidates who successfully complete the rigorous process, including presenting his/her portfolio to a readiness review panel of three peers and sitting for a computer-based examination, are granted the APR.
"As an educator, I continually challenge students to grow as young professionals who think critically and creatively about the dynamic practices of strategic communication and how it can be used to transform the world around them," Trowbridge said. "This achievement reflects my own commitment to lifelong learning and continuous professional development."
Prior to becoming a full-time educator and earning his Ph.D., Trowbridge practiced public relations in various settings including nonprofit, education, corporate and finance. He joined the faculty at Belmont in 2011.