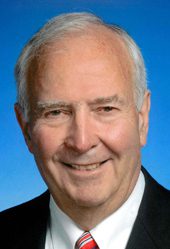 Law Professor Charlie Trost was awarded the Paul J. Hartman Memorial State and Local Tax Forum Award for his outstanding contributions and dedicated service to the field of state and local tax law. Trost is the author and editor of the treatise, Federal Limitations on State and Local Taxation, 2d. He is recognized as a distinguished State and Local Tax ("SALT") practitioner and serves as a Life Member and a former Treasurer of the National Conference of Commissioners on Uniform State Laws.
He is a former Commissioner of Revenue for the State of Tennessee and a Founding Fellow of the American College of Tax Counsel.  In 2016, Trost was named one of the top ten State Tax practitioners in the country. He is of Counsel with the Nashville law firm Waller Lansden, where he has been a member and partner since 1981.
The Paul J. Hartman State & Local Tax Forum was established in 1993 in Nashville, Tennessee.  Since that time, the Board of Trustees and Advisory Board have worked together to provide industry, practitioners and state revenue employees the opportunity to participate in a quality forum exploring significant national developments and trends in state and local taxation.  Trost is only the third recipient of this award.