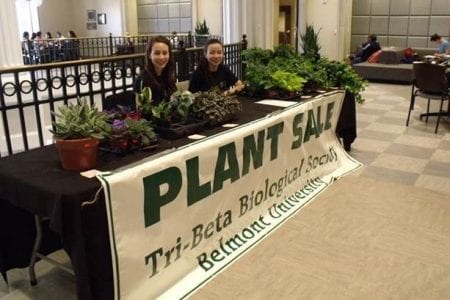 This year's Tri-Beta plant sale, a fundraising put on by Belmont's Beta Beta Beta (Tri-Beta) Biological Society, raised about $500 to support students programming including field trips and projects.
Tri-Beta is a society for students dedicated to improving the understanding and appreciation of biology. The Mu Theta Chapter of Tri-Beta at Belmont University was established April 9, 1988.  Since then, membership has promoted the study of biology through various activities such as presentations, fun field trips, trips to scientific meetings and social events for students.
Tri-Beta provides leadership opportunities for students, informs them about current developments in biology and helps them prepare for employment. Dr. Steve Murphree serves as the faculty advisor for this organization.