Top students from the Commercial Music program took the stage Tuesday night, Feb. 2, for Belmont's annual Commercial Music Showcase. This year's performers were Mignon Grabois, country; Kenzie Palmer, country; Cole Thannisch, singer/songwriter; and Weathered Souls, acoustic pop. The Showcase also featured a special appearance by Class of 2013 alumnus and "American Idol" finalist Rayvon Owen.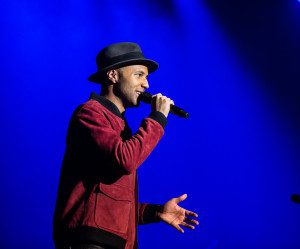 Last fall, 45-50 junior and senior commercial music majors auditioned in front of music industry professionals for one of the coveted four showcase spots. Ten students were called back for the second night of auditions.
Once the Showcase students are selected, the students work with industry professionals and faculty members to prepare for their moment in the spotlight. The students receive a professional photo shoot, training to write a professional biography, evaluation for stage presence and performance and other career building experiences.
Click here for additional photos from the concert.