Honors Program Director Jonathan Thorndike and Teaching Center Director and Professor of Mathematics Mike Pinter recently led a panel discussion on "Innovative Math and Science Courses in the Honors Core" at the National Association of African-American Honors Programs Convention at the Opryland Convention center.
Pinter has been a faculty member at Belmont  since 1989 and previously served as associate dean for the School of Sciences and interim dean for the College of Arts and Sciences. In addition to regularly teaching general education mathematics courses and upper-level combinatorics course, Pinter teaches in the Honors Program and teaches a first-year seminar course focusing on issues related to limitations (including disabilities). His curriculum interests include quantitative reasoning across the curriculum, discrete mathematics and the pedagogy of mathematics instruction. He is a past winner of Belmont's  Chaney Distinguished Professor Award and Carnegie Foundation CASE Tennessee Professor of the Year.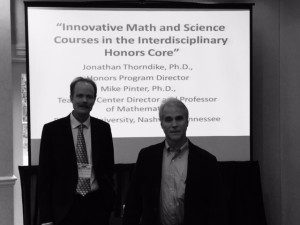 Jonathan Thorndike is Honors Program director and has been a professor at Belmont since 1998. He served on the National Council of Alpha Chi Honor Scholarship Society as the secretary-treasurer of the Southeast region from 2003-2012. He teaches interdisciplinary courses in the Humanities sequence including Classical Civilizations, The Age of Exploration (16th-17th centuries), Discovery and Revolution (18th-19th centuries) and Topics in the 20th and 21st Centuries. He also teaches a study abroad course at King's College-London on C. S. Lewis, J.R.R. Tolkien and the Inklings. He is past winner of Belmont's Presidential Faculty Achievement Award.
Belmont's Honors Program includes a core curriculum that uniquely integrates mathematics and science analytics courses into the humanities curriculum.  Rather than introductory courses to be avoided, Belmont's "Analytics: Math" and "Analytics: Science" courses are four-credit experiences that combine the best of innovative pedagogy, active learning, problem solving and a lab component. Analytics addresses important goals of the National Collegiate Honors Council, such as providing highly-reputed standards and models of excellence for students and faculty across the campus, and they serve as a laboratory within which faculty feel welcome to experiment with new subjects, approaches and pedagogies.