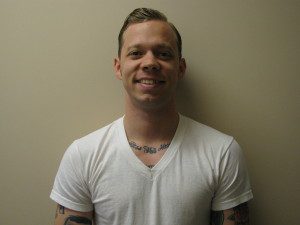 Matthew Thompson, a senior Social Work student at Belmont University, recently was honored as the undergraduate Student of the Year by the Middle Tennessee branch of the National Association of Social Workers.  The award honors a student who has created a positive influence on classmates for the profession and maintained academic achievement.
"Matt has demonstrated a tremendous aptitude for scholarship and scholastic activity," said Dr. Sabrina Sullenberger, Social Work Department chairwoman. "He is also a dedicated and courageous individual, respected and valued by his colleagues and peers."
Thompson is a decorated Army veteran and a bronze star recipient who served honorably in the Middle East and Persian Gulf in 2002 and then was again deployed in Iraq in 2007.  He was the recipient of a competitive national fellowship through The Mission Continues, in which he was awarded a 10-month grant designed to provide a stipend for veterans working in social service fields.  He was one of 80 grantees from a field of just under 2,200.
Thompson has deep and abiding commitment to the needs of veterans in the community.  He has served with Operation Standown for the last 10 months and in that time has engaged in peer-to-peer counseling, employment counseling and advisement and job search assistance. He has worked extensively with several clients in helping them overcome and recover from chronic homelessness and other traumatic and tragic situations and circumstances, often going above and beyond his hourly commitment and engaging in support and work after hours.
In addition to fulfilling these duties, Thompson has worked independently to form a community coalition of student veterans groups in and around the Nashville area joining forces with other university communities to increase peer to peer support for vets, foster greater knowledge of available resources and share information and knowledge to increase veteran retention and reintegration.
Thompson is in demand as a speaker who shares his personal journey and his knowledge regarding veteran services so as to raise awareness of veteran issues within the community.  He is a published author, whose pieces have appeared in Newsweek and The Massachusetts Review.  He recently had a poster presentation about veterans and their unique needs accepted by the national conference of the Association of Baccalaureate Social Work Program Directors.  He is a member of the Phi Alpha Social Work honor society.
Thompson's service extends to his student peers at Belmont, where he is president of the Social Work student organization and the Veterans Student Group and is a member of the Dean's Advisory Council for the Gordon E. Inman College of Health Sciences & Nursing.